Gray-orange light struggled to glow through thick overcast evening skies in Edgartown as fishermen lined up on a dour night to weigh in their derby catches for the day.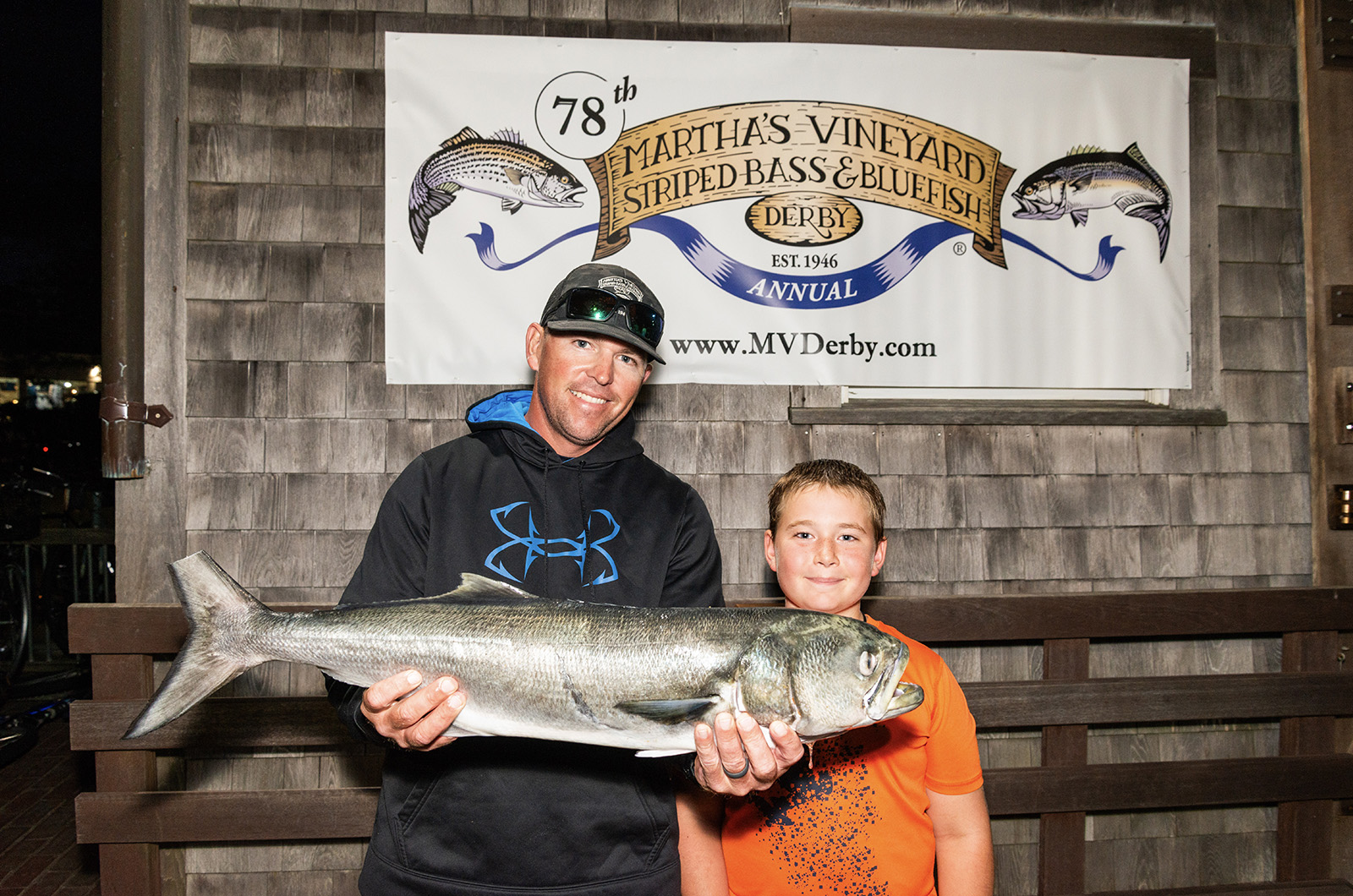 Despite the rain, which came down in cold, fresh wet globs, two fishermen arrived at the weigh station five minutes before opening, fish in hand.
"I got a good one," exclaimed Ed Gentle 3rd, as he dipped a 12.96-pound boat bluefish in the rinse bucket. Mr. Gentle, a longtime derby fisherman, bagged the catch in choppy waters off Cape Pogue, he said, using an epoxy jig.
"It's all luck," he admitted. "I was in the right place at the right time."
Colin Hurd, who brought in a 7.80-pound false albacore from Dogfish Bar in Aquinnah, said the rain that afternoon winnowed out the competition.
"I happened to park where no one was fishing," he said.
Following the patterns of seabirds, he added, was key to his catch.
"The birds follow the baitfish, and you follow the birds," he said.
Weigh station doors opened at 7 p.m., and a steady stream of fishermen with coolers and tote bags continued to trickle in for a chance to make it on the board. Microfiber fishing shirts and rubber pants were sported by many, and all baseball caps were adorned with derby pins.
Just a few minutes after the opening bell Justin Cooper shot to the top of the rankings with a 13.57-pound shore bluefish. He and a group of friends have been coming to the Vineyard from Maine every derby for decades, he said, though Mr. Cooper declined to reveal where the fish came from.
Two fishermen also made their way onto the senior leaderboard: Stephen McDougall with an 11.2-pound shore bluefish and David Kadison with a 13.65-pound boat false albacore.
Following the weigh-in, the three winners convened in one corner of the weigh station, filling out forms and swapping stories.
As the rain died down that evening, so did the weigh station, and only the periodic bluefish or bonito entered through the door. A small crowd lingered outside to watch the proceedings, and out behind the shack bright white lights lit up the filet station.
Conversation among entrants and volunteers focused on the effects recent weather movements might have had on the inscrutable underwater movements of the fish. Was it possible that the winds had brought bluefish closer to shore? Had the rainfall excited albacore into biting more?
John Thurgood thought it unlikely that the wind had much impact on fish movements yet. Since it is early in the season, he explained, the migratory species were unlikely to get blown out of Island waters just yet.
All theories aside, though, Mr. Thurgood said the way to make it onto the leaderboard is simple.
"You just go out fishing," he said, and repeated himself. "You just go out fishing."