In a little blue metal building on Lagoon Pond Road in Vineyard Haven, home to Chicken Alley Thrift Shop, commodities and commerce circulate in a constant churn. In the last year, the store processed 275,000 items and they are on track for more than $1 million in sales this year, all going to Martha's Vineyard Community Services.
But among a river of merchandise, sometimes an exceptional item rises to the top.
Last spring, a small, gouache painting was picked out of a field of anonymous donations by Anastasia Sargent, who has been volunteering to help organize and price art for the thrift store for the last four years. The work of art turned out to have an important pedigree, painted by renowned Nigerian artist Ben Enwonwu. Last week it went to auction at Sotheby's, selling for $10,000.
It is the most expensive single sale in the history of Chicken Alley.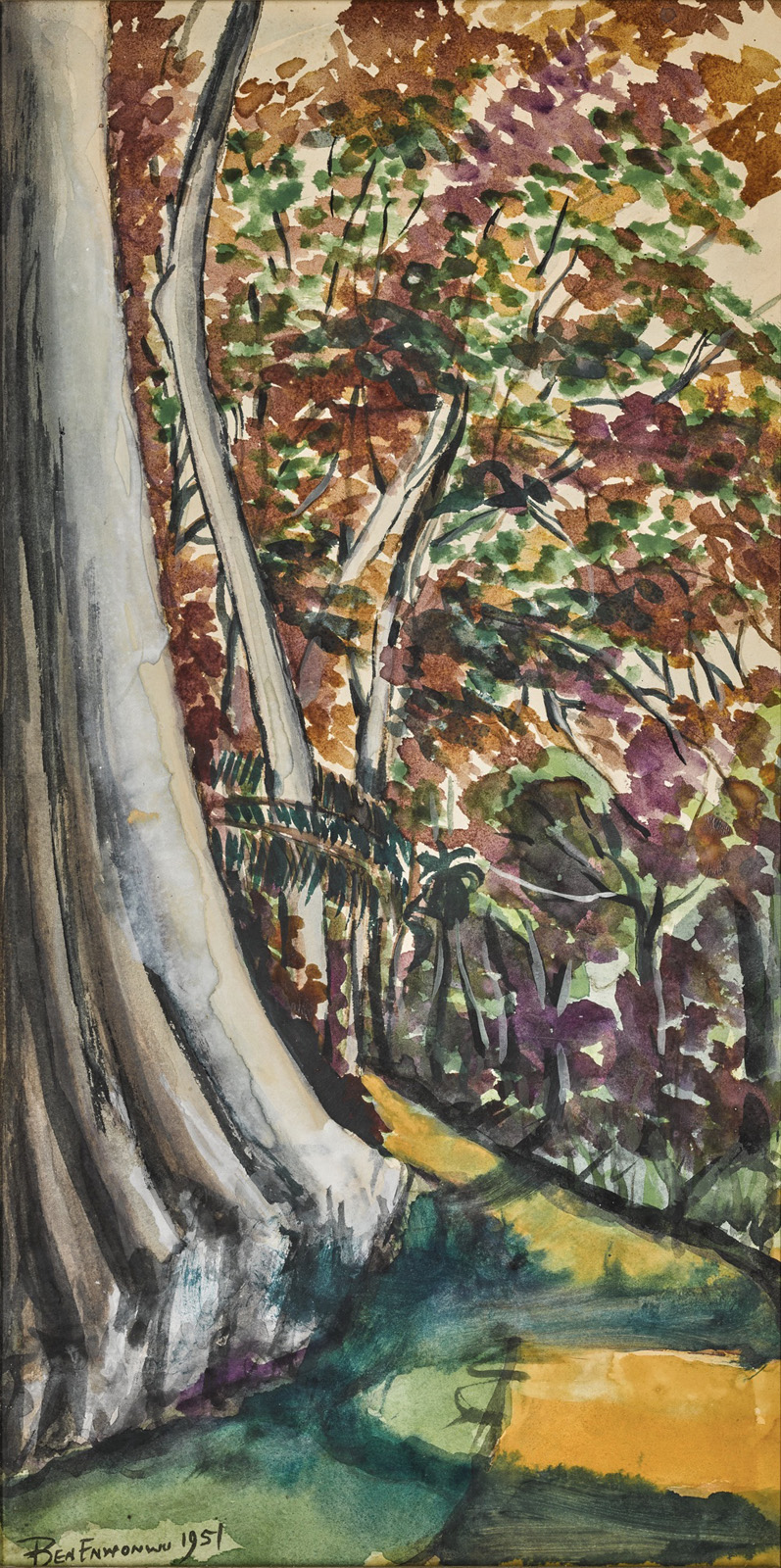 "That's kind of the magic of our store," said Jessica Tartell, director of operations for Chicken Alley.
"We have donors who have led really interesting lives and have traveled the world," she continued. "They are collectors of interesting things, they pick things up throughout their travels and they bring them back to their home here."
Most of the store's donations come with little information, Ms. Tartell said, often dropped off after cleaning out a family member's home. Once donated, it is up to Chicken Alley volunteers to sort and price the items, keeping a lookout for more valuable items to be sold off-Island.
While some pieces have previously been sold at auction on Cape Cod, Ms. Tartell said this is the first piece to
have made it to Sotheby's, a prestigious London-based auction house.
"It was so exciting," Ms. Tartell said of the online auction, which netted a price more than a thousand British pounds higher than estimated. "I was just watching [the price] refresh every few minutes . . . . It was really special."
Ms. Sargent credited an Island art background — growing up in her mother's Sargent Gallery in Aquinnah — for cultivating her aesthetic eye.
"She really has an eye for it," Ms. Tartell said. "And I don't think that's something you can learn overnight."
Ms. Sargent earned an art degree in college and then worked at several Los Angeles galleries, which gave her perspective on international artists, she said.
"I research most of the art pieces based on the signature," Ms. Sargent said, of her donation-sorting process. "I'm more meticulous about it than the average volunteer or employee there, just because I'm really interested in art, and I love art."
Though Ms. Sargent hadn't initially heard of Mr. Enwonwu, she immediately knew the painting was special. While researching his name, she found a series of articles on Mr. Enwonwu's legacy as one of the first internationally-acclaimed African artists. During his career, Mr. Enwonwu held exhibitions in London, Milan, New York City, Boston and Washington D.C., among others. Queen Elizabeth II sat for a portrait sculpture by the artist, which Mr. Enwonwu unveiled in London in 1957.
The find, said Ms. Tartell, coincided with preexisting plans for Sotheby's to host an auction of modern African art.
"It was really, truly complete serendipity," she said. "The timing was great."
Still, even after the painting netted five figures at Sotheby's, little is known about its story. Mr. Enwonwu died in 1994.
Ms. Sargent theorized the small composition may have been a study for a larger work of Mr. Enwonwu, but they have no information on the provenance of the painting, or how it came to land on the Island.
"For all we know they purchased it on a Peace Corps or visit to Nigeria, and they brought it home and put it away and never thought about it again," Ms. Tartell said. "But one thing we want are donors to know is that we do really take their donations seriously. We value them. Especially when something like this comes along."