Patricia N. Nanon, the modern dancer and choreographer who created the Chilmark performing arts colony The Yard, died peacefully last Friday at her home in New York city, surrounded by her daughters. She was 84.
During the 35 years since The Yard's inception, its founder and longtime artistic director had choreographed a new work there each summer; her last, Water Dances, premiered in the 100-seat barn theatre that bears her name in June 2007. Despite increasing frailty, she had been planning, until weeks ago, to create another work this spring.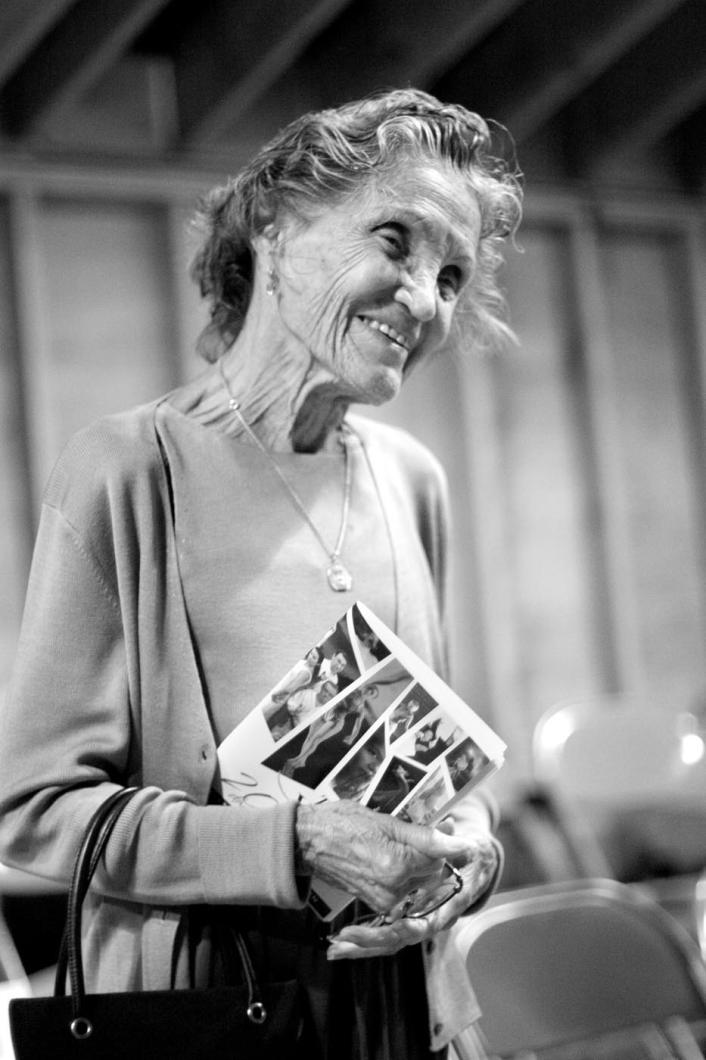 The tiny, perennially tanned, chain-smoking Ms. Nanon also oversaw literally hundreds of younger choreographers and dancers who landed a coveted residency at the Up-Island houses and studio, the only arts colony in the country devoted to choreography. Those lucky enough to be selected by Ms. Nanon (and the colleagues she roped in to judge the hundreds of applicants each year) would get a stipend, passes to Lucy Vincent Beach and, most importantly in her view, uninterrupted time to experiment. To this she added her own insights on the new works they were able to make here because of her generosity and vision.
"I started The Yard so I could choreograph and so I could share my good fortune with other choreographers and dancers, and I could have the stimulation of working with them," she said. And she shared her love of the art form with Island children through free schools programs and with the wider Vineyard public through myriad eclectic performances.
In 2007, she and her family granted full ownership of the 2.6-acre wooded Chilmark property to The Yard, a monumental gift ensuring that what began as her irregular slate of self-funded Island experiments would endure as her legacy, a place of modern dance creation, education and community.
Born Patricia Newman into the family of a successful Wall Street investor with a firm that bore his name, Ms. Nanon said in a 2006 interview with the Gazette, "I've always been so lucky."
Her daughter Cate would tell the New York Times in 2005, "My mother's father had a Rolls Royce and a butler and a second home in Florida."
But Ms. Nanon did not rest on her good fortune. Ever feisty, the young, fine-boned ballerina Patricia in 1940 set off for Bennington College, the vanguard of cutting-edge choreography, having never taken a modern dance class. "I was in shock," she later recalled.
But not for long. She loved the expressiveness of modern movement and went on to study with its pioneers — Martha Graham, Doris Humphrey and Hanya Holm. "I was born in a golden era," she marveled.
After earning a degree in social psychology, she landed a part in the Broadway show Sing Out Sweet Land with Alfred Drake and Burl Ives. She left when the show went on the road; she did not fancy the idea of endlessly repeating the same steps. So, barely graduated herself, she took a teaching position at Cornell University. "They were so tall!" she later recalled of her students, her twinkling blue eyes wide. The petite professor kept students on their toes, however, with a cracking combination of jokes and attitude, a formula she would employ throughout her life.
Academic life, however, was for her too distant from modern dance's vibrant center, Manhattan. In 1946, Patricia Newman founded Choreographers' Workshops with Trudy Goth and Atty van den Berg, presenting in New York all the leading modern dance creators of the late 1940s and early 1950s. She left that when she got a call offering her a position in the new medium enthralling America, television, and in the most popular of its products, the variety show. "I think I dropped the phone," she recalled. She choreographed dances every week for a weekly Dumont television series. But better yet, she told the Gazette in the 2006 profile, "It wasn't unionized then, and I got to do everything."
Ms. Nanon never lacked for energy or determination, and, by then married to Dr. William R. Woolner, she kept the Dumont job until giving birth to the second of her three daughters. She raised her girls in Westchester County while taking every opportunity she "could have or invent" to stay active in dance.
She taught again, relishing the age groups that others found difficult: "I loved teaching the little four-year-olds and also the teenagers," she said in 2006, still vividly recalling the extravagant productions they put on, such as The Lost Zoo, about the animals that didn't make the ark.
As her daughters grew, the family discovered the Vineyard. "I fell in love [with the Island] hook, line and sinker," she said of her first visit in the early 1960s. "I was a very formal person, with a very formal upbringing and I was entranced by . . . the whole relaxed way of being here."
The family rented for several summers, the girls taking jobs in art galleries, cleaning houses, teaching art. It was her husband who finally insisted on buying here, where Ms. Nanon became known as a legendary cook and entertainer.
And it was here that Patricia Nanon found herself with a knee injury, in and out of cast during the summer of 1971. And it was that which sparked the start, early the next year, of what would become The Yard.
The woman who would present her choreography in New York at the Theatre of the Open Eye with the New Repertory Ensemble at Queens College, The Hunter Playhouse, the 92nd Street Y, Marymount Manhattan and St. Clement's told the Martha's Vineyard Magazine in 1994: "There was a creative freedom here that was different than being in New York."
In 1972, she simply invited to the Island four dancers who could help drive her revived desire to choreograph. In 1973, there were 14 artists, in 1974, 18; soon, the dancers were reprising their works in a New York season each following winter.
Still, the early years of The Yard were informal. Ms. Nanon organized free, public performances at the Field Gallery, the parking lot and breakwater rocks at Menemsha, in Maley field, on beaches up and down Island, at Chicama Vineyards. Performers changed costumes in a leaky tent.
So began her almost single-handed outreach, bringing a sometimes esoteric art form to barefoot holidaymakers across the Island.
In 1973, she rented a barn from David Flanders, hay bales at one end, makeshift stage at the other. There was a generator but it had to be turned off for refueling at intermission. One production was lit by the headlights of a car parked at the door. They changed clothes in a gutted school bus.
In the book Sand, Sea & Stars: Twenty Years Dancing at The Yard, Ms. Nanon described her creation as "a playground without walls, a place to explore, to experiment, construct, a place of possibility, joy, love, anger, frustration, a place of mutual stimulation, sharing, testing, a space in which to come together and to be alone."
Her own output was prodigious. "So much of the influence of the Island has crept into my work ­— not crept, it's become obvious," she said in the 1994 interview. Most evocative, perhaps, was her Vineyard signature piece, Rose Hips and Goldenrod, memorable for its woman in gold sitting on a beach boulder. "All that imagery comes from the Island," she said.
In 1983, she oversaw the purchase for The Yard of its present wooded property off Middle Road, near Beetlebung Corner. Ms. Nanon would often be seen zipping to and from the Chilmark Store in her shiny blue convertible, even after rheumatoid arthritis made it hard for her to shift gears. Wherever she went, she brought her gregarious charm, flirtatious nature, and zeal for The Yard.
A self-described fiend about details, Ms. Nanon was intimately involved in transforming The Yard into a sophisticated operation. She selected the dancers, hired staff and mentors (including her friend, the legendary Bessie Schönberg), planned programs, raised and contributed her own money. She initiated the school's program that brought professional dancers from around the world into Vineyard classrooms.
Asked once what audiences should expect at The Yard, she replied: "Be open. Come without preconception. Don't predict. Express your emotions. If you feel like laughing, laugh. If you feel like crying, cry."
For her own works, she typically commissioned original music, oversaw costume design, even sold tickets. She challenged her dancers — "the more you demand, the more you'll get," she told the Gazette in 1993 — with theatrical choreography. She covered such subjects ranging from Gypsy culture to breathing, and in 2006, to bipolar disorder, a subject she chose, she said, because it was "something I know well."
By then, she needed her dancers as a barre to balance and the aid of a rehearsal assistant. She lamented her declining health, saying choreography was not as fun, "because I get too tired.
"The joys and the despair . . . are there as they have always been, but the despair comes more quickly."
Meanwhile she and her family foundation were demanding more of the now-established nonprofit itself, setting targets for The Yard to become financially self-sustaining. Programming was broadened to include a sprawling summer festival including theatre, art, music and dance. Alumni, whose names comprise a who's who of the contemporary dance scene, lent their support.
And in 2007, the Nanon family granted ownership of the property to The Yard, ensuring it would continue beyond its founder. "I'm so proud of this unique organization," she said. "Its reputation is sterling and for a very good reason: the pieces created." And Ms. Nanon came back to choreograph her last work that summer, stubbing out the long ash of another cigarette into the coffee can outside the barn theatre as she went back to rehearsal.
She is survived by her daughters Vicki Woolner Samuels of Chicago, Cate Woolner of Northfield, and Justine Woolner Wise of Oneonta, N.Y., their families, many devoted nieces and nephews and their families, as well as many dear friends.
The memorial celebration for Patricia will be today, Friday, March 7, at 3:30 p.m. at Campbell Funeral Chapel, 1076 Madison avenue in New York city. There will be an Island celebration later, with details to be announced.
Donations in honor of Patricia Nanon may be made to Bennington College (bennington.edu/give.asp), The Juilliard School (juilliard.edu/giving/giving.html) or The Yard (dancetheyard.org).