Patricia Neal, the Oscar and Tony-winning screen and stage actress whose husky voice was the only identification required and whose life was a singular, inspirational story of overcoming tragedy, died on Sunday at her home in Edgartown. She was 84 and was surrounded by her family at the time of her death.
The cause was lung cancer. "She faced her final illness as she had all of the many trials she endured: with indomitable grace, good humor and a great deal of her self-described stubbornness," her four children said in a statement released yesterday.
A familiar figure on the Vineyard where she had owned a home for the past 31 years, Ms. Neal had made an appearance at the Possible Dreams auction on August 2, the annual benefit for Martha's Vineyard Community Services. Her picture appeared on the front page of the Gazette the next day, as it has so many times over the years.
"I'm not wise, just very hard to beat," she laughingly told the Gazette in a 2000 interview. "I intend to live until I die."
And indeed she did.
She won the Oscar for best actress in 1964 for her performance in the western Hud as the shopworn housekeeper who resisted the amorous charms of Paul Newman. A year later she suffered three strokes and was in a coma for weeks. With the help of her husband, children's book author Roald Dahl, she battled back and returned to the screen in 1968 despite the fact that her impaired memory made it difficult to remember dialogue.
"I used to have a grand memory . . . having a stroke really takes it out of you," she told the Gazette in the 2000 interview, adding: "Oh, I'm all right, you know. I'm so much better than I was. I didn't know one word from the other." It was classic Patricia Neal — ever able to make light of adversity.
And she endured more than her share, both in love and in life, all while carving out a remarkable career in film, on stage and later in television.
Before the age of 21 she won a Tony and a New York Drama Critics' Circle award for her performance in Lillian Hellman's Another Part of the Forest. It marked her Broadway debut, and her photograph appeared on the cover of Life Magazine.
She then headed for Hollywood, where she signed a seven-year contract with Warner Brothers. Her screen debut was opposite Ronald Reagan in the 1949 comedy John Loves Mary, which critics panned.
In the same year she was famously assigned the role of Dominique in The Fountainhead, a film adaptation of Ayn Rand's best-selling novel, opposite Gary Cooper, who played Howard Roark. Ms. Neal, who was 23, fell in love with Mr. Cooper, who was 48 and married. The affair ended three years later.
"Of course I fell in love with Gary," she told the Gazette in 2000. "I mean, one look at him . . . That was the end of my naughtiness, I think."
Patsy Louise Neal was born in Packard, Ky., a coal-mining town, on Jan. 20, 1926. Her father was a mine manager, her mother the daughter of the town doctor. She grew up in Knoxville, Tenn., and became interested in studying dramatics at an early age. In high school she won a Tennessee state award for dramatic reading. She later enrolled at Northwestern University as a drama major, but left after two years for New York, where she landed a job as understudy for the two female leads in Voice of the Turtle, and at the suggestion of the producer she changed her name to Patricia.
Her storied career has been well chronicled through the years, along with her personal life, from her affair with Mr. Cooper, which she detailed in her 1988 autobiography As I Am, to her self-described loveless marriage beginning in 1953 to Roald Dahl, a former Royal Air Force pilot who became a renowned writer of children's books, including Charlie and the Chocolate Factory and James and the Giant Peach. They had five children with added tragedy: daughter Olivia died of complications from measles in 1962 at the age of seven, and son Theo suffered brain injuries as a baby in 1960 when his pram was crushed in an accident involving a taxicab and a bus in New York city.
"I was very lucky in the beginning — don't ask me what's happened since," she quipped in a 1981 Gazette interview at her Edgartown home with Roald Dahl. Two years later they divorced after it came out that he had been having a long-term affair with her close friend. Roald Dahl died in 1990.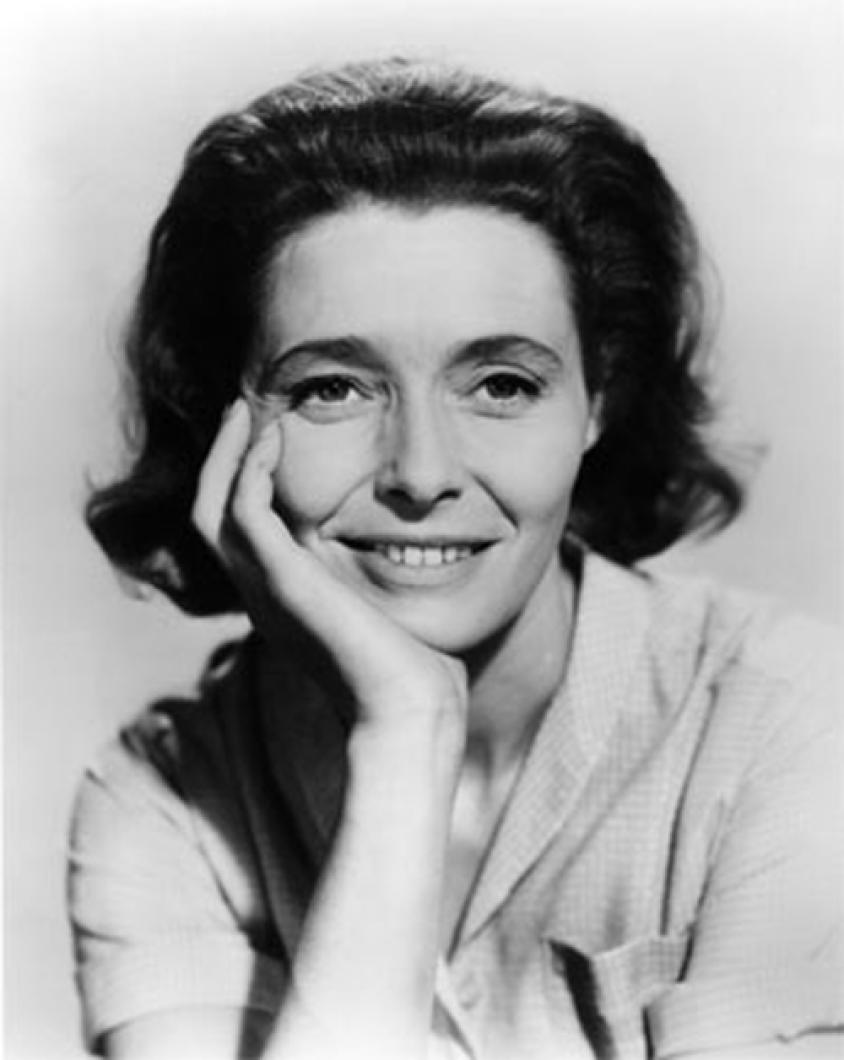 Ever indomitable, she carried on, becoming a much sought-after speaker at events for the arts and drama, and placing increasing emphasis on her work to raise money and help people and organizations devoted to recovery from stroke and brain injuries. Among other things she is founder of the Patricia Neal Rehabilitation Center in Knoxville, Tenn.
Often lost in the repetitive chatter about famous love affairs and personal tragedies was the influence of the late Katharine Cornell on the life and career of Patricia Neal.
Ms. Cornell was the reason Ms. Neal became an actress.
"The most gorgeous moment for me was seeing Katharine Cornell in The Three Sisters," she wrote in her autobiography, recalling her first trip to New York as a college student studying acting. "I was absolutely shaking after the performance. I knew I had to find a way to meet her. I headed for the stage door and somehow got past the guard. I stepped onto hallowed ground — backstage of a Broadway theatre. I located the star's dressing room and knocked. She answered the door herself!"
And she was the reason Ms. Neal came to the Vineyard.
"I had read about the Island in Katharine Cornell's memoir when I was young and had courted the idea of going there all my life," she wrote in her autobiography. Of her first summer visit to the Vineyard in the 1970s, she wrote: "I fell in love with the Island. I knew I wanted to return. It was a special summer for me. I look back on it as the summer my children and I began a new relationship that would continue for the rest of our lives."
She bought her house on South Water street in Edgartown in 1979, where she came from June until Thanksgiving each year before returning to her winter home in Manhattan. She died there on Sunday.
"I was never number one; I was always number two," she told the Martha's Vineyard Magazine in a 1991 interview. "But I was always a good actress."
She is survived by her children, Tessa Dahl, Theo Dahl, Ophelia Dahl and Lucy Dahl; siblings Margaret Ann VandeNoord and Pete Neal; grandchildren Sophie Dahl, Clover Fiandaca, Luke Kelly, Phoebe Faircloth, Chloe Faircloth, Ned Donovan, Alexa Dahl, Luke Frantzis-Dahl; step-grandchildren Olivia LaViolette and Lulu LaViolette; and a great-grandchild, Finnley Fiandaca
A funeral service will be held at 11 a.m. tomorrow at the Federated Church on South Summer street in Edgartown. In honor of Patricia's love of all things bright, color is welcomed at the service.
In lieu of flowers the family asks that donations be sent in her memory to Partners in Health, P.O. Box 845578, Boston MA 02284-5578, or to the Patricia Neal Rehabilitation Center, 1901 Clinch avenue, Knoxville, TN 37916.