Anthony J. (Tubby) Rebello, a well-known Oak Bluffs politician, former selectman, town moderator, businessman and family man, died on Dec. 5 after battling Alzheimer's disease for a number of years. He was 71.
Oak Bluffs born and bred, Mr. Rebello was a self-made businessman who owned a number of concerns on Circuit avenue over the years, including Garland's Market and the Vineyard Wine Shop. In the late 1960s he was the manager of the Boston House, and in later years he owned Anthony's Restaurant, which today is the site of Lola's restaurant, on Beach Road in the Harthaven section of town.
The son of the late Manuel F. and Adeline Camancho Rebello, he was born in Oak Bluffs on July 3, 1934. He grew up in Oak Bluffs and was graduated from high school there in 1953. He married his high school sweetheart, Marilyn Jane Combra, in September of that year. They had four children.
Mr. Rebello worked in the Oak Bluffs post office for 14 years, before he turned to business and politics. He first ran for selectman in 1971. He resigned two years later, but was returned to office in 1981, and re-elected again in 1984. He also served for many years as town moderator, and was known for his sure hand and knowledge of Robert's Rules, which he often studied before a town meeting.
"He was an excellent moderator; he had control of the meeting and he really knew the rules," said Joseph E. Sollitto Jr., a former Oak Bluffs selectman who is the clerk of Dukes County Superior Court.
"He was one of the best moderators we had," agreed Peter Williamson, the retired Oak Bluffs police chief who was Mr. Rebello's friend and sometimes cohort over the years.
"Tubby was a great guy - he was a very generous person; he would always buy you dinner, and he was very caring of his family," Mr. Williamson said. "In many ways he was way ahead of his time. He did everything to the fullest - as a young man he went across the country with his family. I remember one day he went out and bought a Cadillac for his wife."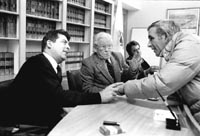 He was known for his generosity, his adventures and his meticulous nature. Anthony's Restaurant was spotless, from the dining room to the kitchen, and Islanders went there for the tasty food and colorful conversation with Mr. Rebello.
He had many political connections in Boston and among other things was friends with former Massachusetts Gov. Michael Dukakis.
"Anyone that knew him certainly had some stories to talk about and some great laughs - being around Tubby was never a dull moment," said Herbert A. Combra Jr., who was Mr. Rebello's brother in law and also the town highway superintendent for many years. Mr. Combra recalled Mr. Rebello's generosity and his hospitality. "His house was always open to anyone," he said. "When he went on vacation he rented a house in Florida - anyone from Martha's Vineyard was welcome and sometimes he had as many as 20 people staying there. He certainly made his mark on Martha's Vineyard, that's for sure," he added.
"I remember Tubby when I was a little boy - he was handsome and dynamic and warm and caring and always glad to see me and my family," said Ronald H. Rappaport, the ubiquitous Island attorney who is town counsel to five of the six Vineyard towns and grew up in Oak Bluffs.
"I always enjoyed seeing him at his restaurant - he served the town well and was dedicated to the town of Oak Bluffs and he was a wonderful family man," Mr. Rappaport said.
"He was a very good selectman and he worked very hard for his town. I always enjoyed him," said Fred B. Morgan Jr., a former longtime Edgartown selectman.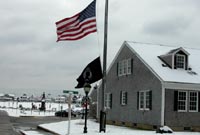 "Tubby was a political person who in Oak Bluffs will always be remembered where other politicians have gone by," said Oak Bluffs selectman Roger Wey, who served alongside Mr. Rebello. "Whatever he did, he did for the best interests of the town. He helped a lot of people, and many people don't know how much he did for the town and its programs."
In the 1980s Mr. Rebello was single-handedly responsible for landing a $408,000 federal grant that was used to rebuild the town bulkhead on the harbor.
"There are many programs that the town would not have today without Tubby's political connections. This is a sad moment in the town of Oak Bluffs that Tubby has left us. He was a stand up guy, and you can't say that about too many people," Mr. Wey said.
Flags flew at half mast in Oak Bluffs this week.
Mr. Rebello had been out of the community eye for a number of years because of his illness.
"He died about four years ago when he lost his memory," said Mr. Williamson. He recalled his last chance encounter with his old friend. "My wife and I went off-Island on Monday to go to the dentist. We came up over the hill and saw the hearse and I said, 'there goes somebody to be buried.' When we got home my phone rang and I found out Tubby had died."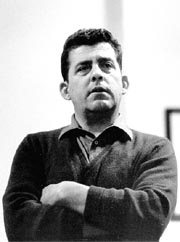 Mr. Rebello is survived by his children, Robin Meader and her husband, Danny, Anthony Rebello Jr., Todd Rebello and his wife, Mia, and his daughter in law, Lynn Rebello, all of Oak Bluffs. He was predeceased by his wife and his son, Christopher Rebello.
A Mass of Christian Burial will be held in Our Lady Star of the Sea Church on Massasoit avenue in Oak Bluffs today at 10 a.m. Interment will follow in Sacred Heart Cemetery.
Contributions in his memory may be made to the Look Dolby Rebello Scholarship Fund, Attention Kathy Parsons, P.O. Box 82, Vineyard Haven, MA 02568. Visit www.ccgfuneralhome.com for online guest book and information.