How have the wind and choppy seas affected the fishing during the first week of the 61st Martha's Vineyard Striped Bass and Bluefish Derby? That depends on whom you ask.
"It was beautiful out there Wednesday morning - there were some big rollers, but it was good," Chris Kenny said from derby headquarters yesterday morning after picking up a daily prize for his 30.92-pound boat striped bass, the third largest fish weighed in Wednesday. Mr. Kenny caught his fish in the waters "somewhere up-Island" as a guest in his pal Dick Vincent's boat, The Flashy Lady, with the somewhat bygone method of using clams as bait - a practice mostly forgotten but still employed by fishermen in Connecticut and Montauk, N.Y. After the visit to headquarters, he was on his way out to Chappaquiddick for some time on the shore.
"It's been difficult with these poor conditions," countered Norris Johns after he took sole possession of first place in the flyrod shore bluefish division with his 7.14-pound fish caught "in the water" somewhere in the vicinity of headquarters. The Chappaquiddick resident walked into the weigh station 10 minutes before closing time yesterday morning in waders and a slicker, his nice-sized blue still gasping for air.
"This is the first fish of any size I have caught," he said.
That might not be surprising coming from a shore flyrodder, given the gusts and heavy seas that lashed the Island this week. But the truth of how the weather has affected fishermen around the Island probably lies somewhere in the middle of both assessments, with a lean toward Mr. Johns's.
"It's been slow, real slow," added derby volunteer and newly elected hall of fame member Martha Smith. "It's windy, the water is rough and dirty. It will pick up once the weather settles down."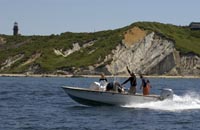 Hopefully that will be tomorrow for the first of four special Saturday events. New to the derby this year, the one-day events award cash prizes for the largest fish of a specific species caught that day in both boat and shore categories. Tomorrow, the two anglers that bring in the largest bluefish will each walk away with $500. Next Saturday, it's false albacore, followed by striped bass and finally bonito.
And Sunday morning is the kids' derby, which begins at 6 a.m. at the Oak Bluffs ferry wharf. Junior anglers from ages four to 14 are encouraged to bring their rods for the three-hour event.
A glance at the leader board shows a couple of contenders but mostly a wide open field. Through yesterday afternoon, there were 206 fish weighed in for the first five days of the contest, more than half of them bluefish. There are no 40-pound bass yet, the heaviest bluefish is just 12.18 pounds and there have only been 11 bonito weighed in, the largest tipping the scales at 8.46 pounds.
Which is not to say there are not any intriguing plot lines. Richard Hall's 14.63-pound shore false albacore currently stands as the fish to beat, holding a commanding lead over the next biggest, Janet Messineo's 12.26-pounder, and standing a good shot at being the grand winner. Looking back over past derbies, Mr. Hall has history on his side: in the last 10 years, the average weight of the winning shore albie has been 13.24 pounds. And with the heavier albacore often retreating to deeper water as the five-week contest wears on, the pressure is on to catch him.
"I wouldn't be surprised if that name stays up there the whole tournament," offered weigh master Roy Langley.
Wednesday was the day for big bass, or at least, bigger bass. Mr. Kenny's fish was one of a handful of 30-pounders brought in, beginning Tuesday night with Gregory Tayntor's 37.78-pounder - the first large bass of the tournament and currently the biggest. Lois Stout and Madeline Bourcier are right behind him with 35.30 and 32.47-pounders. Mr. Tayntor also added a 27.25-pound bass on Wednesday.
Longtime Chilmark fisherman Nils (Gus) Leaf leads the boat bluefish category with his 12.18-pound fish. Look for bigger blues to pop up as the weather improves.
Which could also be said for bonito. Just 11 of the feisty fish have been brought in, with Bernie Arruda once again at the top. Mr. Arruda's 6.35-pound shore bonito is a far cry from last year's winning 9.35-pounder that gave him a shot at the grand prize Boston Whaler, but it is still only one and a half pounds short of the 7.88-pound fish he won with in 1998. It is a safe bet Mr. Arruda will challenge both those weights in the coming weeks.
And while he has never had the pleasure of catching the winning fish, Steve Amaral of Oak Bluffs got off to a fast start with his 9.36-pound shore bluefish on Wednesday, good enough for a daily first place prize. Mr. Amaral is fishing his 60th derby.
For more information and coverage of the bass and bluefish derby, including a link to complete daily results, visit the Gazette Web site at mvgazette.com.