For the second time in his life, Dr. Kenneth Edelin on Tuesday evening stood at the Shearer Cottage in Oak Bluffs plagued by uncertainty. Thirty-two years and six days earlier, a group of Oak Bluffs women had organized a benefit dance at the cottage to help raise funds for the young doctor's legal fees. He had just been convicted of manslaughter for performing a late-term abortion.
On Tuesday, Dr. Edelin traded in his dancing shoes for a microphone and warned a crowd of over 200, many of whom had attended the dance years ago, that women's health and reproductive rights in this country are still threatened. "I think we have crossed over the mountain top and are on a slippery slope," Dr. Edelin said.
Road Scholar, an initiative of the nonprofit educational travel program Elderhostel, hosted the event. It was the second in a national series to attract African Americans to the program. "Oak Bluffs is the place to be if you want to reach a national audience of African Americans," Elderhostel's president James Moses said. And Dr. Edelin fit the theme as a speaker. "He was here 32 years ago, we were formed 32 years ago," Mr. Moses said. "He's just coming out with his book. It's really what education is all about."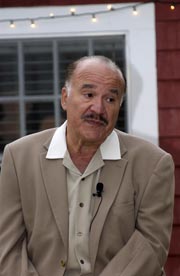 Besides spreading the word about Road Scholar, the evening, which started with wine and hors d'oeuvres on the cottage lawn, was a pre-release party for Dr. Edelin's book, Broken Justice: A True Story of Race, Sex, and Revenge in a Boston Courtroom. The book chronicles five years in the life of Dr. Edelin, a longtime seasonal Oak Bluffs resident, taking the reader from the start of his residency at Boston City Hospital, through a six week trial in which he was convicted of manslaughter and finally onto the decision, handed down from the Massachusetts Supreme Court, that allowed him to continue his lifelong dream - to save and change women's' lives.
As he sat on a small stage on Tuesday with the evening's moderator, producer and journalist Callie Crossley, Dr. Edelin recounted his childhood. "For as long as I can remember, I wanted to be a doctor," he said. "I grew up in D.C. and spent a lot of time in doctors' offices. I was in awe of what they did." He described himself as a young black man shaped by the civil rights and sexual freedom movements of the 1960s.
Dr. Edelin came to Boston in the late 1960s. He found a city marked by racial tension, with the Boston bussing crisis over school segregation making the daily news. He began his residency at Boston City Hospital, the city's only municipal hospital. At the time, abortions were only allowed for women whose health or lives were at risk from the pregnancy. "It was chaos," he said.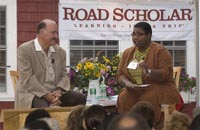 With the landmark United States Supreme Court decision Roe v. Wade in 1973, which legalized first trimester abortions in every state, Dr. Edelin's practice changed forever. "It was like a door had been blown open," he said. Almost immediately, requests for abortions skyrocketed and doctors could barely keep up. The number of complications from illegally performed abortions dropped dramatically, as did the number of miscarriages, he said, an indication that more than a few doctors had turned their heads and ignored restrictive laws to protect the health of their female patients. "I thought it was over," he said. "It was a momentous decision."
But for opponents of abortion, the war over a woman's reproductive rights had only just begun. Right to life groups nationwide immediately began searching for cases that could help rein in the decision. A few were tried, Dr. Edelin said, but no one was indicted. Except in Boston. In 1975, Dr. Edelin was charged with manslaughter after performing a second-trimester abortion on a 17-year-old. At the time, Dr. Edelin was four months away from completing his residency.
After a six-week trial that attracted national attention, an all-white jury of twelve, ten of whom were Roman Catholic, found Dr. Edelin guilty. He was sentenced to one year in prison. "I thought I had been someone trying to provide medicine in Boston," he said. "It took me awhile to understand that it was not just me they were after, it was about more than me." Dr. Edelin and his lawyer, William P. Homans Jr., appealed the case. "I was given the platform to expose them and what they were trying to impose on this democracy," he said. The Massachusetts Supreme Judicial Court overturned the conviction in 1976.
But before it was overturned, Marie Allen and Lorraine Baugh of Oak Bluffs decided to do what they could to help the young doctor. They formed the Martha's Vineyard Kenneth Edelin Defense Committee and organized a benefit dance at the Shearer Cottage on August 15, 1975. The dance went from 8 p.m. to 1 a.m. The cost of admission was $9 at the door; $8 for advance tickets. On Tuesday this week, Mrs. Allen stood on the lawn of Shearer Cottage clutching a copy of the 1975 Gazette story that advanced the dance. "It was a very tense time," she said. "It's nice now to reminisce in happier times, to come back and celebrate all these years."
Times are indeed happier for Dr. Edelin. He went on to become the first black chief resident in Boston City Hospital's history and a dean at the Boston University School of Medicine, where he is now professor emeritus. But he warned that the struggle is not over. Four months ago, President Bush signed into law the Partial Birth Abortion Ban Act, which prohibits a certain type of late-term abortion procedure. "It is an auspicious time," Dr. Edelin said. "It only prohibited a single procedure, but it was clear to me that it was inviting other challenges to Roe v. Wade."
To that end, Dr. Edelin closed the evening with a call to arms. "We just finished celebrating the 34th anniversary of Roe. In 16 years, we should be celebrating 50. But I'm not so sure that Roe will last," he said. "We have to be freedom fighters for 50. All of us have to exercise our personal liberties to ensure private decisions."