Few people ever see the raw notes — the raw thoughts — of a writer they admire. They don't know the handwriting of a favorite novelist or journalist, or what kind of notebook, grade of paper or color of ink the writer prefers. But every writer has a process of transmitting thoughts into printed words. It's an unselfconscious process, since only the finished product will ever be seen.
That is, in part, why the new body of work by nationally acclaimed Island-based painter Cindy Kane is so bewitching.
Ms. Kane has taken notes donated to her by six Island writers and used them as the backdrop for a series of large-scale paintings that incorporate her signature motifs of maps, birds and the natural world — all conjured from acrylic. The show is called Mapping Writers and opens Sunday at Carol Craven Gallery in Vineyard Haven. A reception will be held from 5 to 7 p.m.
Words peek and pop from behind and between layers of paint — scrawled fast or scripted slowly, on heavy stationery or a crinkled reporter's notebook, in inky color or ball point black.
It's the voyeuristic pleasure of seeing what was never meant to be seen — peering into the unedited thoughts of the writer and extracting hints of the circumstances in which they hatched.
But Ms. Kane did not take inspiration from the meaning of the words. In fact, she went out of her way to not read them — only occasionally gleaning bits and pieces that her eyes snagged on as she rubbed the glue-brushed pages onto panels.
Only now that the pieces are finished is she letting her eyes decipher the handwriting and undress the stories, thoughts, poems and quotes. Instead, she was influenced by the shape, size, color and texture of the words themselves — the rushed shorthand of a journalist, the caring longhand of a poet or the typescript of a novelist, with his handwritten edits in the margin. The written words became the art, as opposed to the writing.
It was a year ago this week that it first occurred to Ms. Kane to ask a writer for his notes. She read a story in the Gazette about Ward Just, who is considered one of the best political fiction writers in the country. Mr. Just's 15th novel, Forgetfulness, had just been published, and the story took note of the fact that in his West Tisbury home discarded typewriter pages from his last 10 books — 17 years of writing — were piled up in a single wicker waste paper basket.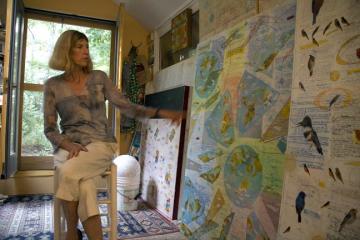 "When I read that, I thought, I want those papers," said Ms. Kane, who lives with her husband Doron Katzman and their children Nelly and Tova Katzman in Vineyard Haven.
She had met Mr. Just a few years prior through a mutual friend, painter Kib Bramhall. She gave Mr. Just a call.
"I was thrilled that he said yes and I went immediately to his house and he gave me a Cronig's bag filled with pages," Ms. Kane said. "It felt like a gold mine. I tried to put the pages in order. I was being ridiculous — this is his trash."
Mr. Just did not regret parting with the pages, although physically, it posed a challenge.
"I had plenty of pages. I probably have 1,000 pages sitting in a wicker basket under the desk," Mr. Just said this week. "The wicker holds it all in — they don't get out easily. They're like rats in a cage."
He didn't know how Ms. Kane would use the pages, but he suspected it would be interesting. When Ms. Kane finished the painting, she invited him to see it.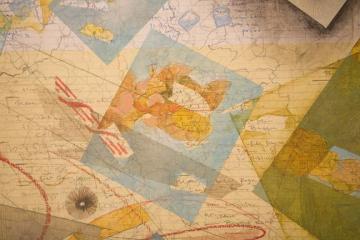 "I was intrigued, naturally, and went over with a friend of mine and had a peek at it," Mr. Just said. "It's the genuine article what she's got there. She's made something really quite extraordinary out of it, I think."
But Ms. Kane also sensed that it would be easier on the writer if other writers were on board with the project.
"I think it was flattering and awkward at the same time. For the writers themselves, it's a kind of exposure that was never intended," she said. "The community here is so accessible — I knew some other writers, so I called them and asked them."
She called author and Pulitzer Prize-winning cartoonist Jules Feiffer in West Tisbury and NPR foreign correspondent Charlayne Hunter-Gault in Oak Bluffs. She called Pulitzer Prize-winning writers Geraldine Brooks and Tony Horwitz, who are married and live in Vineyard Haven. She called Rose Styron, a poet, journalist and activist and the wife of the late William Styron.
They all said yes.
"Frankly, I'm bewildered that anyone's given me anything. It feels like a great privilege to paint over the work of writers I admire. I feel it's a tribute to the writers," Ms. Kane said. "My father was a writer and I grew up with a passion for reading. Reading was how I connected with my father. Reading Hemingway's A Moveable Feast sent me to Paris and Huckleberry Finn gave me a passion for river rafting. I feel like books have shaped my life, so for me to be given these private pages to create my own work, it's a great privilege."
She also collected notes from writer friends in other parts of the country, including human rights activist Jeri Laber and travel writer Paul Schneider (who also lives in West Tisbury), but those pieces will not appear in Sunday's show.
Most of the writers went through their own notes and found the pages they wanted to give to Ms. Kane, or pages that they no longer needed. Rose Styron let Ms. Kane choose for herself from the notes that filled the drawers of the desk in her study in Vineyard Haven.
"She gave me incredible access. She just opened up drawers and said 'Please take what you need,'" Ms. Kane said. "Look at the papers. Look at the ink colors," she marveled.
Ms. Kane chose the rough versions and beginnings of poems and notes from activism seminars that Mrs. Styron attended. They were written on stationary, spiral-bound notebook paper, hotel card stock and napkins. The various colors of ink bled on the page when Ms. Kane glued them down.
"I loved her handwriting," she said. "It was such a beautiful series of pages glued down, I almost considered leaving it."
Getting started was intimidating.
"It felt like such a chutzpah — like 'How could I do this?'" Ms. Kane said. "So I would sit with them for a few days and find the rhythm and very slowly start to work with it."
She made photocopies of the notes she took from the writers in case they wanted them back.
Mrs. Hunter-Gault knew she would need copies of the notes she gave.
"I have a lot of notes, but I gave her the notes I was currently working on, that I had been interviewing people with, on the African American voice in U.S. foreign policy toward Africa. I think there were some other notes that I had taken when I was in Shanghai recently, looking at the Chinese influence in Africa," Mrs. Hunter-Gault said. "I didn't have any reservations about having my notes used for a piece of art, but I did have reservations about letting go of them because they were my originals — but that just shows you my confidence in her. If anything happened to them, I'd be up a tree."
Mr. Horwitz also gave Ms. Kane notes from the project he is currently working on.
"I believe it was from the book I'm working on now about early explorers of America. I tore out a bunch of pages from an old white reporter's notebook and maybe some pages from a legal pad too," he said. "I'm a former journalist, so when I'm out, I have a small reporter's notebook in my pocket with a little spiral at the end. When I get back from the trips, I tend to type my notes up, so I don't tend to go back to the written notes again. I picked out a notebook that I knew I didn't need to keep."
Ms. Kane likens Tony's writing to Arabic — she can't read any of it.
"It's hopeless," he agreed. "I write in spider — no, that's too nice — it's unreadable to anyone and even to me sometimes. Personal shorthand I guess you could call it. I try to type up my notes quickly while I can still reconstruct them."
Ms. Kane also painted slightly smaller-scale pieces using Mr. Horwitz and Ms. Brooks's notes that incorporate the bold color blocks characteristic of flags with a bird of prey.
"There's something about birds of prey that seems to be the right bird to portray journalists," Ms. Kane said. "They're cautious, they're careful listeners, they're careful watchers."
Mr. Horwitz called the paintings fabulous.
"How she turned the drivel of my notes into a piece of art, I don't know. It's a wonderful piece and I feel honored to be in it," he said. "It's the first time anything I've written has appeared in any form other than print."
His wife, an Australian American and former foreign correspondent, gave Ms. Kane her notes from when she was reporting in Iraq for the Wall Street Journal after Saddam Hussein's gassing of the Kurds.
"When I'm writing my fiction, I do all my notes in a kind of leather bound special books, so I keep all my thoughts and notes for a novel together like that," Ms. Brooks said. "But then I thought of all the notes I had from my years as a foreign correspondent in the Middle East."
They were stored in the attic of their home in Virginia, so the next time Mr. Horwitz went there, she asked him to find the boxes.
Most of the notes are written on big, blue spiral-bound pages — the pages of the notebooks sold in the United Nations building at the time.
"They have my sort of wacko shorthand in them, so they're very calligraphic," Ms. Brooks said. "I was very glad to see the physical material being transformed into something else. Cindy's so creative and inventive and her imagination and her visual sense are just remarkable."
The reception for Mapping Writers is Sunday from 5 to 7 p.m. at Carol Craven Gallery off Old Holmes Hole Road in Vineyard Haven. The show will run until Sept. 19.