Imagine you have 12 juice-size cups in front of you. Carefully construct a six-cup pyramid in the middle and two three-cup stacks either side. Then, working from right to left, demolish these structures finishing with three perfect cup stacks, and punch the clock.
You just mentally completed what stackers call a 3-6-3. How long did it take? A minute? Thirty seconds . . . 2.6 seconds? Odds are, even in your head, you can't do it fast enough to beat some of the Island kids who have taken up the sport over the past year.
The Edgartown Boys' and Girls' Club was treated to a demonstration of warp-speed cup wrangling this Monday, when adult record breaker and sport stacking ambassador Matt Reed dropped in from Denver to give a free lesson on the physics-defying sport. Structures appear and vanish in a flurry of dextrous hands, squeaking trainers and the click-clacking of touching cups as the kids begin a timed session. With the semi-splits crouch he assumes to level his hands with the table surface, Matt is a giant in a miniature world.
"Sport stacking is dominated by children," he said. His theory is preteens have the time to devote to the heavy practice required to master the techniques. "And they are happier to focus on the sport before they hit 14, 15 and become too cool."
Educators, convinced that stacking increases coordination, ambidexterity and can even benefit children in the classroom, have introduced the sport to the curriculums across the country.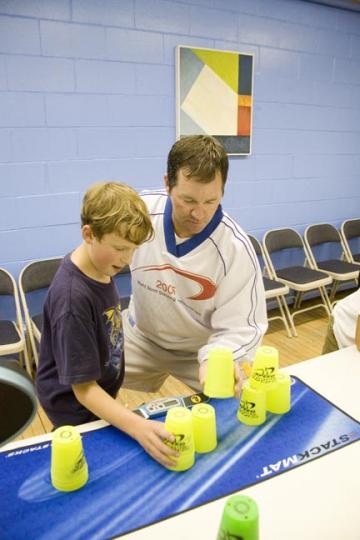 Starting last fall, a growing group of enthusiastic young Vineyarders has been stacking cups in a semi-weekly class run by Islander Becca Morrow. "It's gone very well," said Ms. Morrow, who fits her stacking work in between running a bookkeeping service. "Everywhere I've taken it the kids have just gone wild. I need help though, I can't do it all on my own," she said.
And she has some, in the form of Jim Klingensmith, a member of the Edgartown firemen's association and passionate stacking advocate. Over dinner with Matt Reed one night in New York, Mr. Klingensmith became convinced he wanted to help. "He told me all about the benefits for kids," he said. Speed Stack, the equipment company that Matt Reed represents, donated 30 sets of cups and some mats to Becca and Jim, but demand quickly outstripped supply. "The kids were so into it, so I went back to the firemen's association and they donated a sport stack, which included another 30 sets of cups," he said. Since then, he and Ms. Morrow have held twice weekly stacking events at the Edgartown Boys' and Girls' Club.
The learning curve is steep. "Some of the kids here today, it's only their second time stacking," Ms. Morrow said, pointing to children piling up cups at bracing speeds. One girl, Alley Ellis, age 9, stood out. Her smooth technique elegantly illustrated some of the time shaving tricks adopted by the record breakers.
"It was at one of my mini-courses. Alley just happened to be walking in for an art class at the end of one of my lessons," Ms. Morrow recalled. "She picked up some cups and she stacked and unstacked them so fast, my jaw just dropped. I was like, 'Do that again!' "
Ms. Morrow and Mr. Klingensmith worked with Alley on her technique in the ensuing months. Then in May, she completed a cycle — the longest event in competition cups, equivalent to a medley in swimming or in track and field — in under ten seconds. It was a record-breaking time for Massachusetts. But sadly, all official records require accompanying video footage so the time was inadmissible. Now Mr. Klingensmith makes sure there's always a tape playing at timed events, to catch a particularly fast-fingered kid.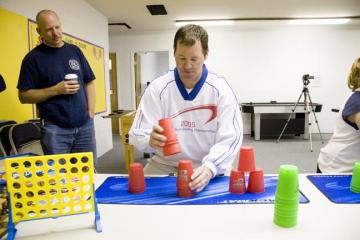 "There's always a chance they'll break a world record. Also, if a child is promising we'll send the tape to Matt and he gives tutorials on whether they should change their stance and do this or that," he said.
"Trying to enlist the help of parents and teachers is important," Ms. Morrow said. "And the thing to do next is get it into schools." The sport is currently on the curriculum in 20,000 schools across the U.S., but while the Edgartown school has included some extracurricular programs, stacking has yet to be officially taken up by any Vineyard schools. Mr. Klingensmith said it will take time. "We wanted either the Boys' and Girls' Club or some of the schools [to host the program], and we went with the club in the end," he said.
One problem is getting stacking recognized as a sport among those who might reasonably assume it is an essentially sedentary, novelty act. But Dr. Brian Uddermann, an associate professor at the University of Wisconsin who has researched the physiological effects of cup stacking, insists that stacking has all the hallmarks of a fitness-enhancing sport. "A major criticism is that it's not an active, out-there-running activity," he said, adding: "I put both youths and adults on a metabolic cart, testing CO² expenditure, energy taken and calories burned . . . In terms of calorie burning, it's on a par with activities like volleyball, archery and light weight-lifting."
He said the physiological benefits are clear too. He tested second graders before and after a five-week program of stacking. "I saw a 30 per cent improvement in dominant and nondominant hand-eye coordination and in reaction time. I was surprised they improved that much. And I have heard stories that suggest the skills can carry over to other sports, such as basketball where you dribble with both hands," he said.
Whatever the arguments for growing the sport in the United States, this country has been overtaken by Germany on a competition level, despite having pioneered and initially dominated the sport. For Mr. Reed, this has everything to do with a different attitude. "Germany holds all the world records. Over there, they're very serious and disciplined about the sport and here kids just have too much choice," he said. He bristled at the mention of German-produced variations of the speed stack cups, calling them knock-offs. "I don't even think I'm allowed to mention their name," he said.
Meanwhile, the World Sport Stacking Association and Speed Stack continue to rely on the kind of local action that Mr. Klingensmith and Ms. Morrow provide. They believe the sport has a definite future on the Island.
"My goal is to build a Vineyard team that we can take to the world championships," Mr. Klingensmith said. "I'll be going back to the firemen for that." But he is also helping to bring the sport to children as far as Peru, with the help of the Vineyard Rotary club. Headed by Paul Watts, the club sends a team to the Rotary club in Lima to distribute wheelchairs to schools and an orphanage in the area. This year Mr. Klingensmith has organized sponsorship for a new sport pack and plans to teach stacking to Peruvian children later next week. "A few years ago the Rotary took down ping-pong equipment and now a ping-pong group is traveling to bordering countries to compete. I'll be looking for a group like that when I bring the cups," he said.