Chef Chris Schlesinger of the East Coast Grill & Raw Bar in Cambridge is a self-described purist. His menus feature fish caught in local waters and produce from nearby farms. He offers what is in season and the dishes rotate accordingly. One constant is the oyster.
"There are three kinds of oyster-eaters," Mr. Schlesinger said recently by telephone. Quoting the famed food writer M.F.K. Fisher, who wrote an entire essay, Consider the Oyster, on the shellfish, he enumerated them: "Those loose-minded sports who will eat anything, hot, cold, thin, thick, dead or alive, as long as it is oyster; those who will eat them raw and only raw; and those who with equal severity will eat them cooked and no other way."
Mr. Schlesinger is of the second variety. He demands his oysters raw, with a squirt of Tabasco. He prefers they come from Vineyard waters.
Tonight Mr. Schlesinger will have his way with the oyster. At a kick-off dinner for this weekend's Martha's Vineyard Harvest Festival, the chef will have at his disposal 2,000 oysters cultivated in Katama Bay. At the dinner, appropriately called Pearls from the Oyster, he will dole them out raw with a wedge of lemon, topped with a lime mango sauce, cooked in the Rockefeller style, and garnished on the half shell with a mixture of barbecue sauce and garlic butter. Our Market in Oak Bluffs has selected wines to pair with each of the preparations. Proceeds from the evening will benefit the Martha's Vineyard Museum.
While the Cambridge-based chef this week dreamed of snagging a few of the oysters for his own enjoyment, a handful of Island oyster fishermen were busy harvesting. Jack Blake has worked on the water for years. He began with wild quahaugs and, when the crop yield started shrinking, experimented with farming his own. This required more work and attention, although the price the cultivated quahogs fetched was the same as that for their wild counterpart — 13 cents.
He did a little research and learned the same was not true for the oyster. When farmed, one cultivated oyster can sell for up to a dollar, more than double the going rate for a wild oyster.
After consulting Rick Karney of the Martha's Vineyard Shellfish Group, who advised him and a few other interested shellfishermen, Mr. Blake applied for a one-acre plot of water on the bay and began cultivating oysters. Or he tried to. "I thought at 50 cents each, I was going to be a millionaire," Mr. Blake said. But for the first three years he grew, he did not sell a single one.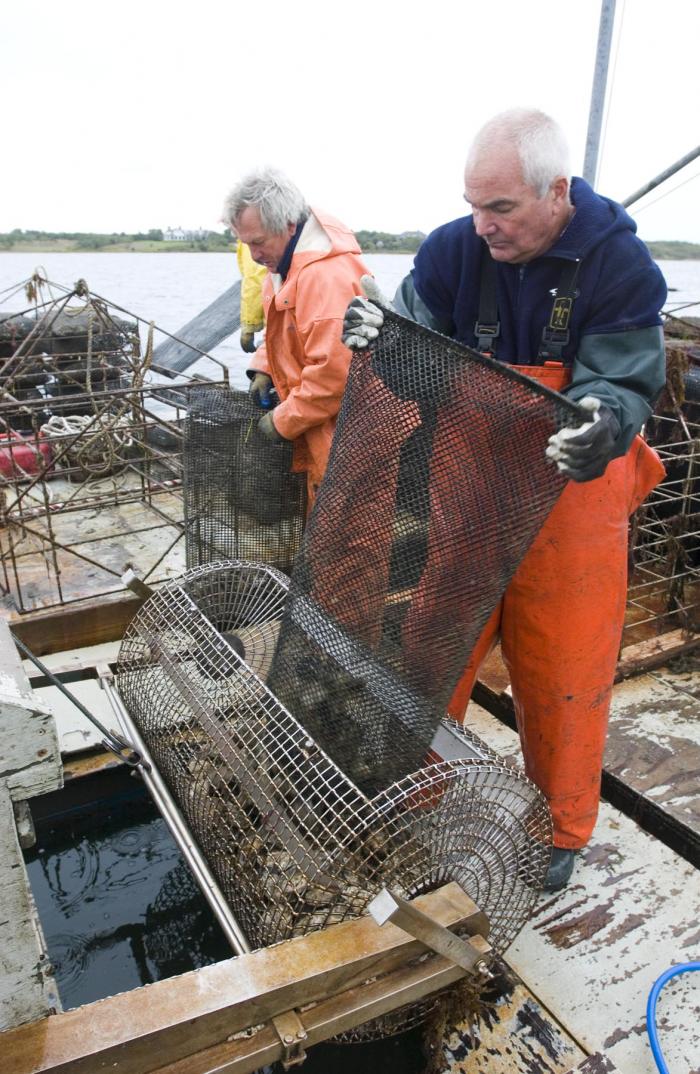 Over the past seven years, Mr. Blake has learned a bit about growing an oyster. He now plants 400,000 oyster seed each June and, in a successful season, will sell half of them. On a recent day, with fog so thick and soup-like that passing boats could be heard before seen, Mr. Blake took a reporter out on the water for a lesson in oyster farming. "You better be ready to get dirty," he said, pulling his boat away from the dock.
As he navigated to the farm, his one-acre site sewn with 250 oyster bags, Mr. Blake pointed to the other farms dotting the bay. Seven farmers now till the waters and mark their oyster bags to establish boundary lines. Mr. Blake puts duck decoys atop his. Others use brightly colored buoys to signal their turf. Oyster farming dates back to the 1940s on the Vineyard, when 27-year-old Johnny Mayhew and his 23-year-old bride Shirley opened their first farm, but never has it been so widely practiced as now.
Mr. Blake idled up to a bag and, using a rope, pulled it up and out of the water. Crabs and small fish fell out, and the oysters inside hit the deck of the boat with a clatter and a jingle. "Oh, they are big," Mr. Blake exclaimed. He last saw them two months ago. "They've doubled in size! There's not a dead oyster in there," he said. Each spring, Mr. Blake plants 400,000 oyster seed. He divides the seed, putting 300 in each bag; he lets them sit in the water for six weeks.
After their first stint underwater, he goes back to the bags, pulls them up, separates the oysters into smaller batches and out they go again. "Once they feel overcrowded, they sense it and slow down growing," he said. "They set up a growing schedule, so if you stunt them early, they just won't grow as quickly."
For the next two years, Mr. Blake will repeat this process every two months, until the oysters reach market size and can be harvested.
After pulling a few bags — oysters will be ready to harvest after another few months below the surface — Mr. Blake steered towards his raft to check on the oysters he is harvesting for tonight's dinner. The raft is where the action happens. It is here where the oysters, ready for market, lay out to dry before getting tumbled, a process that adds a sheen to their shell and blunts their sharp edges. These oysters are not the dark, briny stuff of dockside clam shacks. Their shells are iridescent and pearly; they look fit for a queen. "The chefs love to see them," said Mr. Blake, who sells to three Island restaurants (Catch, Offshore Ale and the Harbor View Hotel), one on Nantucket and Island fish markets.
Louis Larsen Jr., owner of the Net Result fish market in Vineyard Haven, said the cultivated oysters have never been more in demand. Mr. Blake agreed. "Wild oysters are not as desirable a catch," he said. "They are grown on the bottom of the ocean and have a metallic-y taste. It tastes like the bottom."
The oyster, like a grape, takes on the taste of its surroundings. While wild oysters taste of the deep, cultivated ones capture the flavor of the salty, open bay. "They are sweet and salty too," Mr. Blake said. "They have a nice little aftertaste that always makes you want one more." Not only is their taste sweet, but, also like the grape, the oyster gives off a sweet aroma. "When I'm driving the boat past them and the upweller is facing into the current, you can smell them," Mr. Blake said. "They smell like they taste."
Tonight, diners can treat their taste buds to the oyster of Katama Bay. Dinner starts at 6:30, but for those not able to attend, the chance to revel in the oyster is not lost. On Saturday, Mr. Blake will be on his raft and boat rides will be leaving the North Wharf between 11 a.m. and 12:30 p.m. for tours of the farm, free of charge. Later that afternoon, a few oyster growers will man a table outside the museum, offering samples and lessons in oyster farming. This weekend, as the saying goes, the world is our oyster.