Last Saturday was Holiday Party Day on the Vineyard — with art openings and dances scheduled from one end of the Island to the other.
And Maggie's Salon on Beach Road in Vineyard Haven was a busy place.
The three stylists behind the chairs flitted and chatted their way between cuts, blow-dries and colorings. Each worked with two customers at once, except for Richard Cascarino, who groomed a family of three.
Owner Maggie Mae shrugged. "We've outgrown the space," she said this week as she nestled into the window seat of her tiny, two-chair salon. "These chairs are working overtime." Three years after she opened her own salon, Ms. Mae will move her operation across the street after the first of the year.
The new space, which she plans to have ready by Feb. 1, will have four chairs to accommodate the three stylists she now employs. There will be room to offer manicures and pedicures. "Sometimes I think I'm lagging, that I should have a few salons by now," she said.
Ms. Mae is 27.
From her seat in the salon, Ms. Mae watched her two-year-old daughter, Katherine, run from chair to chair with a blow drier, her gap-toothed grin giving way to giggles. "She's worse than I ever was," said the stylist, who launched into a series of stories.
For as long as she can remember, Ms. Mae, a 1997 graduate of the Martha's Vineyard Regional High School, dreamed of cutting hair and opening her own salon. She coiffed the hair of her dolls and stuffed animals and, when she could get away with it, her six siblings, all by the time she was four. "Growing up, my mother couldn't leave the scissors out," she said.
She got her first job at a salon 12 years ago. After high school, Ms. Mae trained at Blaine beauty school, then returned to the Island. When she became pregnant with Katherine, she decided the time had come to open her own business.
She walked into the Martha's Vineyard Cooperative Bank, nine months pregnant, and with her confident charm, asked for a $15,000 loan. "I was huge," she remembered. "They looked at me and said, You're pregnant. Why don't you come back after you've had the baby? I looked at them and said, Why don't you give me the loan?"
Her then-husband owned a small building on the marina next to Gannon and Benjamin and across from the Art Cliff Diner. After the birth of their daughter, the two went in and together ripped up the floors. "I was painting the walls with her on my hip," Ms. Mae said. She has since divorced. Maggie's Salon opened on June 1, 2005. From the parking lot crowded with the cars of nearby businesses, it could be missed entirely. It is set back from the road and has only a small sign hanging from the door. Inside, the shelves are stocked with top quality products, the walls painted a calming green. The space is intimate, each chair tucked into a nook.
The first summer she was open, Ms. Mae had no employees and worked five days a week. She came in some mornings without a single appointment on the books, but always she wound up staying late, sweeping up the hair from the walk-ins that streamed in. "As soon as I lost faith in the salon, we'd be crazy busy," she said.
She hired her first employees at the end of her first season. "I wanted to make sure I knew about the business before I hired people," she said. She said she never makes business decisions without first getting as much information as possible. Each spring and fall, she goes to hairstyling workshops in New York city and Boston, attending about 10 a year. She hires stylists to hold sessions at the salon and goes home after work to watch hairstyling movies. "I'm such a nerd," she laughed.
And this winter will be the second she has traveled to Paris for a weeklong vacation. Last year she paid her dues, eating at sidewalk cafes and visiting the Louvre, but the highlights were the appointments she made each day to the city's top salons, something she plans to do again this year. "It costs an arm and a leg, but it's worth it," she said. "I look at everything from how they shampoo to how they pour my tea."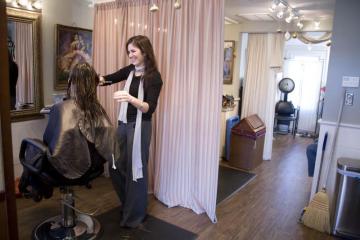 Her hard work has paid off. Last summer, her salon was runner-up for best hairdresser in Martha's Vineyard Magazine's Best of the Vineyard awards. But the real rewards come from her happy clients, who include brides-to-be, the guys from the shipyard down the street. She also donates her time to the Martha's Vineyard Hospital to help cancer patients with wigs and eyebrow makeup. "The most rewarding are the people who you know have had a really tough year," she said. "You can tell they're finally over it when they come in and chop all their hair off."
Maggie Mae has big dreams. She would like to own a second salon here, one in New York and another in France. A member of an Island women's business network and a participant with SCORE, a free business counseling program, she credits the Vineyard community for her early success. "The Island is a lot of word of mouth," she said. "If you're good out here, you rise to the top pretty quickly."