The day outside was cold. A real winter northeaster was blowing in and the gray clouds above promised snow. The door to Vera Shorter's Vineyard Haven home, however, was open.
She had just indulged in what is quite possibly her only vice she said as she spread a stack of ginger snaps on a plate. She braved the cold so her home would not smell like the cigarettes she cannot seem to give up. She would hate for the smoke to offend the guests who stop in from time to time.
There are no labels for Mrs. Shorter. In her 85 years, she has tried on a few, but none has ever settled.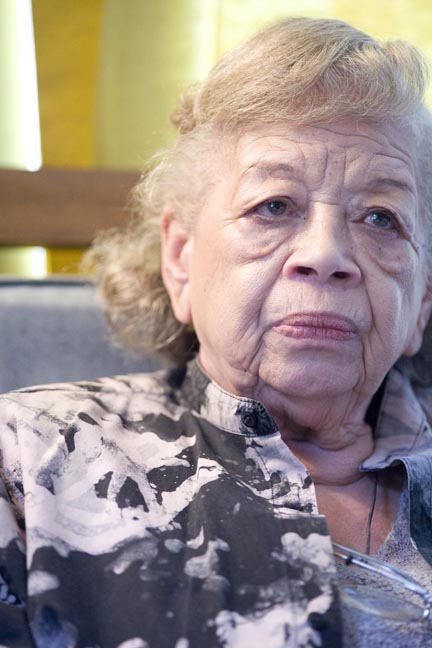 She was raised by her father, a dancer, and her mother, a pianist whose instrument now sits in Mrs. Shorter's living room. Born and schooled in Long Island, Mrs. Shorter originally dreamed of becoming a dancer like her father. "I would win contests with the Lindy Hop and my partner, Horace," she said, flashing a show-stopping smile and spreading her fingers wide into classic jazz hands. "But," she sighed, "it would have been foolish to think of a career in dancing."
Never one to be foolish, Mrs. Shorter moved after high school to the big city — Brooklyn, N.Y. "I wanted to go to New York because I wanted to learn something," she said. "In those days, opportunities for African Americans were pretty slim: housekeeping, landscaping, being a sales person. I had this little friend named Lily who got a job at a five and ten, and people were all very proud of her."
Mrs. Shorter took a position as an au pair for a city doctor and enrolled in business classes at night. She described herself as naive in those days. She wanted to be a writer and was awed by the glamorous and educated people she met, including Maya Angelou. One night, she was out on the town with a fellow named Fritz when she noticed a beautiful couple walk in the door. "They were very tall and beautifully brown in color," she said wistfully. "And I still remember the lady had on a white dress with a red cummerbund. I turned to Fritz and said, 'Oh, what a beautiful couple.'
"He said, 'Don't make eyes at him,'" she laughed so many years later. "'All the ladies make eyes at him and he's not interested.'" But Fritz did tell his date the name of the man: Rufus Shorter.
The two knew each other from school, he said, and it was only a short while before Mr. Shorter sidled up to the table. He smoothly pawned his date off on Fritz and whisked Vera off for a dance. "But, what we really did was talk about books," she said. "The Yearling. I even remember, after 50 years, the book." At the end of the number he returned her to her date and he picked up his, but not before asking where she lived.
They parted ways that night. Mrs. Shorter returned to her city life and her working world. But later that week, she came home to have her mother, in town for the weekend, greet her at the front door. "She said, 'Oh, there's a nice looking man here,'" Mrs. Shorter said. Rufus and Vera went out for ice cream but ended up arguing over Communism. The two were married during Mr. Shorter's first furlough from the U.S. Army.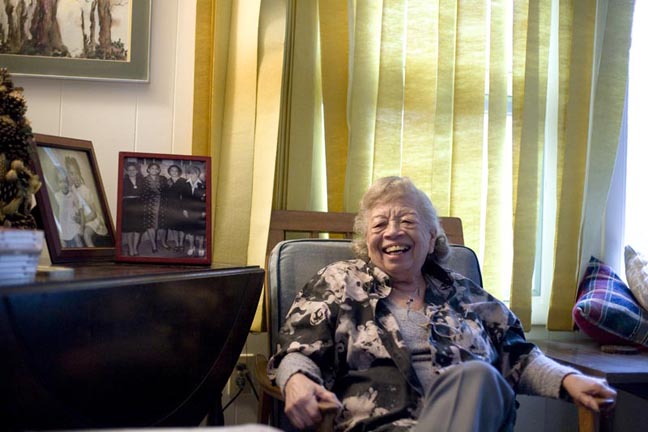 Mr. and Mrs. Shorter moved into an apartment in Brooklyn and had two daughters. With the birth of her children, Mrs. Shorter decided to become a stay-at-home mother. But, always active and rarely content to leave the world the way she found it, she joined a local Parent Teacher Association and an African American history group. "If you want to get anything done, you've got to get in there and do it," she said. It was a foreshadowing of the years to come.
"I was so busy then, he couldn't ever reach me," she said of her husband. "So, he said, 'You need a job.'" He encouraged her to take the test to become a tax auditor. "I said I couldn't do it and he said I could. He always had faith in me," she said.
Not only did Mrs. Shorter take and pass the test, but within weeks, her supervisors encouraged her to take another test in order to get promoted. "I actually am a good worker," she said with humility, but also with the quiet confidence which has allowed her to greet challenge after challenge throughout her life. "I put my shoulder to the wheel." Mrs. Shorter passed and became the supervisor of tax auditors at the Internal Revenue Service headquarters in Manhattan.
During her lunch hour, she began to hold informal lunch meetings in her office to help prepare young clerks for the federal service entrance exam. "I was talking a big fight about upward mobility and getting young people involved," Mrs. Shorter said. "We really did believe in upward mobility," she said with a nod to her late husband. He was a teacher and, like her, was seeing his hard work pay off as he worked his way up in the New York city school system. "We were practitioners of the very policy we were teaching," she said.
"The next thing I know, the director [of the headquarters] was coming up to me to say they were going to establish an equal opportunity officer and they wanted me to apply," she recounted. She was the first African American woman to hold the position. Mrs. Shorter held the post for three years, until her husband accepted a job as superintendent for the Martha's Vineyard public schools.
The couple first came to the Island in the 1960s. "We had been to Canada and were on our way back home," she said. "We had stopped in Maine first and found it very depressing. On the spur of the moment, we decided to come here." Soon after, the couple bought a home in Tisbury, then moved around the corner to the house with the big red cottage out back where Mrs. Shorter lives today. "You know, I grew up by the water," she said. "I loved the ships, the view, the sort of, the serenity, which of course doesn't exist when you move here."
The couple made the move in 1976. Mrs. Shorter established a practice as a tax auditor and accompanied her husband to meeting after meeting as he fought for an addition to the regional high school. "He has been unhonored and unsung," she said of her husband and his advocacy on behalf of the Vineyard youth.
She became active on a number of Island boards including Martha's Vineyard Community Services, the Martha's Vineyard Hospital and the local chapter of the NAACP. With the death of her husband in 1980, she joined the board of one of his causes, the Nathan Mayhew Seminars, and started the celebrity tennis tournaments there to great success. "I tend to look for where someone is needed. If I was being totally honest," she said with a sly grin, "I like being a big fish in a little pond."
When faced with entering the computer age or retiring from the tax world, she chose the latter, but stayed active in the community. Now, after volunteering her time at the Vineyard chapter of the NAACP under six presidents, she will be recognized for her effort. On Monday, at their annual Martin Luther King Day event, the NAACP will give Mrs. Shorter a special tribute, something done only occasionally.
"I see her as an Island treasure," former NAACP president Marie Allen said this week about Mrs. Shorter. "She really has been a guiding light. As far as the NAACP is concerned, she has enabled it to stay strong and to plod a steady course. If not for her, I'm not sure we could have survived many of the obstacles we have faced."
In her years of involvement with the organization, Mrs. Shorter has chaired events, done publicity, written articles, been a part of the legal redress committee and, in her words, honed her skills at putting out fires. "Life is the art of the possible," she said before reopening that front door and lighting a second cigarette. "There has to be some bargaining."