In 2001, Oak Bluffs harbor master Todd Alexander and his wife, Kara Gelinas, were on vacation in Southeast Asia when they met Roma, a 14-year-old girl who was selling water and souvenirs during the day instead of going to school.
Roma had no official schooling. Her family could not afford it.
Touched by her story, the couple decided to raise the money to enroll Roma in school, but they did not stop there. After learning that an estimated 3,000 villages in Cambodia are without schools, Mr. Alexander and Ms. Gelinas got in touch with the Rural School Project in Cambodia, a program which builds schools in the more impoverished parts of the country, and began raising money here on the Island.
Through private donations and a benefit concert at the Atlantic Connection, the couple raised $14,000. In 2005, the Vineyard School, a five-room schoolhouse, opened in the Siem Reap region of Cambodia. The couple had heard the school would house 300 students. Six hundred enrolled. That year, Mr. Alexander traveled to the school for the opening ceremony where he was welcomed by students, teachers and even government officials.
At the end of this month, Mr. Alexander again will travel to Cambodia. Three years have passed and this trip will mark his first return to the school he helped make a reality. He is determined not to arrive empty-handed.
School officials have told him students at the school are happy, but are in dire need of books. And so, starting today, donation boxes will appear at the Oak Bluffs and West Tisbury elementary schools, the Martha's Vineyard Public Charter School, the Art Cliff Diner in Vineyard Haven and both Mocha Mott's coffee shops.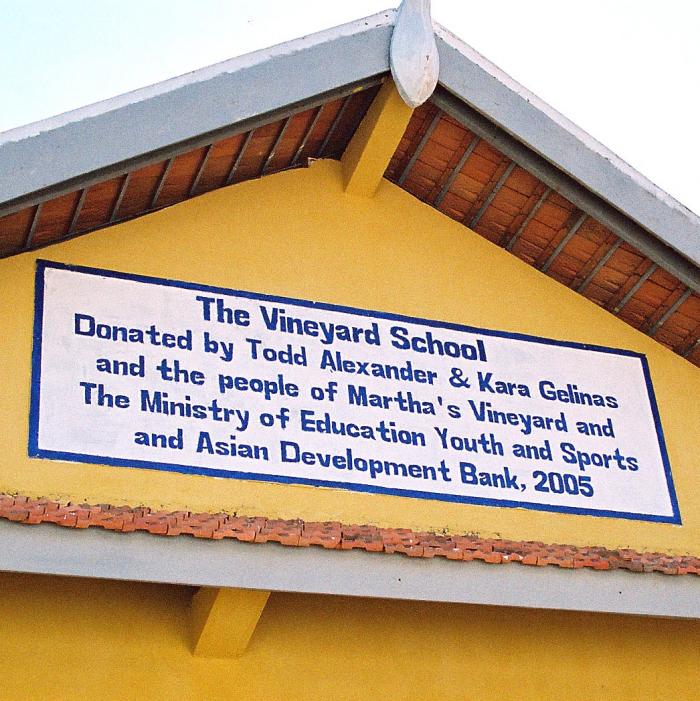 Mr. Alexander is asking all Islanders to stop by any of the locations in the coming weeks and donate any used books appropriate for students of elementary school age. He also hopes to bring along school supplies and money to purchase Cambodian-language books once in the country and welcomes individual cash donations to help.
Checks can be made out to Todd Alexander and mailed to P.O. Box 2225, Oak Bluffs MA 02557.