In the food industry, it's all about the numbers.
Eight ounces in a cup. Three hundred fifty degrees to bake cookies. Seven o'clock dinner rush.
This summer, Austin Racine and Katrina Yekel are keeping track of one more number: 63. It is the number of days straight that Café Moxie — the Main street Vineyard Haven restaurant where they first met and fell in love and now own together — will be open for lunch and for dinner.
"I keep telling myself, it's only two months, it's only two months," said Ms. Yekel, 30, who runs the front of the house and does the bookkeeping while Mr. Racine, her boyfriend of five years, mans the kitchen. "It'll be a complete blur and then it will be September."
"We like to call it the Promised Land," said the chef, 26, turning to his partner.
"It's like the light at the end of the tunnel," she smiled.
The restaurant has been open five days a week since May 15 and yet, Ms. Yekel swears she still gets eight or nine hours of sleep per night. She does the bookkeeping in the mornings and arrives at the restaurant in time for the lunch crowds. So, on her last day off before Labor Day, the young hostess started the morning with a green tea.
Mr. Racine, on the other hand, is running on four or five hours of sleep a night. He goes to bed after midnight and is back at the restaurant at seven, even on days when the restaurant has been closed. "I'm surviving with caffeine," he said, a bit bleary eyed, as he gulped an iced double espresso.
But even with 63 straight days of work looming ahead, the two were ready to begin the summer season. "I'm kind of excited about it," said Ms. Yekel. "I think it will prove to us that we can do this. Austin will keep doing what he's doing and I'll just keep smiling. I'm not nervous, so I'm excited."
The couple met in the summer of 2003. Ms. Yekel was on Island for the summer to babysit and, with no restaurant experience, she landed a second job in the Café Moxie kitchen. Mr. Racine was in his second year as executive chef at the restaurant, then owned by Paul and Cindy Currier. They first set eyes on each other at a pre-season staff party and by winter, they were sharing an apartment.
For the next few years, they bounced around: winters in Vermont, summers on the Vineyard. And then last year, they decided to move to the Island year round. On May 1, they signed a five-year lease on Café Moxie and spent the next few weeks stocking the kitchen, redoing the floors and crafting the lunch and dinner menus.
"In the beginning, we over-ordered and overbooked our staff because, you know, we didn't know what to expect," said Mr. Racine. "Those are expenses we have to pay. But in future years, we won't have the same opening costs. A lot of that will already be there. We won't be starting from scratch."
Starting from scratch is something of an overstatement. Mr. Racine has been working in the restaurant industry since his early teens. Before he could drive, he had worked his way up to a sous chef position. And, having both worked at Moxie for a number of years, the two know the building inside and out. "We know what to do downstairs and what to close when it gets cold. It's like home almost," Ms. Yekel said.
But still, the pair has never owned their own restaurant and there was a learning curve. "There was one night that I spent at my computer in tears thinking, I'll never be able to do this," Ms. Yekel said. Now punching in the numbers, recording the hours worked and the orders placed comes second nature.
And in the beginning, many of the items Mr. Racine included on his menu — handmade lobster peirogies, flatbread pizzas on dough made from scratch, and potato gnocchi rolled fresh every day and never frozen — were incredibly time consuming to make. On Tuesday, the first day of the 63-day stretch, the restaurant introduced their new summer menu which substitutes wontons (easier to prepare) for pierogies and fish (cooked by the grill chef, not Mr. Racine) for many of the meats. The changes will mean less work for the executive chef. "It is brushed up and streamlined," he said of the summer menu.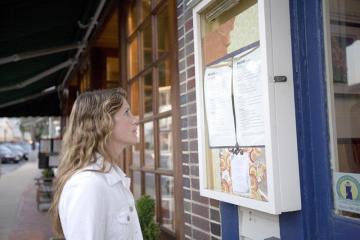 It is also more expensive. To gear up for the season, the couple raised many of their prices. A mussel appetizer, which cost $11 in the spring, now costs $13. A pork chop dinner will cost summer diners $32. In the spring, it was $28. Come September, the prices will go back down to accommodate the winter crowds, but for now, with rising food prices and gas at an all time high, the couple needs to bring in the money where they can.
The two recently paid their first round of bills. In May, electricity ran $620. Gas cost $2,000. The two also pay $1,000 every month for liability insurance on top of employee salaries and worker's compensation. The summer crowds mean a larger staff and soon, they will have to hire someone to take away their trash, something they had been doing themselves to cut costs.
And then there are the unforeseen expenses. Two weeks ago, Mr. Racine's car died. Rather than pay for repairs and risk a future break down, he went off Island and bought a new one. "It's just one less thing to stress about during the summer," he said. The pair will also pay $500 to service all of their refrigerators, just in case. "When it gets hot out, the cooling systems can overload, so rather than wait until it happens, we'll spend the money to do it now," Mr. Racine said.
"We're making it as easy as possible," echoed Ms. Yekel.
But some things they cannot control. Recent restrictions on H-2B visas and a slumping economy have made it difficult to find employees. "This has to be the hardest year for staffing on the Island. Everyone's looking for cooks and dishwashers," Mr. Racine said. Just three days before the restaurant went to seven days, Mr. Racine filled vacancies for a chef and a dishwasher. Ms. Yekel's wait staff is also now complete. But still, they will keep their help wanted ads in the papers. "You need to have a back-up plan," Ms. Yekel said.
Neither can they control the crowds. "No day is typical, you can't judge. You don't know who's coming off that boat," Ms. Yekel said. The restaurant seats 50 people at 16 tables. Over Memorial Day weekend, diners clamored for the tables. "We did 100 people on Friday, then 115 for dinner on Saturday," Ms. Yekel said. But the next week, the crowds were smaller and the two were stuck with food they couldn't use. Rather than throw it out, they got creative. "I ran over to Gina," said Mr. Racine, referring to the chef and owner of the Art Cliff diner, "and sold her three extra bags of arugula." In the weeks since, she has lent them guest checks and sold them extra mozzarella.
It is one of the benefits of living and working in a small community, the two say, even when your friends and neighbors may be your competition in the business world. "These are the people we see every day in the winter," Mr. Racine said. "In the summer, we're all in our element and we don't see each other, but everyone's always there for each other."
To gear up for the summer crowds, the two are simply thinking positive. "In July, we're just prepared for a lot of people," Ms. Yekel said. There are already reservations on the books until August, and it was these advanced bookings which eased any initial hesitation the two may have had before opening their doors for the next 63 days. "All of a sudden we had this realization of are we ready to go to seven days," said Ms. Yekel. "I pulled out the reservation books and said to Austin, we are ready. People are booked for the days we're supposed to be open."
The Gazette is following the progress of the new operators of Café Moxie in a series of occasional stories; to read the first article, go online to mvgazette.com.