Fifty-five summers ago, a small summer camp began in the northern woods of Vineyard Haven not far from Lake Tashmoo. Only two people staffed it then and a small number of children attended, but that first summer paved a path for many more summers to come.
The path led somewhere that is far from traditional, is never ordinary, but that shines brightly nonetheless. That path led to Jabberwocky.
The camp today has its own Web site and it reads: "People with disabilities rarely achieve more than footnote status in the pages of history. They have been left out of the account because they have been left out of the culture. Jabberwocky, though, is a different culture. It is a place where disabled folks are at the center of a community rather than at the periphery."
On Saturday, Jabberwocky campers will move from center stage straight into the spotlight when their work goes on display in the Pebble Gallery at Featherstone Center for the Arts in Oak Bluffs. The work will stay up through July 27 and will be celebrated in two openings: the first, on Saturday, will showcase the art of the July campers; the second, on July 26, features the August campers. Both openings will run from noon to 4 p.m. Campers will be on hand to display their work and to sell it to benefit the camp.
"It gives the campers an opportunity to make money for camp," Jabberwocky secretary Madeline Way said this week.
While she held the phone in one hand, Ms. Way lent her other to Stephanie, a camper in the process of finishing a wood painting in the camp art studio. Around her, other campers were busy at work.
"George is painting fish on wood, Betsy is doing print making, Nancy is doing a drawing with oil crayons and the other Nancy is working on some pottery," Ms. Way said.
The camp art show, a longstanding tradition which has not been held for the past few years, is back this summer due to popular demand. "Elaine Christianson started it with photographs in the 1980s," Ms. Way recalled. "We did a little tiny pottery and art show in the main cabin and it grew from there into this huge thing."
The show was held at camp and the campers and counselors spent days preparing. "It started taking up too much of camp time," Ms. Way said.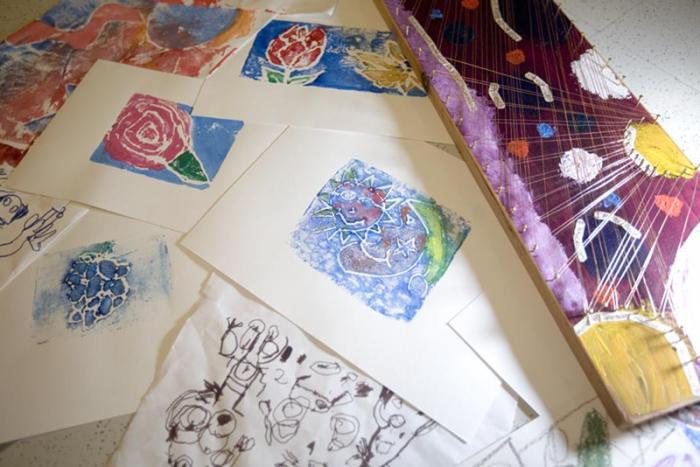 But this year, with so much beautiful artwork from the campers and with space donated from Featherstone, the show is back. "The art that these ladies and this one guy is making," Ms. Way said of her campers, "you and I couldn't do it. And they have a lot of other issues going on with their lives and their health, but you and I couldn't do it."
The opening Saturday will allow the campers to share with the community the work they do from prints and paintings to wire sculptures and wind chimes.
"It's beautiful and no one sees what we do. Unless you come to camp, you don't see what we do and we do amazing things," Ms. Way said.
And it will give the campers the opportunity to give back to the camp which has given so much to them. "They can feel like, 'I can do this for myself,'" Ms. Way said. "'I can help out camp in my own way, even though I might not be able to walk or to talk.'"
The Camp Jabberwocky Art and Pottery Sale is on display at Featherstone Center for the Arts from July 12 to 27 with openings from noon to 4 p.m. on July 12 and July 26. For details, please call 508-693-8706.