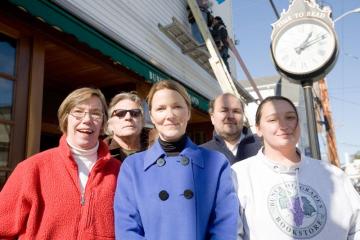 The Bunch of Grapes Bookstore will reopen next month in temporary quarters on Church street, after Vineyard Haven resident Dawn Braasch yesterday closed a deal to buy the business from Jon Nelson.
Ms. Braasch has run a multimillion dollar trucking firm, started a successful catering company, taught preschool in Chilmark and South Carolina, and worked for a year as the events coordinator at the Bunch of Grapes before the Fourth of July fire devastated the building and closed the business.
Purchase price for the business has not been disclosed.
Yesterday, standing amid construction workers in the hollowed-out building with the smell of smoke still in the air, Ms. Braasch said she was eager for the challenge of bringing the independent bookstore back to Island readers and the local economy, promising to preserve and even grow the business.
She has signed a long-term lease on the Main street Bunch of Grapes building, which is owned by Mr. Nelson's mother, Ann Nelson, who hopes to have it open again for next summer. For many years Ms. Nelson successfully ran the award-winning bookstore; in 1975 she and her husband bought the store, which has been open since 1964.
"If I didn't have [Ms. Nelson's] support and her signing on as a consultant, I would not be undertaking this," Ms. Braasch said.
While reconstruction continues on the landmark store, Ms. Braasch will open Bunch of Grapes in rented space at the old Beadniks warehouse on Church street in Vineyard Haven.
At about 650 square feet, the temporary store will carry what Ms. Braasch called "the best of what we had in the main store: bestsellers, Island books, children's books, along with the top categories of what we sold the most of in the main bookstore, and cards, magazines and newspapers . . . And what we don't have on the floor we can easily get in two or three days from our suppliers' warehouses, so I hope that the community will support us."
The temporary bookstore will open sometime in mid-November, Ms. Braasch said, keeping the same hours as the main store did, Saturdays to Thursdays from 9 a.m. to 5:30 p.m. and Fridays from 9 a.m. until 9 p.m.
"We want to do it as a show of good faith to the community that we are still very much alive and want to become a vital part of the downtown economy again," she said. "This is a way of providing a service to the community through the holidays, through the winter when maybe other bookstores won't stay open," she said.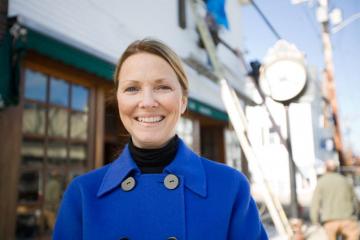 Ms. Braasch said she has been heartened by the support she already has received.
"Publishing companies have committed to sending some authors with a fair amount of clout [to sign books] as part of our recovery process, trying to help us get back on our feet.
"Authors who have been here have e-mailed both Ann and me their willingness to do events for us, huge authors.
"I've been overwhelmed by the support of people on Island . . . and in the publishing world — from the American Booksellers Association, and the New England Booksellers Association, who took it upon themselves to form a task force to help me, with input from several successful independent bookstore owners. We'll meet and they'll advise me in any way I need help.
"Random House sent us [four of the employees the Bunch of Grapes has been able to keep on] to the New England Booksellers Association convention last month, paid for our hotel rooms, tickets, took us to dinner, which was just huge. At this point we couldn't have afforded to [go otherwise], the business wasn't far enough along that we could have done that," Ms. Braasch said.
She described how the sadness of the fire, which began next door in Café Moxie, has gradually turned to excitement about the future of the Bunch of Grapes. "It was heartbreaking. My house was closest to the store, so it became the place where everyone gathered and we cried, and would walk down and see what was going on and wander back and share memories and cry some more," she recalled. "It was so hard to lose staff in mid-summer, what would have been our best and busiest part of the year, and to see what it has done to the downtown economy."
Ms. Braasch, a native of Hanson on the South Shore, had moved to the Island full-time in November 2005.
"I used to come over here on day trips and short vacations and it just began this lifelong love affair with the Vineyard," she said. "And I always said, to anyone who would listen, if I could ever pick where I wanted to live it would be the Vineyard.
"The day came when my children were grown and I could choose wherever I wanted to live and I decided to come back here — and it has not disappointed me at all. I just love the feeling, I love the people. It's just been a great move for me."
She bought a house that was built in 1836 on William street and has just finished a three-year restoration.
She moved here from South Carolina, where she had lived for 21 years, raising two sons. Her younger son is now a Marine stationed in Yuma, Ariz., and the other is married, living in South Carolina and has just adopted three children, Ms. Braasch reported happily, wiping blood from her knee, which got skinned when her new three-year-old grandson, running hand-in-hand with his new grandmother, took a spill and her with him.
The William street house was going to be her second home, but in the process of its restoration it became her first and full-time home. Likewise, the Bunch of Grapes was the first place Ms. Braasch interviewed when she came to the Island, but first she began teaching preschool in Chilmark. "I loved it," she said.
"And I loved that bookstore, I had loved it from the first day I went in there," she said, blue eyes shining. "As anyone who knows me will tell you, I have always loved books. You can always find me with my head in a book . . . So the idea of working there was hugely appealing to me."
Unlike many who harbor dreams of owning a hobby bookstore, Ms. Braasch has a firm business approach. After teaching preschool while her sons were small and later establishing and selling a successful catering company, Ms. Braasch joined her brothers to begin a trucking company, DMK and Sons.
"If you'd ever told me I'd be in trucking I would have said you were crazy," she laughed. "We started with three trucks and in two years time we had 341 trucks . . . I learned it from the ground up, and there was no part of that business I didn't do at one time or another."
Lately she has gone to booksellers' school in Florida — "I didn't even know they had one!" she laughed — as well as doing some reading, and working with Ms. Nelson on redesigning the store.
Reading what? "I finished the Story of Edgar Sawtelle, which I suppose everybody's reading, it's a fantastic book. I have Kathy Black's book, Basic Black — she is the head of Hearst Publications, and it's an excellent read about how to balance your business life with your personal life. And Paco Underhill's Why We Buy, The Science of Shopping, which is fascinating to me, analyzing the patterns in a bookstore, how many times people pick up and put down a book before they buy it, how wide aisles should be, where your signs should be."
Which leads to the renovations. "I can't improve on the business side of things in terms of the inventory and how it was managed," she said, promising to maintain the store's breadth and depth of books. "If there were improvements to be made, it's in the interior," she said, finding a positive way to view the fire damage. "I hope it will be a place that people will come and browse and stay and relax, with some seating, really comfortable chairs, a sofa, a place people will be proud of. That's what I'm looking for. Ann has included me in the renovation of the building, she's been very generous."
On Wednesday the clock outside the store, stopped since the fire, began ticking with the correct time again. And despite the economy, and the conventional wisdom that independent booksellers are a dying business, Ms. Braasch stood beside the clock, optimistic.
"This is a proven investment. It's been doing well for a long time," she said, praising Ms. Nelson's acumen and the store's staff. "I feel confident because we're living on a very literary Island in a very literary society where people still value the printed word, holding a book in their hands. I don't believe that independent bookstores are disappearing. I just don't," she said calmly, adding with a cheeky grin, "Check back with me in 10 years."