It's a bad time for business. Shoppers are spending less and economists are predicting the worst. But veteran Island businessman Elio Silva said the timing could not be better for opening Tisbury Farm Market, his new fresh produce stand on State Road. "More people are looking to cook from scratch and are looking to get a good price," Mr. Silva said last Friday.
From behind the counter of the sparsely stocked store, Mr. Silva beamed. The market had a soft opening earlier in the week, he explained, so customers began stopping in then. Each day was busier than the one before, and at 8 a.m. Friday, the store opened in earnest. "I found this store a couple of days ago and I said, 'Wow! I'm telling all my friends about this,'" said Lorraine Clark of Vineyard Haven. Standing at the cash register, she wrote a check for $8.91 and walked away with chicken, eggs, tomato and lettuce. "This chicken alone would have been $4.99 at Stop and Shop," she said on her way out.
To celebrate the grand opening, Mr. Silva planned to have samples available of the all-natural meats he sells, but the grill was proving tricky to set up. A painted sign outside announced the new store and balloons hung from the porch. In back of the deli counter, two butchers cut and packaged all-natural and hormone-free steaks, chicken and pork. Lamb will be available in the next few weeks; salted pigs' feet are already in. "We're presenting it in different ways," explained sales representative Paul Dugan. He picked up a package of steak. "This is the American way," he explained. "Cut and trimmed with no fat." Then he gestured to the slab of meat under the glass case — fat intact, not cut, not packaged. This cut appeals to the Brazilian customers Mr. Silva anticipates will frequent the store, Mr. Dugan said.
Mr. Silva is a Brazilian native who has lived on the Vineyard for 19 years. In 1991, he opened Tisbury Farm Market, a small fresh produce stand next to Louis' Restaurant on State Road. The store took a few years to turn a profit, but always Mr. Silva kept the prices of the fresh fruits, vegetables and freshly roasted coffee beans low. "Seventeen years ago when we were open, our customers told us we had the best prices on the Island and we did that for seven years and we made a bit of money," he explained. The store eventually closed and Mr. Silva later reopened a clothing and goods shop in the same location, which he named Fogaça, after his wife. Another store in Edgartown, North Star, followed. Originally from a Brazilian farming town, Mr. Silva also worked with the Island Grown Initiative and Vineyard farmers to promote local produce. This summer, he helped launch a program where indigenous Brazilian crops are grown in Island fields.
Two years ago, as the economy began to slow, sales at his two clothing stores started to stall. "Clothing was not so hot the last two years," he said. So Mr. Silva began buying foodstuffs for both stores. More people cook in a bad economy instead of dining out, he theorized, and fewer buy retail. In July, he closed Fogaça with a plan to reopen as a produce market. This week, not all the shelves were fully stocked, but the store was open. The produce was fresh and varied: green coconuts, limes and lemons, cucumbers (three for $1) and packaged salad mixes. Twelve varieties of organic coffees, some fair trade, are a vailable. Mr. Silva roasts the beans inside, from what he believes to be the only gas-fired coffee roaster on the Cape and Islands. A deli case has organic cheeses, prepacked chicken sausages and deli meats. A freezer is full of items from fresh frozen fish to frozen yucca and okra. The stand sells Island-made Little Rock Farm pies and Mr. Silva plans to begin selling local eggs this week. "People have a need in Vineyard Haven for affordable produce and fresh meat," he said. "The idea is that people can go into the grocery store once a month and load up and then come to us two to three times a week for fresh produce, fresh coffees and fresh meats." In the future, Mr. Silva hopes to stock more specialty items — cheeses, dried fruits, olives — and phase out the Brazilian products. In one month, he plans to open a small grocery store in the former Natural Food Barn — the big, red store a couple of blocks down State Road. It will be called Vineyard Grocer.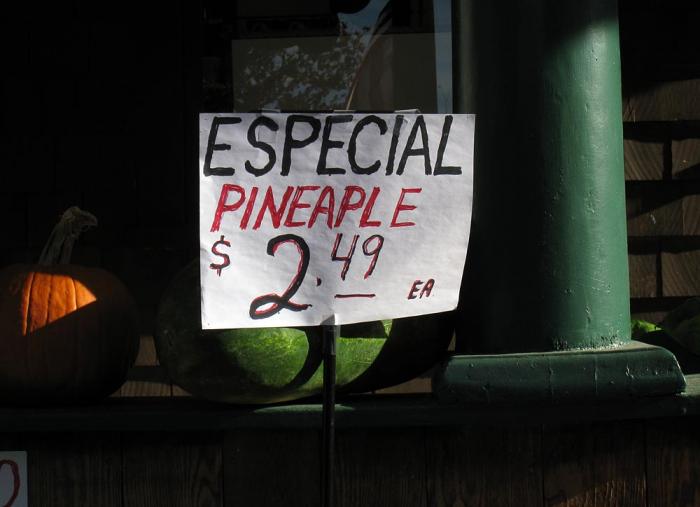 Mr. Silva said his prices are low for a few reasons. He pays fair prices to farmers for local goods, owns his business (but not the store; he pays rent), buys directly from suppliers rather than middlemen and shops around distributors to find the best bargain. Eventually he plans to turn North Star into a grocery store as well. "We will try to do one thing and do the one thing right," he said. "It will cut down on [delivery] stops and be more efficient."
In the end, Mr. Silva hopes to provide a needed service to the town. "The main goal is to create something that will complement the community and make Vineyard Haven more of a whole," he said.