The grass parking lot of the West Tisbury Fire Station was filled with some classic Vineyard vehicles — Volvo wagons, small pickups and of course, Subarus. Some cars were left running, stereos sending reggae music wafting through the stiff April winds. The bleachers were crowded with Islanders young and old, braving the sunny but chilly day to witness the first annual Island kickball classic.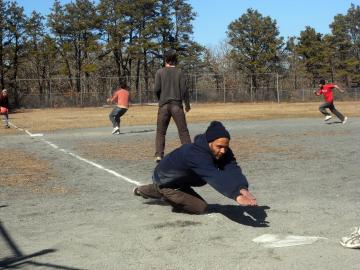 Local community radio station WVVY faced off against the Martha's Vineyard Skate Park in a hard-fought game. The final score was 5 to 3, with the skate park coming out on top but only by a hair. "It was anyone's game, right until the last out," said organizer Rob Myers, who played for WVVY. Most of the game was tied. In the end, a shallow fly ball to right field was caught and sent to first base, a double play by the skate park that finished the game.
The contest was a fundraiser for the two organizations, and money was raised through pledges from local businesses — Aboveground Records, The Green Room, Offshore Ale, Scottish Bakehouse, Che's Lounge, The Net Result, Garcia's Deli and Krista's Gourmet — and a raffle. The winner of the raffle, Bones Barber, donated all of his winnings back to the cause. In the end, $741 was raised, and WVVY is challenging the Skate Park to a rematch.
Mr. Myers is planning an elimination kickball tournament this summer, possibly involving up to eight nonprofit teams. Anyone interested in starting a team is encouraged to contact him at 508-304-2285.