Chris Fischer's well-worn Ford pickup is a familiar sight on the winding roads up-Island. Its rusted bed is piled with vegetable peelings; turnip greens, muddied onion skins, brilliant green bean shells are scattered among gardening tools and a hodgepodge of things farm-related. It is an early Saturday morning and Mr. Fischer, a private chef and Island native, is driving between the farm stands, refrigerators and gardens of Chilmark in search of ingredients for lunch.
There is no list of lavish food items to be checked off, although his clients, a large, prosperous family with an expansive summer home in Chilmark, provide an ample food budget. Nor is he limited by lack of experience. Island-born Mr. Fischer has cooked with some of the most famous chefs in the country, from Alice Waters at the Rome Sustainable Food Project in Italy to Mario Batali's New York city restaurant, Babbo, where he started at the bottom rung (at the grill station) and left as sous chef.
But today's lunch is not about flamboyant recipes or rarified ingredients. The aim is to use, as Mr. Fischer puts it, "simple, wonderful, Island-grown food," reflecting a philosophy about eating that is fast gaining popularity on the Island and across the nation.
Turning off South Road at the Allen Farm, Chris stops the truck, his grandfather's, next to the outdoor freezer and opens it. Frozen lamb chops swathed in white butcher paper, shrink-wrapped racks of ribs and boxes of marrow bones are stacked high. He selects a box of organic, grass-fed beef, perfect for hamburgers.
The next stop is the family farm at Beetlebung Corner, for fresh vegetables. Founded by his grandfather, Ollie Fischer Jr., who is in his nineties and can still be found tending his vegetable gardens on any given afternoon, Beetlebung Farm has been in the family for 40 years. Ollie's daughter, Marie Scott, maintains gardens and a farm stand on the property, and Chris himself also keeps several gardens there, where with the help of his girlfriend, dark-eyed Greta Caruso, he harvests cabbage, kale, peas, fava beans and potatoes for sale and for his cooking.
Gardening is not only important to his cuisine, it is ingrained in his strongly-held belief that investing time and money into planting, harvesting and eating locally promotes physical health, strengthens community and can improve the local economy. In line with that philosophy, Mr. Fischer's livelihood extends well beyond his work as a private chef. He has built pigpens, chicken coops, duck housing and sheep pastures for families all over Chilmark, and in some cases he prepares meals for his clients right out of their gardens. "There is a lot of interest," he says. "People want to eat well. Other people are looking to save money. It can be a very expensive habit or it can be very frugal, depending on how much you are willing to be involved.
"A lot of people, no matter their income bracket, love the idea of bringing their kids out and harvesting and having animals in their backyard. They can't keep up with everything, nor do they want to, as far as running a farm on their land, so they're going to pay for some of their services, but if they have the luxury to do that, they should. It's better than spending their money on private jets or swimming pools," Mr. Fischer says.
Many of the families he works for do indeed have private jets and swimming pools. Yet according to Mariana Chilton, a professor at Drexel University's School of Public Health, who was raised on the Vineyard, the fashionability of planting gardens and emphasizing the importance of eating locally reflects a cultural shift that has the power to reach beyond the elite and positively impact all Americans, especially those who face what she calls food insecurity.
"What it shows is that the people who are highly educated, who have access to wealth, access to power, access to the beach, are all thinking forward about where their food comes from, what their impact on the environment is, on their health. If we didn't have people thinking that way, we wouldn't be able to draw attention to the fact that the poor don't have enough access," she said in an interview from her family home in Vineyard Haven.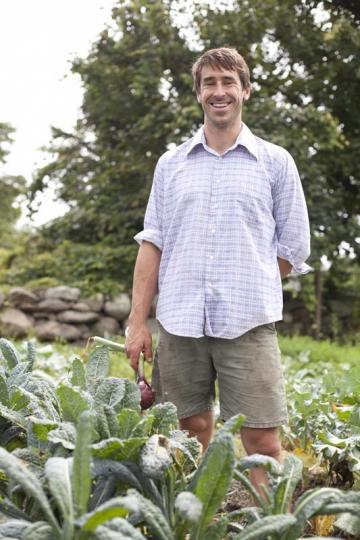 "It's wonderful that these people want to come to the Island and eat local," Dr. Chilton says. "It shows they care about the natural beauty, about the environment, and that they enjoy their health. They are being more thoughtful, and that's a good thing. It's still on the high end, but it gets enough attention that it's starting to truly affect the food system."
First Lady Michelle Obama drew attention to the issue earlier this year when she planted an organic vegetable garden at the White House. The garden, the first at the White House since World War II, is "the best thing that could happen to the food industry and those who think about nutrition and health," says Ms. Chilton.
"The first lady is attesting to the fact that you can grow your own vegetables, that you should think about where your food comes from," she adds.
Lack of direct access to fresh ingredients can present a problem for poor families. "The most poor are eating canned vegetables and fruits, available at convenience stores. If they do go to the grocery store they're looking for the cheapest prices. They don't have the privilege to consider if it is organic or where it comes from," Ms. Chilton says.
But on Martha's Vineyard, where farming is a part of the Island culture, there is plenty of produce available. Still, it takes a certain amount of "discipline" to eat locally, says Mr. Fischer, requiring sacrifices to which the extravagantly wealthy are not accustomed: "Instead of having a mango fruit salad in July on Martha's Vineyard, eating blueberries because that's what's being grown right now," he says.
Mr. Fischer finds his clients are willing to make those changes, especially when they realize that, "If you're picking vegetables an hour before you cook them, or using potatoes that you've dug from your own garden, it's going to be a hundred times tastier and more flavorful. You can literally boil them and sprinkle salt on them."
The simple approach to food can be tough on a chef's ego, plus it requires a higher level of inventiveness. "Chefs look at themselves as being very creative when they're cooking with anything they want, at any time," Mr. Fischer says, pausing to eat a freshly picked green bean. "To make something really good with the six or eight options you might have in your garden, the level of creativity has to be much higher because you're limited."