A wide circle of friends showed up Tuesday night for an 80th summer celebration at Giordano's Restaurant in Oak Bluffs. The anniversary party brought out more than 100 well-wishers over the course of the evening.
Richard (Richie) Giordano, who owns the restaurant with his brother Wilfred (Buster) Jr., said party invitations went out by word of mouth. "How could you do a mailing?" he asked. He said they simply made some phone calls, and anyone who came by the restaurant over the Memorial Day weekend was told about it.
"I love doing this," said Buster Giordano, after greeting friends in the packed dining room. "I love seeing these people come and have a good time." Mr. Giordano said he wished the party could go on and on, and that the restaurant was bigger for just one night. "There are so many people, I wish I had the time to hear all their stories," he said.
Prior to the arrival of the guests, tables had been set with white cloths and small vases of fresh flowers. Old sepia-colored photographs of the restaurant in an earlier era were placed against the wall. Menus were placed in a special display case; on the cover of each the number 80 was printed with large block lettering.
Waitresses walked among the early guests offering hors d'oeuvres, which included the ever-popular stuffed quahaugs and bacon-wrapped sea scallops.
In the kitchen, Buster's son, Wilfred (Billy) Giordano 3rd, stirred a large pot, surrounded by a crew of hustling cooks dressed in kitchen whites, many of them cousins. The meal ahead would include everything that people love about Giordano's: tomato sauces and a variety of pastas laced with rich cheeses. The big fancy dish for the night was ravioli filled with lobster, topped with their own special lobster alfredo sauce.
At times it seemed as if all of Oak Bluffs had turned out for the party. There were Ben Davids, Combras, Maciels, Rogers and Williamsons.
Buster Giordano said what touches him most about this special 80th anniversary summer is not just the loyalty of the community, but the new and upcoming generation within the family that has stepped up to help run the place.
"I am not able to do all the lifting I used to be able to do," said Richie. Looking across the room and noting the younger Giordanos working hard, he said: "You see them all in the bull pen. They are all stepping up and helping out. It is great."
He added: "You have to be proud."
His sister, Mary Ann Polito, came from off-Island to enjoy the festivities.
Giordano's restaurant opened 80 years ago in the old Pawnee House at what is today Post Office Square. The seating capacity was 35 people.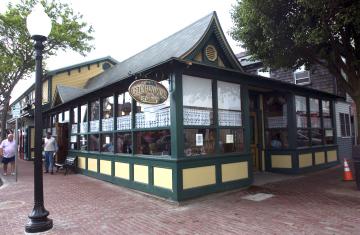 The founders were Richie and Buster's grandparents, Edward and Mary Giordano. The restaurant moved to its present location, referred to as the gateway to Circuit avenue, in 1943. Buster Giordano said the family bought nearly the whole block from Walter Perkins for $9,000. Wilfred R. and Antoinette Giordano ran the summer restaurant, making significant changes in 1962. The couple spent their winters in Medford.
Buster recalled that back in those days, the season was short, from Memorial Day to Labor Day. "Right after Labor Day, everyone left," he said. Today, the restaurant stays open through Columbus Day weekend.
A noisy, cheerful crowd grew quiet when family members announced they would play a slide show video on a large, flat-screen television. Many former employees gathered close to the screen to pick themselves out in the pictures. The music in the background was Frank Sinatra.
Ed Jordan, 82, of Edgartown, sat near the glass window and enjoyed the festivities with his family. His father, Philip Giordano, was the brother of Wilfred Giordano. During Prohibition, Philip changed his name. Mr. Jordan said he is an annual regular at the restaurant. He said he had childhood memories of visiting the restaurant for dinner with his relatives. He has never missed a summer with a visit to the restaurant, at its first location and then the second — almost. "There were three years when I didn't come," he said, referring to when he served in the Pacific theatre in the Army during World War II.
Bob Tankard, 64, of Vineyard Haven, walked around with a microphone for a short time, and then stopped to watch the family video. Mr. Tankard had plenty of reason to enjoy the program. "I was 15 years old when I worked here," he said. "I washed dishes and learned how to peel potatoes." The year was 1962.
Sitting at another table, Arthur Ben David, the retired Oak Bluffs harbor master, had a similar memory. "I got out of the service when I was 21 years old; it was 1956. I worked at Giordano's, peeling potatoes and working in the clam bar," he said, adding:
"I'll tell you one thing. I know how to cook fresh clam chowder and make French fries." Mr. Ben David said he made 75 cents an hour.
Mr. Ben David said he worked for his father, Augustus Ben David, at Ben David Motors, a Dodge dealership, across the street during the day and then worked at the clam bar at night from 7 p.m. to 1 a.m. "I had a ball. You met all kinds of people every day," he said.
His wife, Marcelle, worked there too. The clam bar was the first on the Island.
Another guest was Bob Lucas, a former owner of the Flying Horses, who headed the state police barracks years ago. Mr. Lucas traveled from off-Island to attend the bash.
Cape and Islands Rep. Timothy Madden was there too, formally introduced by superior court clerk Joseph E. Sollitto Jr., also a former Oak Bluffs selectman and town police officer. Mr. Madden praised the Giordano family and read aloud a proclamation from the state house.
Mr. Sollitto said later that if the restaurant is a centerpiece in the town, the Giordano family is a centerpiece in his life. Richie Giordano was best man at his wedding in 1990.
And for Carl Giordano, one of the next generation in the family, it was an evening to pay tribute. "Most of this was for Buster and Richard and my grandparents," he said. "I wish my grandparents were here. It was an honor for us. The night was about them."