After weeks of stifling heat, Dave Brubeck brought relief to Edgartown society types on Sunday night with his eminently cool brand of jazz in a performance at the Field Club. One of the pioneers of West Coast jazz in the 1950s, Mr. Brubeck led his quartet through an evening of stylish standards and thrilling improvisation to help raise money for the new YMCA.
"This guy doesn't just play music, he is music," said Kate Taylor in her introduction.
At $350 a ticket it was a swell night even by Edgartown standards. Flowing champagne and endless oysters beckoned deep-pocketed philanthropists throughout a beautiful twilight evening and Mr. Brubeck, at a lithe 89 years of age, did not disappoint. Although the cast of the quartet has changed over the years — the breathy, sauntering alto sax of Paul Desmond has been ably replaced by that of Bobby Militello, while Michael Moore and Randy Jones have taken over at bass and drums respectively — the irrepressible cool of Mr. Brubeck's music is as alive as ever.
Mr. Brubeck began his storied career in the Bay area in the late 1940s where he helped nurture that most American of musical forms, jazz, through its adolescence. Drawing inspiration from African, Greek, Turkish and Indian music he employed complicated time signatures rarely heard in western music and penned polytonal compositions that confounded critics and thrilled hip cats all across the country. His most famous piece, Take Five, is performed in a deceptively complicated 5/4 time, while another beloved classic, Blue Rondo a la Turk, draws from Turkish folk music and employs an eccentric 9/8 time scheme. All of Mr. Brubeck's musical idiosyncrasies were on display on Sunday night, and the decades have done little to diminish his ivory-tickling prowess.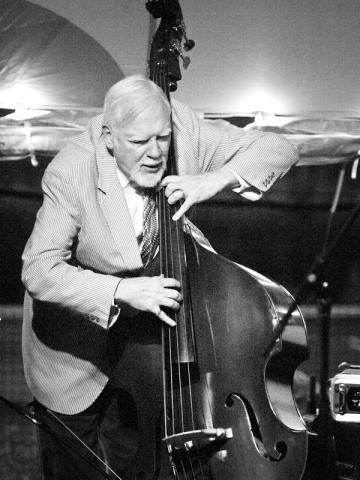 "I'm so honored to be on the stage with a guy who performed with the Duke and Ella and Charlie Parker and Dizzy," said Ms. Taylor. And Mr. Brubeck was not the only musician on stage with roots firmly planted in the jazz lore. Mr. Jones has drummed for Chet Baker, while Mr. Moore has performed with everyone from Benny Goodman to Stan Getz to Tony Bennett. At one point during a lively rendition of Take Five, Mr. Brubeck stopped playing, folded his arms and leaned on his grand piano smiling, content to appreciate the cascading improvisational madness of Randy Jones thrashing away at his drum set.
John Klein, cochairman of the YMCA capital campaign, set the tone for the evening early, reminding patrons of their charitable duties.
"This is meant to be an evening to celebrate you, to celebrate the YMCA. Let's have a fabulous time and anything you can do to help us pay down our three-and-a-half-million-dollar mortgage, we would appreciate it," he said. Mr. Klein said the Y is also fund-raising to meet its annual budget, estimated at $200,000.
Mr. Brubeck happily obliged in running with the theme for the evening.
"We had hundreds of tunes to pick from but the speakers here tonight gave me the idea that we should start with Pennies from Heaven," he said.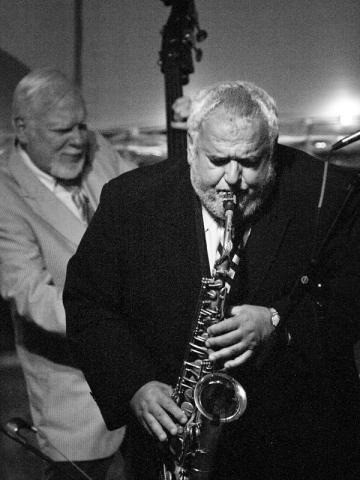 The $11 million YMCA facility is already serving 3,000 people on the Island according to president Chuck Hughes, who signaled his delight in finally realizing an Island dream at the outset of the evening.
"We're open!" he exclaimed. "How many people ever thought this thing would be built? If you haven't been there, it's a beautiful place and we'd love to have you. I don't think any of us that have been involved ever expected to see the kind of support that the Island has shown."
As proof of that support, Mr. Hughes introduced Ailee Mendoza, who raised $885 herself in a swim-a-thon with the Field Club swim squad.
YMCA executive director Jill Robie added her own words of optimism.
"Watching it being built bit by bit, the pool being dug and everything, it was sort of like birthing a baby," she said. "We have such a diverse community at the YMCA: we have old people, we have babies, young people, teenagers, we have people that come from all ethnicities, people of all socioeconomic backgrounds. This YMCA is now going to serve all the children of Martha's Vineyard. Hopefully we can get all of them in for a water safety course and no longer will children be living on an Island or learning to sail and not know how to swim."
For his part Mr. Brubeck took the evening as an opportunity to educate the crowd on the foundations of his music. He walked them through the smoke-filled, sweat-stained, sepia-toned mythology of jazz, recalling his first encounters with the music, rattling off his experience of such towering institutions as the French Opera House in New Orleans, Jellyroll Martin and the Dixieland Jazz Band. Memphis jazz pioneer W.C. Handy was the first to put the new form in notation, Mr. Brubeck said, and St. Louis Blues was the first song he ever heard Louis Armstrong play. That song, and others like it, Mr. Brubeck said, in addition to their African influences owed perhaps as much to such impressively uncool styles of music as the European march.
"There were European marches like Tiger Rag, which wasn't called Tiger Rag in Belgium but it was in New Orleans," he said. "They were an exact copy of the European march if you think about it: the trumpet was playing lead in a European band, the clarinet the obbligato like in New Orleans, and the tuba or the bass was playing the bass line. We were all related and we knew it."
After a raucous performance of St. Louis Blues and an even more raucous response from the audience, the gray-haired legend let on that he was hip to the Edgartown scene. "I just want to thank you for being such a groovy crowd tonight," he said.