Dan Rossi was appointed as the new West Tisbury police chief on Wednesday night after a vote by West Tisbury selectmen Cynthia Mitchell and Richard Knabel. After the announcement, Mr. Rossi wiped his brow and hugged the selectmen to a round of applause. It had been a long weekend of interviews and public speaking, and Mr. Rossi was eager to get back to the work of leading the police department, as he has done as interim chief since Beth Toomey's retirement in April.
"It was a long process but I think it was well done," he told the Gazette after Wednesday's meeting. "I appreciate the time and effort the search committee put in, and I especially appreciate the support I've received from the community."
Mr. Rossi was endorsed by all five police chiefs as well as Sheriff Michael McCormack.
In explaining her selection selectman Cynthia Mitchell had warm words for the new chief. "I was, am and will surely continue to be so completely impressed with Dan's overall demeanor," she said, "with how easy and comfortable he is to talk with, even in an interview where he had to be a little nervous.
"He's got a straightforward, natural way of connecting with not so many words, but enough and the right ones. He demonstrates reserve but at the same time warmth and compassion, and the mix in my view is just a completely winning combination. The other two were pretty nice guys, but in this regard there was absolutely no contest," she said.
Mr. Rossi joined the police force at the age of 30, leaving his landscape and construction company to work shifts in Chilmark while being sponsored by former chief Tim Rich through the police academy in Needham. Two decades later he has risen to the top of his profession. Although he came to police work relatively late, Mr. Rossi was influenced early on by the genial face of local law enforcement.
"I remember going into Humphrey's and you'd see this big guy, George Manter, who was always very approachable," he said. "The up-Island police officers were always approachable. Even as a young child, they were friendly."
Mr. Rossi has tried to carry that mantle over into his career. An assignment as the school resources officer at the high school led to a 10-year tenure as an assistant coach for the high school football team. Mr. Rossi says that when he sees the former students and players, many of whom have become police officers themselves, it is gratifying.
"Seeing these people now, it's amazing," he said. "They look at me as Dan Rossi and not a West Tisbury police officer, and that's very important to me."
Mr. Rossi's selection as chief followed a long search process, culminating in a well-attended public forum at the Howes House last Friday night — a forum that also featured the other two candidates for the position, Donald Hull of Canton, Connecticut and Christian Pedoty of New York city — as well as an hour-long interview with West Tisbury selectmen on Saturday morning.
Ms. Mitchell said a major criterion in her decision was familiarity with West Tisbury, a factor that put the two out-of-state candidates at an obvious disadvantage. Still selectman Richard Knabel said that each of the three candidates was qualified to serve as a police chief somewhere.
As the police lieutenant for the Metropolitan Transportation Authority in New York city, Christian Pedoty came to the selection committee with an impressive background in combatting drugs and violent crime and in responding to train accidents.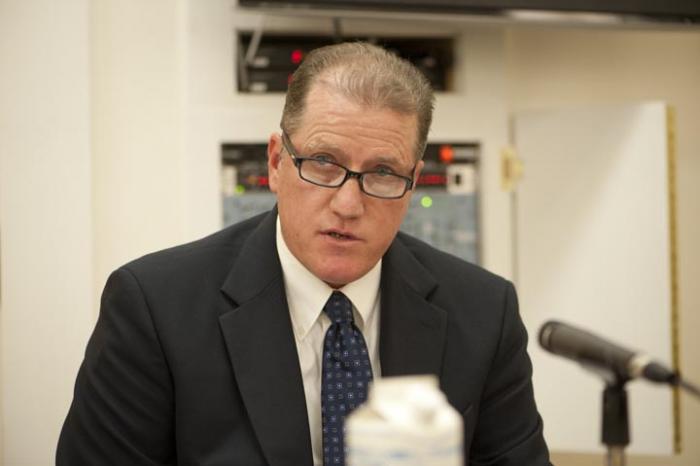 "His considerable talent and experience with those kinds of situations and crimes would largely go unused here," said Mr. Knabel. "While I believe he would be a quick study were he to get the position it became clear to me he might find West Tisbury a difficult fit."
The other candidate, Donald Hull, deputy police chief of Canton, Conn., came to the Island from a police department that served a community that was, if not the same size as West Tisbury, at a population of 10,000, closer in culture than the bustle of New York city (population 8 million).
"He is clearly in tune with that community," Mr. Knabel said on Wednesday. "Without knowing much about Canton it seemed to me that he would have been an excellent choice to be chief there and evidently from what I've learned, many of Canton's residents agree with me. Both his responses to our questions and his demeanor suggested that he might also be a good fit for West Tisbury. But that raises the basic question of whether West Tisbury needs an outsider to lead its police department at this time."
The previous West Tisbury chief, Beth Toomey, was such an outsider. Coming from a larger off-Island police department in Northboro, Ms. Toomey's transition to the Island was difficult, as Mr. Rossi characterized it in his opening remarks on Friday night, especially in replacing a "West Tisbury icon" in George Manter.
"I feel the biggest difference between me and Chief Toomey is the fact that I will be able to make a seamless transition into the full-time chief's position," he said. "Chief Toomey was not so lucky."
Reflecting on the past few months after Wednesday's announcement Mr. Rossi sounded a note of relief.
"I'm where I want to be in my career," he said. "I don't do this as a job, I look at it as a career. I'm at the top of my career right now, and it's very satisfying."