Attitude!" shouted high school cheerleading coach Stephanie Andrade before last Friday's football game against Nauset. The eight members of the squad were warming up before the game by practicing their dance routine. Staggered in two lines, the all-girl squad marched head-on like models on a runway.
Friday was a warmup for this weekend's Island Cup game. "We perform at our fullest for every game, but the Nantucket game is the biggest one, so we are preparing," senior Ashleen Cafarelli said.
Two weeks ago the squad performed one dance; last week they performed another, and for the big day they'll combine the two for a halftime show. "It's going to be a full-out bang," she said. The routines will be performed to a mix of pop music.
The cheerleading squad practices every day for two hours after school, and just like other athletes, they perform through injuries and have to balance their academic schedule with their practice schedule. It all begs the question: Do cheerleaders really have more fun? "If it's something you love, you make it happen," said Cafarelli, who is so passionate about cheering that she plans to continue it next year in college. "I have no choice, it's in my blood now," she said.
But Cafarelli and fellow senior Elsie Fantasia find they have to stand up for their sport more often than they'd like. "I feel our school treats cheerleading like it is not a sport," Elsie said. "It makes me upset because cheerleading is a sport . . . when we have practices sometimes we get stuck with having nowhere to practice."
Fantasia has been cheering for two and a half years, and like Cafarelli she plans to continue in college. "I love the dancing, the cheering and the stunting," she said. "It's all just so much fun and it's a lot of hard work."
Late last week the squad practiced in the gym as football players drifted in and out of the locker room. Cinching purple and white bows in their hair, nailing down their ending poses and circling up to stretch as a group, they laughed and encouraged each other. After completing the stretch, captains were designated for the game.
Senior Shawna Brown admitted her nerves are beginning to fray at the prospect of her first Nantucket game.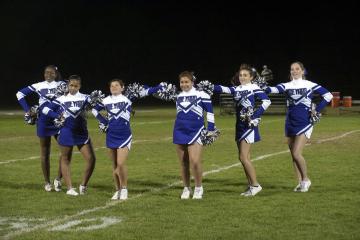 "We work as a team to get everything down, and we're a good team," she said. "I struggle to learn the moves but I love it. It's a lot of fun and I'm getting better at it every day."
As for the historic rivalry, the Vineyard girls intend to be good sports. "Obviously we have to be polite to each other because that's good sportsmanship," Elsie said. "Whether they're always nice to us or not, we're always nice to them.
The squad continued practicing to music from Ms. Andrade's iPhone. Soon the dance came together, no counting off needed before they began the routine.
And attitude was flowing.