It's quiet out there, at night on the Island this time of year. In town there are a few signs of life. But on the back streets, after the sun goes down and the winter chill takes over, mostly it's just smoke from a woodstove or a startled rabbit or nothing at all. But looks can be deceiving.
Travel down Lambert's Cove Road, for instance. Pause for a moment at the John Hoft field station to take in the scenic beauty, the stars somehow seeming closer now during the clear, crisp nights. Keep going. Just a bit farther hang a right down a dirt road. A dog will bark, chase the car for a time, then give up. Up ahead there will be a large sailboat up on blocks, just purchased in New Hampshire and waiting for its first Vineyard summer.
There is a small building. Go inside. Upon opening the door the sound of a lone guitar will welcome you. Something folky. Maybe Woody or Hank or, wait, the beat is building. It's getting faster. Keep walking toward the stairs, past the room with all the pianos waiting to be refurbished, the Steinway laboratory, if you will, of David Stanwood.
A drum kicks in. Sharp, crisp notes. The music is moving again and so are you up the wooden stairs. Layers of punk. A hint of Velvet Underground, Green Day but still with that folk underpinning on the guitar. But faster now. Much, much faster.
Then the voice joins the music. The Beastie Boys comes to mind. But it's not as angry. Something more intelligent and soulful. You stop trying to place the genre, there are too many swirling at once. But it all comes together and when you reach the top of the stairs you are hit by the sound, loud and fast, and you feel it all the way down to your ankles and the first thing you want to do is run back downstairs, out through the door and into the field shouting at the moon and the stars and the rabbits because you feel so good.
But you stay because what you want most of all is to keep riding the wave pulsing through your body.
The room is spare and the walls mostly bare. Wood floors, a few rugs, one battered coffee table, a surfboard slouching in the corner. Front and center the makers of the music keep going. They are the band Dukes County Love Affair (DCLA), a trio consisting of John Stanwood on guitar, Jamie Green on drums and Mike Parker at the microphone. It is the week before the release party for their first CD and they still need to put on a few finishing touches.
The music is tight, the band members loose. A perfect mix of skill meets amiability. They are all of them Islanders. Jamie and John have known each other since the fifth grade when they met at the Charter School and have been playing music together ever since. Mike, well, he was into sports and not a part of the other guys' scene.
"I didn't really like Mike until about two years ago," Jamie admits.
That's when they all met on the ferry coming back from various off-Island walkabouts. Mike had just returned from Peru, yet another far-flung adventure taken after a devastating loss made him rethink who he was and what he wanted to do with his life.
"My dad passed away when I was in high school," Mike says. "Before that I didn't really value life as much as I think someone should. Then it was as if my brain exploded and I saw that life is short. He had cancer so it was really long and drawn out and through all that I discovered this love of adventure. And along the way music found me. I wasn't really looking for it."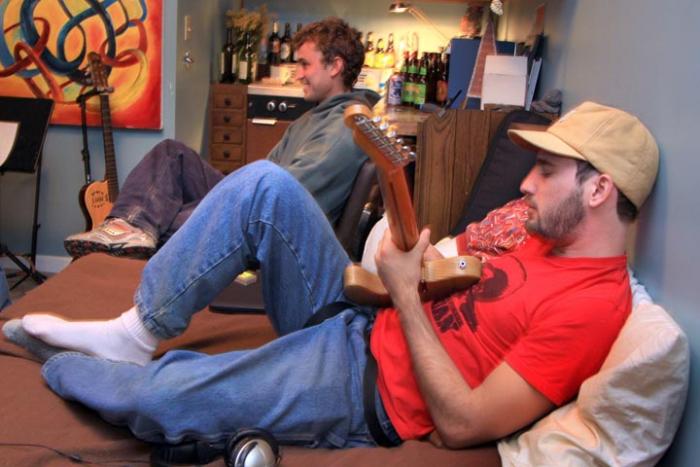 On the ferry ride the guys talked about music and maybe playing together. One of those offhanded comments, the spark of which is usually extinguished once the boat docks.
But something about the energy among them, even while just talking, kept the moment alive on shore. They began jamming. At first it was just for themselves and just for fun. But gradually word got out that these three young guys were doing something special. The Island's thriving music scene is a tight-knit group and talent isn't allowed to hide indoors for very long.
"Other friends we looked up to as musicians from around here were really supportive," Jamie says. "They helped us get more serious right off the bat."
"It's been really surprising how much everyone has supported us," John adds. "I didn't think we were that good. I still don't think we're that good, but what do I know?"
Evidently not much. Every time the band plays the audience gets larger.
The band came together right when Nectar's opened up on the Island, taking over the old Hot Tin Roof and making it vital again. That first summer, in 2009, DCLA became sort of the house band for Nectar's, getting a weekly gig. They began playing regularly in front of friends and the Vineyard summer crowds. They took in various bass players too, broadening their sound and for a while last summer added a trombone player.
"I picked him up hitchhiking," John says. "He seemed kind of lonely. He fit just right."
This mentality of embracing life, the moment, and including whatever comes along, even a transient trombone player is, one could argue, the heart and soul of the band's energy and sound. They are not restricted to any particular genre or method of creating their songs. As a result the music always feels alive, organic and necessary.
After the 2009 summer the band began playing off-Island. Nectar's hooked them up with some gigs in Vermont. They began doing shows in Boston. They caught the fever.
"When people who have never heard us and don't know us are that psyched it helps a lot," Jamie says of the experience off-Island.
"I think that was what really jump-started us," John adds. "Because they didn't just like it. They really liked it."
Later the guys hit the road not as a band but as individuals exploring the world. Mike purposely didn't take any instruments with him so he could immerse himself in the emotional experience of traveling.
"I was in Bali and Thailand and Laos and the whole time I was just writing. I came back with a notebook full of poems and lyrics."
John and Jamie visited Nicaragua and Costa Rica. Jamie gave in to the siren song of the waves and spent his time surfing. John went native joining a group of Argentinian musicians who barely spoke English. John doesn't speak much Spanish but it didn't really matter.
"We met through music," he says. "And they took me busking at restaurants, playing traditional Argentinian music. I was the lone gringo playing for gringos. They made me pass the hat."
When the guys reunited they quickly went to work molding their diverse experiences into words and music. The songs came together rather quickly. Soon they had enough original material to make a CD. They looked again to the Island's community of musicians for help.
"We found all the right people right here," Jamie says.
Phil daRosa engineered the CD, Jesse Sylvia produced it and Mathew Cullen mixed it.
"It was so easy to work with Phil," Mike says of the experience. "The whole process was enjoyable. I think he's doing a lot of great things for the Island."
The CD is called How Do They Shine. The release party is set for Thursday, Dec. 23 at the Ritz in Oak Bluffs. It's the first step to, as Mike puts it, "committing to the road." Now they can spread the word much easier and book more shows. The band already has a couple more gigs lined up in Boston and then they are headed to Buenos Aires to meet up with a band Bombshell Sound Agents brought to the Dive Bar last summer.
"We met all those guys and we were like, we're going to Buenos Aires," John says.
The road beckons for DCLA. For their music careers, their personal journeys and to keep filling the well of creativity. But there's also another reason, fundamentally simple and yet perhaps at the core of what makes their music so infectious.
"We just have a great time and want to figure out how to have more of them," Mike says.
Who can argue with that attitude?
The CD release party for DCLA is Thursday, Dec. 23 at 8 p.m. at the Ritz on Circuit avenue in Oak Bluffs. The band will also be playing tonight in Boston at the Middle East Club.