It's hard to imagine warm summer nights on these cold spring days, but they're coming.
And in less than a month, the new collegiate baseball team, the Martha's Vineyard Sharks, will take to the field at the Martha's Vineyard Regional High School.
To warm up the Vineyard crowd, the Sharks will have a fundraiser dinner for the field and Vineyard baseball on Saturday at Sharky's Cantina in Edgartown with former Red Sox player Bill Buckner. The dinner starts at 6:30 p.m. Tickets are $45.
Opening day is June 10 and the Sharks' management team is hard at work creating a minor league baseball atmosphere with one thing in mind — the community.
"We're going to try and tie every single day with a local business or organization that have some real meaning to them; our whole focus is to give everyone the most bang for their buck because without them there is none of this," Carminucci Sports Group president Darren Harrison-Panis said. The sports group owns and manages the new team.
"Our biggest thing is the community support," he said. "The year-rounders are our lifeblood, they're the bread and butter and we need to recognize them and reach back out."
The Sharks received permission from the high school in September to use the field known as the Field of Dreams and entered into a license agreement in April. Since then, the team has put $180,000 into the field, Mr. Harrison-Panis said. And it all stays with the high school for life.
There are 600 bleacher seats, sheds are being built to house concession stands, two large tents will be available for hot days and a new field house will store large maintenance equipment and an indoor batting cage. There will be a bouncy castle or two for small children.
"In April and March when [high school] kids want to get to work and start to play . . . they'll be able to get in here, work out, practice and get a start on their season," Mr. Harrison-Panis said.
"We hope there's a definite bounce back of kids staying involved in baseball because of what we're doing here so they know it's more accessible and there are more opportunities," he added. "It's all about retaining those kids from Little League to Babe Ruth on up and keeping it strong. This is one small step but I think it's significant. They've never had anything like this, ever."
Tad Gold, who graduated from the high school two years ago and is a freshman at Endicott College will play center field.
"He had to be a part of this," Mr. Harrison-Panis said. "He's deserved it and he's earned it. [High school coach] Gary Simmons is going to be our hitting coach so it's going to be a nice reunion for them too."
The Sharks are a member of the Futures Collegiate Baseball League, which is unrelated to the Cape Cod Baseball League. The league has four teams: the Mavericks from Rochester, N.H., the Nashua Silver Knights and the Torrington Titans, also owned by the Carminucci group. The Sharks will play 50 games in 55 days, 27 at home. All games begin at 5 p.m.
The league requires that at least half its roster come from New England or attend college in the area.
"I was speaking with a Red Sox scout at tryouts two weeks ago . . . and he said finally we have a place where New England kids can showcase themselves," Mr. Harrison-Panis said.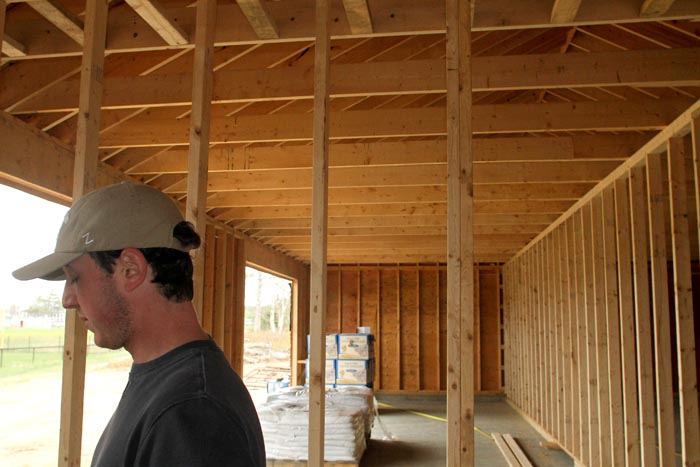 "We have a kid on the roster who's one of the top 200 prospects in the major league draft coming up," he added.
The Sharks already have 63 corporate sponsors, Mr. Harrison-Panis said. They have already named a lineup of Island nonprofit organizations who will have a game day dedicated to them, including the Martha's Vineyard Boys' and Girls' Club, the Martha's Vineyard Cancer Support Group, the African American Heritage Trail, Hospice of Martha's Vineyard and Camp Jabberwocky.
They have hired 10 high school interns for the summer and three college interns.
They are still looking for host families; if you would like to host a player, please contact Doris Clark at 774-563-8752, or e-mail Doris.Clark@MVSharks.com.