A private consultant hired by the Edgartown Library Foundation is threatening legal action for copyright infringement over a phrase used to promote an annual community fund-raiser for the town public library.
Danielle Pendergraft claims her public relations company, Holiday Public Relations, owns the rights to the slogan, "Frankly, We Love Our Library."
The annual event is held on Labor Day at the Katama Airport, where the community is invited to come and eat frankfurters and raise money for the town library.
"We have a service mark on that name, as you would imagine, anything substantially similar to that is in violation of the service mark," Mrs. Pendergraft said yesterday following a meeting of the Edgartown selectmen where the issue was discussed along with other library issues.
Mrs. Pendergraft, who recently moved permanently from Texas to Edgartown, said her public relations company has held the trademark since July 2009. Her contract with the library foundation began in August 2009; she resigned in February of this year.
The slogan for the event was recently changed to "We Love Our Library," but Mrs. Pendergraft said the change was not enough.
"They'll be hearing from our counsel tomorrow," Mrs. Pendergraft said. "We have tried to work with them to resolve this situation and for the life of me I don't understand what's difficult about it — change the name of the event."
The issue surfaced at the weekly selectmen's meeting yesterday afternoon after an hourlong session with town counsel Ronald H. Rappaport over other library issues. The meeting was attended by foundation members as well as library trustees, who are elected. Mr. Rappaport advised all in attendance of the need to separate funds for the private library foundation from public town library monies. The foundation has been paying for invoices submitted by the library without first obtaining approval from the selectmen.
"Any private party can't just pay directly the bills of the town . . . we have to comply with procurement policies," Mr. Rappaport said. "There's a process that has to be followed."
Among other things, Mr. Rappaport said if the foundation buys things for the library, such as Smartboards or computers, the selectmen must vote to accept the gift, just as they would for any other town donation. Foundation members said they understood they need to set up a separate account with the town.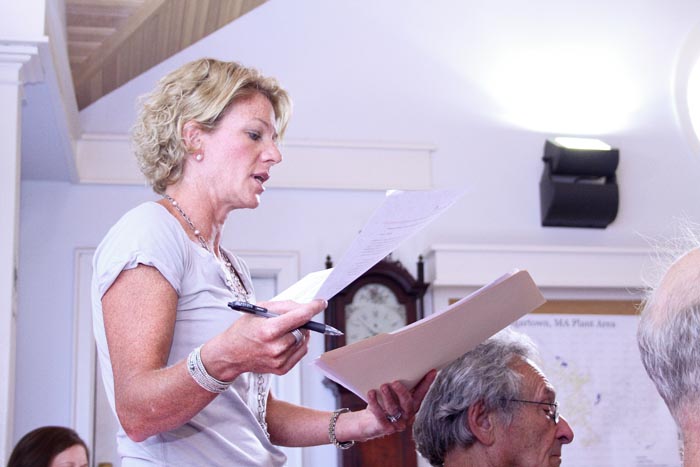 The town attorney also advised elected trustees not to sit on the board for the private foundation.
The library foundation was formed several years ago to help raise private money for a library expansion project whose future is now uncertain after the town recently lost out on a $5 million state grant.
A lengthy recent e-mail exchange between Mrs. Pendergraft and library foundation members that has been widely circulated reveals tension over a wide array of issues, including the fees paid to the consultant.
Former foundation board chairman Gwyn (Baba) Smith said at one point in an e-mail that her board was "dealing with a crisis of confidence," over Ms. Pendergraft's services and the amount of money she had been paid, which was not specified in the e-mail.
Ms. Pendergraft expressed her own frustration. "I have never seen another organization conduct themselves in this manner. For the sake of your organization's continued credibility, especially in light of this correspondence, I strongly and urgently suggest ELF revisit its policies," she said in one e-mail.
Yesterday Mrs. Pendergraft said she simply intends to keep the rights to her own advertising slogan.
"We're not trying to be hard-nosed about it. I've been very generous with this organization and we've licensed, Frankly We Love Our Library program and event to other libraries in the country," she said.
"I don't expect any organization to retain our services forever but we do expect to be compensated for our work product and if they don't want to do that, that's fine, then they need to come up with something on their own."