On Jan. 15 more than 90 people gathered at the Martha's Vineyard Hebrew Center for an afternoon of videos, music and discussions about the Occupy Wall Street movement.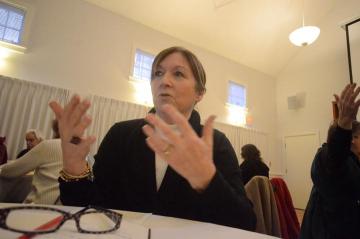 As participants gathered, pictures of "occupiers" from all over the world as well as many taken right here on the Vineyard, were shown on the large screen at the front of the community center's main room. One of the many anthems of the Occupy movement, We Are The Many, written and sung by Makana, a popular Hawaiian troubadour, set the mood.
The event was organized by a committee that shared ideas over the past two months and was divided into three parts, each one introduced by a set of videos to stimulate conversation in working groups. Participants discussed what the Occupy movement meant to them, exchanged what they knew and didn't know and looked to see what could be done for a better future. To conclude the program, each table shared what they got out of the afternoon and what could be done on the Vineyard to further the message of Occupy, both nationally and here on the Island.
A community potluck supper followed, allowing informal conversations to blossom.