Assignments included making French toast, building a robot, taking a yoga class and spray-painting stencil graffiti. For homework: chopping wood for the fire. The tests, voluntarily taken, were those of the imagination — how to fashion an outfit of candy wrappers, what color to paint the clay figurine, how best to build a shelter in the Vermont woods.
Welcome to project period at the Martha's Vineyard Public Charter School.
For two weeks twice a year, fifth through twelfth graders at the school embark on project of focused learning, a time that students and teachers say is spent pursuing individual passions and delving into a subject beyond what's possible during a traditional class period. At the end of the period of exploration (and fun, students said), the kids share their work with peers, teachers and parents.
"It's who we are: helping kinds invent, study, research ideas that are interesting to them," said school director Bob Moore. "We think it's a powerful learning experience."
"They really look forward to it," he added. "They really embrace it, and become more mature learners."
A visit to the school last week found a flurry of creative activity in classrooms and hallways. Seventh grader Susa Breese was engrossed in illustrations for a novel, while Bean Haller was working on a French toast dish with the culinary arts group. So far, she said, the group had prepared waffles, honey butter, chili and apple crumble, and they would also serve lunch at an elderly housing residence and the group would try to collect 350 items for the food pantry.
Down the hall, Simone Vega and Sequoia Ahren were working in a classroom-turned-clothing studio, whipping up fashions with the help of two sewing machines, a box full of donated and thrift store clothes, and a collection of candy wrappers.
Project period is an opportunity to express yourself, Simone said as she tinkered with a blue shirt and an American flag tie on a dress form, and focus on "what you're interested in."
"I love it," Sequoia said, because she could focus on a project and "have fun with it."
They had music to work to, as well. Nearby, Miles Jordi and Tau Rios-Dryfoos were proud to play the start of an upbeat instrumental song they created on a laptop.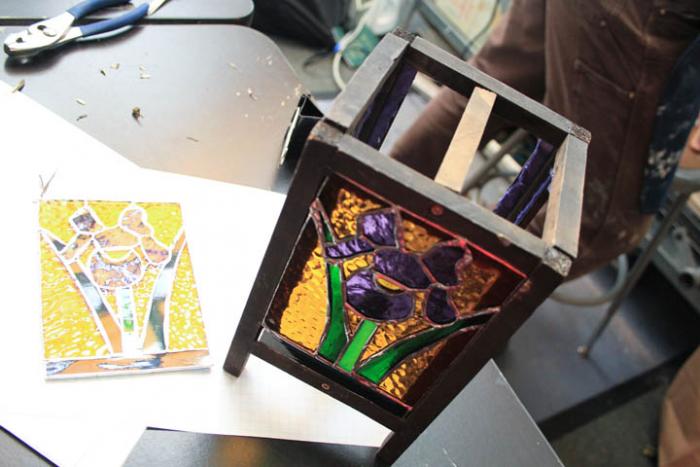 Over in the art area, some students made stencils that they used to spray paint graffiti on a temporary wall outside, and junior Oscar Thompson was working with glass to make panels for a lamp shade.
"The two-week project periods are so nice," he said. Being able to work on a project for two weeks has an added benefit for artists: Oscar could leave his tools and materials set up, rather than having extensive clean-up time cut into his work time.
"I think it's something that's unique at the charter school, this opportunity for the students to have two weeks to focus on something they're really interested in doing,"said Nick Thayer, the art teacher.
Several students worked on robots for a regional robotics competition, while another group spent the two weeks studying fitness under the tutelage of teacher Anna Cotton, taking cross-fit and yoga classes, learning about exercise and nutrition, and blogging about their findings.
"It really fits with the school's model," Ms. Cotton said. "This is a different way to look at project-based learning,"
Through individual studies, students can also delve into their own interests. Sitting at a table covered with a complicated array of computer parts and tools, 10th grader Chase Eppers was busy rebuilding computers, a skill that he said is largely self-taught.
"School helped me with a lot of the resources I needed to expand my learning," he said, growing enthusiastic as he talked about his project and demonstrated how to connect wires with soldering tools. A week later, he had completed one of his project goals: computer parts, still connected to a monitor, were placed in a fish tank filled with vegetable oil. When he flicked the switch, the parts in the fish tank whirred to life. (As Chase can explain, it has to do with conductivity.)
Armed with a cardboard background and modeling clay, Garrett Hagen set about the painstaking work of creating his second stop-motion movie. "I saw someone else do it and I thought it was very cool," Garrett said.
Last year, he made Paw Wars, a stop-motion film complete with paper fire effects and a blooper real. This year's film will feature zombies.
"It's amazing to see the kids really shine when they get to be in their space," said Tim Penicaud, a physical education teacher. He said students who struggle or have behavior problems in school are different people during project period, smiling in the hallways.
The project period also lets students delve into issues that are "hard to touch on with a general group in class," he added. "These are the kids who are really interested in going above and beyond."
In the fall, teachers poll students to see what subjects they might want to delve into further, and then create two-week projects out of those ideas.
"It takes a lot on the part of the teachers to design these two-week classes," said Mr. Moore. The project period is "really successful because of the talent of the teachers here at the charter school."
Last week, two groups of students ventured past Vineyard shores for their projects. Wendy Gray led a group of eight sixth through eighth graders on a five-day trip to Oscar's Farm in Montpelier, Vt., for a community service trip. The group took public transportation, arriving in four-degree weather and hauling their luggage half a mile through the snow to their cabins, which had no indoor plumbing or electricity.
While there, the students prepared meals for elderly and needy residents, transporting meals of stuffed shells, pumpkin pie, garlic bread, lasagna, brownies and cookies on sleds.
Despite the rustic conditions — no indoor plumbing, electricity, or cell phone reception — the students "were real troopers," Ms. Gray said. "No one complained."
"The whole goal of it was really for the kids to go out of their comfort zone, and become a community and to serve other people," Ms. Gray said.
The students said they bonded during the trip; they stayed in one cabin, talked by the fire and played a card game called crumpet.
"It was really fun," said Ruby Dix. "It was probably the best project period ever. When you live with people, you really get to know them—everybody became a family."
Kira Bruce, busy drawing pictures of some of the people they met at the farm, said that after awhile, she thought she would be sad not to be able to see her breath as she ate dinner.
"It really makes you appreciate what you have back home," said Galen Harper. "So when I got home, I took a nice, long shower."
It was tough "not being able to go on my phone whenever I wanted to," said Sarah Chickering, "But we were so busy that I didn't really think about it."
Another group also headed to Vermont for a different purpose. Teachers Jonah Maidoff and Louis Hall led eight boys (usually, they said, there is a better mix of genders) on a "walkabout" trip to Merck Forest and Farm Center in Rupert, Vt.
Mr. Maidoff has led students on these nature trips for the past 15 years, he said. On this walkabout, participants wrote and read (on Kindles) and learned how to tap trees for maple syrup and how to build shelters (don't worry, parents: They did not sleep outdoors).
For some "ultimates," or seniors who have been on several walkabouts, this trip was their last. "I love the fact that I came to the charter school," Eli Brown wrote in a reflection of his trip. Caring for and being around nature is important to him, he said, and "the charter school helps keep that alive until I get out of school."
Out in the wilderness, Mr. Maidoff said, the students have different conversations: "Older kids talking about futures, where they'll live and raise their families, leaving the Island, having an adventure out in the world. Not the silly baloney we often end up talking about."
Senior Jake Meegan recalled a past walkabout around the Island with Eli and another student, a three-day trek that started at Philbin Beach and ended at Great Rock Bight.
"I want to do that," said Ethan Hall, his sight set on future project weeks.