The wind over Lucy Vincent Beach has to be just right, from the southeast and maybe 10 to 15 miles an hour, so that it strikes the cliff there and forms a column of rising air. When that happens, if you are a paraglider pilot, it can be magic.
"My record flight over the beach is an hour and a half," said Vineyard Haven resident Bill Straw who I met at Waban Park late Sunday afternoon in the company of a half dozen other paraglider enthusiasts. They had gathered to help train a friend and, well, just to schmooze about the sport they love.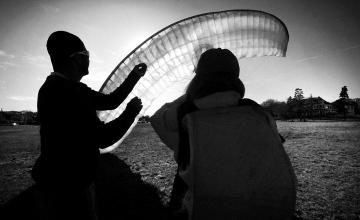 "We love to fly," said Bill. "Once you get your feet off the ground, you can't stop."
"That's right," said Vin Conti, "I just want to be a bird."
In addition to Bill and Vin, there was Igor Ribeiro, Reinaldo Motal and Pedro Nascimento.
"There may be a few other paraglider pilots on the Island," Bill said, "but this is the vast majority of us."
The wind over the park that day was not terribly cooperative — fluky from the northeast and maybe five knots, but it was enough to get the paragliders into the air and allow the pilots to practice the dexterity needed to keep them full. It's called kiting — learning to control the glider with delicate lines called risers so that it does not collapse. They also practiced what is called a hand launch — in which one or two buddies pull you forward into the wind, helping provide lift and allowing for short flights.
Martha's Vineyard is not the best place in the world to paraglide — what you really want is a cliff with a strong column of uplifting wind in a kind of syrupy laminar flow — like, say, Diamond Head on the island of Oahu in Hawaii. These pilots have flown in various such hot spots and also at White Crest Beach in Wellfleet, Mount Greylock in the Berkshires to Mount Tom in Easthampton, among others.
But once in awhile, when the urge gets undeniable, they can be found in unlikely places like Waban Park, getting ready for the next outing off-Island, or that perfect southeasterly wind over Lucy Vincent.