In her search for the best raw chocolate, Bennett Coffey tasted chocolates from all over the world, including Bali, Peru and Ecuador. Eventually, she settled on a raw cacao from the Asociacion de Santipo in Peru, where money goes directly to farmers and the product is certified fair trade and organic. This raw cacao is the foundation of her Vineyard creation, Not Your Sugar Mamas, a local company dedicated to creating chocolate treats that not only taste good but are healthy, too.
"I went to school at the Institute for Integrative Nutrition in New York city, and it totally changed everything," Ms. Coffey said while mixing up a batch of her chocolate. "I wanted to make a positive impact on the world and that's when I discovered raw chocolate."
Typically, when chocolate is processed, it is heated to a temperature so high it slowly starts to dissolve or kill the antioxidants in it, thus also killing many of the potential health benefits. When making raw chocolate, however, nothing is heated above 100 degrees Fahrenheit. This maintains the integrity of the original molecular structure. Sugar Mamas chocolate is also always organic, vegan, and, although this sounds sacrilegious for chocolate acolytes, sugar-free. Agave is added, but this is a natural sweetener and quite unlike ordinary white sugars.
Watching Ms. Coffey work is like seeing an artist paint. Each ingredient is carefully chosen to interact and balance with the chocolate, improving the overall health benefits of the final result. She begins by slowly melting the cocoa and coconut butters then adding these melted butters to an immense bowl of raw cacao powder and slowly stirring the mixture with smooth, even strokes.
"We source not only our chocolate from fair trade providers, but our agave, coconut butter and extracts are all natural ingredients that add nothing but goodness to our bars," added Ms. Bennett. She continued stirring up a bowl of what will become Be Fresh Bars. The smell in the kitchen was one of dark chocolate with a touch of floral. When making a Be Cool Bar, hints of lavender arise, and with the Be Sexy Bar the room is infused with the aroma of local honey and rose petals.
The other half of the Not Your Sugar Mamas enterprise is Kyleen Keenan, who focuses on the business aspect of the growing company. Ms. Keenan is fluent in Spanish, having lived for a time in Argentina, which comes in handy when negotiating with growers in Peru.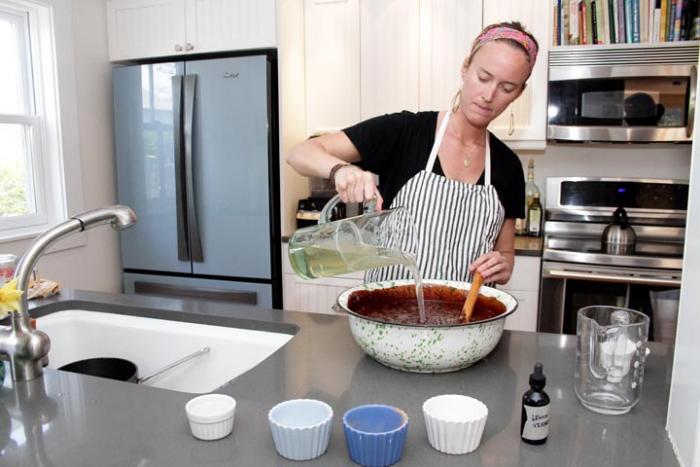 Currently, Not Your Sugar Mamas' products can be found in 11 stores on the Vineyard, including 7a Foods, Cronig's Market, Morning Glory Farm, Scottish Bakehouse and Tisbury Farm Market. They have also set sail for the coast, populating stores all over Massachusetts, Connecticut and New York. For a complete list of stores or to order products online, visit notyoursugarmamas.com.
Raw Chocolate-Acai Popsicles
1/2 cup acai puree
2 cups coconut milk
2 tablespoons agave syrup
3 tablespoons Be Strong raw cacao powder
Pinch of salt
1. Using a blender, combine the acai puree, coconut milk, agave syrup, cacao powder, and salt. Taste and adjust the sweetener if needed.
2. Pour mix into popsicle molds and freeze overnight.