Todd Christy could do better. After two attempts at making the perfect shot of espresso, he still wasn't satisfied.
"Does that taste good? Was that good?" Mr. Christy asked repeatedly in his home kitchen in Chilmark, then proceeded to discard the shots. The first shot needed to be more tightly tamped; the second shot was too watery. "Okay, last chance for romance." The espresso machine began to drip the rich, heady liquid into two bright white cups. "Ah, much better, you see? It's nice and creamy on the top. It's a really bright espresso, hopefully not too bitter."
Mr. Christy shuffled through his utensil drawer, navigating around children's cutlery to find a teaspoon. He plopped a small spoonful of sugar into each of the tiny espresso cups. The shot was complex, tickling sinuses and taste buds. Smooth and clean.
This attention to detail is the hallmark of Mr. Christy's Chilmark Coffee Company. At 47, he left his job at the Chilmark town hall this spring, where he served as administrative assistant to a number of town boards, and took the leap to turn Chilmark Coffee Company into a full-time business venture.
"There's great coffee out there but I wanted to make it better and I wanted to make it here," he said. "I wanted to do something that was me."
Last year his coffee was sold in limited quantities at Beetlebung Farm, Chilmark Store, Morning Glory Farm and 7a Foods; this year he has expanded to many other outlets around the Island. He also has a booth at the West Tisbury Farmers' Market. Chilmark Coffee is suddenly a familiar sight on shelves where groceries and foodstuffs are sold.
"I hope to continue to get better at it," Mr. Christy said. "That's the key — keep making better stuff, don't sit back and rest."
He started the company two years ago with three small sample roasters that processed one pound of coffee at a time. He was able to produce 100 pounds a week. Now with two shiny yellow Diedrich roasters, Mr. Christy will be roasting up to 800 pounds of coffee a week out of his tiny shed in the backyard. He will continue to use the sample roasters to get the taste profile just right.
"There are points I want the coffee to hit on a regular basis, and usually I get pretty close," he said.
Originally from rural Virginia, Mr. Christy said he became a coffee lover during his college years at Franklin and Marshall. His roommate's mother had a stand in the Lancaster, Pa., farmers' market; she imported pistachios, whole leaf teas and coffee. In the winter of his sophomore year, when "we had no money and no heat," Mr. Christy and his roommate would go down to the local coffee shop in town. "We would sit there all day," he recalled.
"Our friend was the barista, or whatever you called it back then, and he would just make us espressos and coffees all day because we were freezing in our apartment, and I had coffee like I never had coffee before."
Mr. Christy buys his beans through wholesalers, always looking for the best. Burlap bags from Ethiopia, El Salvador, Costa Rica, Sumatra, Indonesia and Columbia line the walls of his roasting shed. While the roaster turned five pounds of beans from El Salvador, he stuck his hand in a bag and brought up a handful of raw, green beans that smelled like grass. He roasts for a particular finish on the beans.
"There are those roasters who want to have shiny coffee, they're called shiny coffee roasters," he explained, pulling out a small sample of lightly roasted, but not shiny beans. "That's okay but that pulls all the sugar to the surface."
"I've been finding all kinds of crazy stuff in my coffee," he continued. "Like buttons, I put a little tweet up that said someone in Sumatra is missing a button."
Roasting coffee is a "slow control issue," he said, a balance of getting the right amount of heat and time.
"I'm trying to think a minute ahead of time," he said, checking a spreadsheet with corresponding temperature and time. "It's not like your gas burner where it's on and off, medium or low, it's time and you're heating up this huge drum."
Harder coffees, grown at higher altitudes, take a lot of heat; softer coffees like those from Sumatra or Brazil are very soft and require a lower temperature.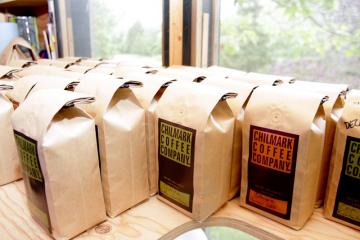 Mr. Christy said roasting coffee is a balance of art and science, "but I think the guys who are really high-end roasters are artists more than chemists. They understand the chemistry really well but otherwise they are artists."
The home-grown business is also home-designed; Mr. Christy and his wife Jennifer, who both studied art in college, designed the Chilmark Coffee logo that appears on the simple brown bags.
He has a fondness for gadgets. "This is a refractometer," he said, pulling out a digital measuring device from his pocket. "You take a pipette, take a sample of the coffee and load it, let it cool and it tells you how much total dissolved solids are in the coffee."
He pulls out his iPhone and brings up an application called MoJoToGo, which tells you based on that number how good your cup of coffee really is. This handy tool is his quality control at the Farmers' Market.
"I check every pot to know what I want it to taste like," he said. "It has to taste good . . . I have this great little tool that's pretty high tech, but ultimately it has to taste good in your mouth."
Over the winter Mr. Christy developed a bottled cold brew he calls Menemsha Mudd.
"I take my espresso and I roast it a little bit darker to get that burnt taste," he said.
Then he grinds the beans coarsely and steeps them in four 10-gallon tanks for 24 hours. Brown bottles with the distinct Chilmark Coffee label are ready for instant consumption.
Mr. Christy has high praise for his neighbors and other small entrepreneurs in Chilmark, including Beetlebung Farm and Menemsha Fish House. He said all may charge a slightly higher price for a better product, but making the business profitable is a hard balancing act.
"It's a challenge," he said. "First of all, it's better food and it's made here and it supports your friends and neighbors. Those are huge things, but the finances are also difficult."
When he's not roasting coffee you may find him riding his Chilmark Coffee Company-clad bicycle. But more than anything, Mr. Christy said he likes to savor his first cup of the day.
"Making that first cup of coffee," he said. "I like a simple cup of coffee. I make it the same way I've always made it, with this crazy little kettle, and using these flat-bottomed drippers. I make enough for two."