A rare algal bloom has shut down shellfishing in Lake Tashmoo during a week where other Vineyard swimming spots were closed because of bacteria.
Seth's Pond, the popular swimming hole in West Tisbury, has been closed to swimmers for more than a week because of high levels of enterococcus bacteria. The same bacteria led to a brief closure of Pay Beach in Oak Bluffs.
Starting Wednesday, Lake Tashmoo was closed to shellfishing because of a toxic algae bloom that some said is rare to Vineyard ponds.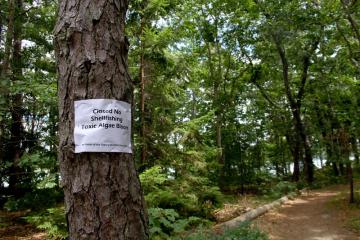 Tisbury shellfish constable Danielle Ewart discovered the algae bloom, a bright pink algae called prorocentrum lima, last week. On Wednesday, the Department of Marine Fisheries ordered the lake closed at 1 p.m. after testing samples and determining what it was.
"Do not eat any of the shellfish in Tashmoo," Ms. Ewart said Thursday, adding that cooking won't get rid of the toxins.
She said the state is conducting further testing.
"This is the first time I know of any toxic algae in any of the ponds," said Rick Karney, director of the Martha's Vineyard Shellfish Group. He said shellfish constables from around the Island have an eye out for the algae, but it has yet to be seen beyond the outside flats of Tashmoo, which might be the right environment for prorocentrum lima, he said.
Mr. Karney said prorocentrum lima has okodaic acid, which is associated with diarrheal shellfish poisoning, and new research has shown the potential for neurotoxins. He credited Ms. Ewart's quick eye for catching the algae.
"It is not a species that is on the radar," he said, adding that it has people a bit stumped.
The algae is benthic, meaning it's attached to the bottom of the pond. Thus, he said, it's unclear how much of the algae shellfish would pick up, because they usually feed on algae suspended in the water column.
"There is some question as to how much is digested by the shellfish," Mr. Karney said, and tests might later be conducted on the shellfish themselves.
While it's nothing to be too alarmed about and there have yet to be reports about people being sick after eating shellfish from Tashmoo, "public health is always number one." Any shellfish harvested there should be put back in the pond, he said.
"We don't want to fool around with it," he said.
Town administrator John Bugbee said that after the algae was discovered, the lake was closed as required by law. Signs have been posted at the beach, a notice has been placed on the town website, and those who have purchased shellfish licenses have been called.
"We're doing everything we can to spread the word," he said.
Over in West Tisbury, health agent John Powers said Seth's Pond has been closed since July 3 because of enterococcus, the fourth time the pond has been closed since June. In some instances, he said, the pond was closed for only one day following a rainfall event, which can affect bacteria levels.
According to the state Department of Public Health, swimming in water with high levels of enterococci can be dangerous for young children, the elderly, and people with compromised immune systems.
The pond remained closed Thursday. Mr. Powers said he is testing the water daily, and will not reopen the pond until the geometric mean of five samples is at or below 33 colony forming units (CFU) per 100 milliliters of water.
Bacteria levels are down, he added, but still not within the required range. Wednesday's test of the bathing area showed 86 CFU.
"The pond is very low," Mr. Powers said. "I'm hoping that's the reason behind it."
Tests of the deep water come back better than those from the shallow water, he said.
In Oak Bluffs, Pay Beach was closed from Wednesday morning because a routine water sample taken on July 9 revealed higher than allowed levels of the bacteria. The beach was reopened Thursday when a subsequent sample showed the water was again safe for swimming, Oak Bluffs health agent Shirley Fauteux said.
According to the state Department of Public Health, a weekly water test at Pay Beach on July 9 showed 163 CFU per 100 milliliters of water. Tests performed two days later showed the amount was back to less than 10 CFU.
The state enterococcus bacterial standard for marine waters is 104 CFU per 100 milliliters of water.
All other Island beaches tested negative for enterococcus bacteria and remained open during that time.
Last summer, elevated readings prompted a number of beaches and ponds to close intermittently throughout the summer, with no apparent cause for the bacteria found. Some officials speculated that faulty testing or sample anomalies could have been to blame.