A smiling Alec Gale hops onto his 52-foot steel fishing boat, The Retriever. "We'll see what happens today. Something always goes wrong," he says. It's 7:30 a.m. and Al has already been up for two hours. He spent the early part of the day with his eight-month-old son Riley. "It's my only quiet time," he says. Now he is bounding around his boat, starting one of its three engines, unhooking dock lines and moving the neck of a truck crane around. "When I welded [the crane] onto the boat's deck, everyone thought I was crazy, but it is the most useful tool in this harbor. I've even used it to save a car that drove off the dock."
As we head out to fetch 100 pounds of quahaugs for one of the Island's local upscale restaurants, he offers a confession: "I am a really bad fisherman. I don't have the luck. That's why I like getting quahaugs and sea clams. They don't move. I just do this to help keep the boat going. You don't use a boat for a week and it just starts to fall apart." He gestures to the rusty deck, which looks a bit like a junk yard — two giant spools of cable, random broken buckets, old hammers and boards, nets and debris are scattered around. "Sorry it's such a mess. I have a guy from Kazakhstan painting my boat. I just learned he's from a wealthy petrol family and is a computer programmer. When I asked him why he's working for me, he said he wants the American experience."
Alec Gale and his partner fisherman Tim Broderick are trying for their own kind of American experience: building a business from the ground up. It is their first official year as owners and operators of Menemsha Fish House, the newest wholesale fish company on the Island. They have partnered up with Jared Auerback, founder of Red's Best, a boutique fish wholesale company based in Boston. Essentially, Al and his team, which includes sales manager Ty Rossi (also a contractor and property manager) and floor manager Rick Sylva (also a new father and mason), buy fish from local fishermen, try to sell as much of it as they can to Island restaurants and then ship the excess up to Boston where it is sold via Red's Best. "We ship about 20 to 30 per cent of the fish that lands here to Boston," Al says. The relationship with Red's Best also allows Menemsha Fish House to bring high-quality non-local varieties such as salmon to their Island clients.
Alec gets nearly 200 pounds of quahaugs in less than an hour. He shrugs off the ease of his success. "No one has fished here [his undisclosed quahaug spot] since Alfred Vanderhoop in the seventies," he says, heading back to port. "First thing I've got to do when we get back is get the plumber on the phone. Yesterday, we got into trouble with the health inspector. Apparently we are supposed to have copper pipes connected to our sink. Every fish house I know has plastic ones. They gave me three days to fix it. Today is day two."
Back in the Menemsha Fish House office, essentially a small loft over a giant freezer with a million dollar view, Alec greets Rick and Ty. He has known Rick since kindergarten and Ty for "at least 10 years." Rick and Ty have temporarily shucked their other jobs — masonry and contracting — to throw their support and energy behind Tim and Al's business. "I just believe in what they are doing," Ty says. Rick nods in agreement. Al looks at the delivery sheet and talks through the day's orders while demonstrating the high-tech system for tracking fish that he and Jared Auerbach have developed. (He seems to do at least three things at the same time. All the time. And with ease.) "Basically, we can track where the fish were caught, when and by whom. It is revolutionizing fishing, making fish traceable and local." Al looks up, "Has anyone heard from the plumber?"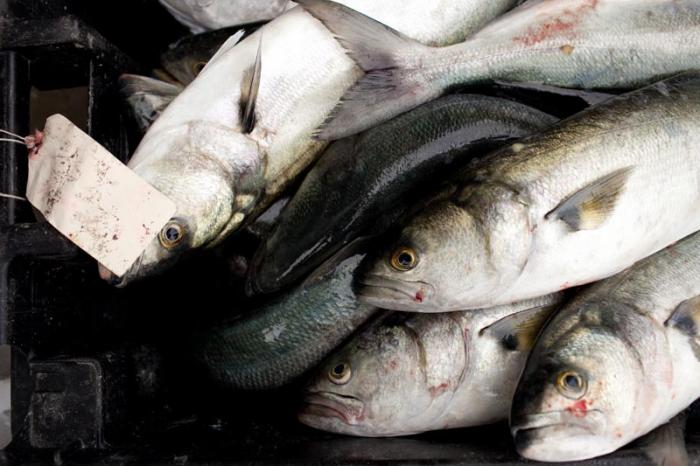 Before anyone can answer, there are voices below. The team heads down to greet Danny Tilton who has just come from Edgartown Great Pond bearing steamers and quahaugs to sell. Alec looks them over approvingly and buys the lot. John Bunker comes in with fellow fisherman Gus Lief with about 200 pounds of bluefish. Al looks at the restaurant orders. "I don't need this much." They take the bluefish into the freezer and have a conference. In the end, Al says, "I'll see what I can do."
As the morning progresses, more fisherman come in as private chefs and sous chefs arrive to buy fish. Al, Rick and Ty do not stop moving: weighing fish, organizing fish, checking fish, brining fish, selling fish. The exchanges between the fisherman and among the fish house team is minimal. They have known each other for so long and see each other so often that there is a shorthand for everything. Al learns that the quahaugs he caught this morning are not needed. Alec takes the news in stride, joking, "I can't work like this."
Fisherman Steve Broderick stops by. Al introduces him. "He's our unofficial, official adviser. I see him every day. He's like my second dad," he says. They have a private chat on the dock. As he leaves, Steve looks at the tubs of fish that are tagged for delivery and says, "Hopefully, they'll make money sooner than later. It'd be a hell of a good story."
At around one, the Red's Best truck arrives from Boston. Al unloads hundreds of pounds of fish with a forklift. A giant bin with ice crashes to the ground. Al laughs, "We exercise extreme non-caution around here." And then he loads locally-caught fluke and bluefish onto the truck. Meanwhile, Rick discovers that the truck did not bring salmon. Al says, "No salmon? We promised them [a restaurant] salmon. This could be the end of us." Ty agrees. "We could lose the account because of this," he says.
As one set of bad news hits, good news arrives in the shape of a plumber. He can fix the problem. Cost: $4,000. Al shakes his head, "What can I say? We are in the nonprofit business. That was my original intention, you know. I wanted this to be a nonprofit, just a conduit to help local fisherman sell their fish."
Al's girlfriend Liz and their son Riley stop by. He grabs Riley and squeezes him. Al tells Liz about the salmon mishap. "It wasn't on our end. Was it the driver? Someone in the warehouse in Boston? In the end, it doesn't matter. There was no salmon on the truck and we promised salmon. So that's that."
Liz says, "I hate hearing stuff like that. He works so hard and likes to live up to what he says he will do."
"You know, some days I regret selling my stake in Atlantis Hardscape and just want to quit this," Al admits. "But then there are days where I get so much satisfaction, it's amazing."
Tim Broderick comes in and asks Al for help. "When you have a minute. No rush." But Al rushes anyway. Tim needs to thread some new cable onto his boat. With a crew of about five guys, using Al's truck crane, they begin to run the cable from Al's boat to Tim's.
The sun is setting in the west casting a reddish hue across the hulls of the boats in Menemsha. The whole landscape looks like a 19th century painting. And watching these young men working together feels like a promise of good things to come.