On Monday John Lee stood in the Tabernacle, excitedly talking about the second annual Martha's Vineyard Jazz Festival. It was the same place he first came up with the idea. He pointed to the front few rows. "I sat in these pews with my daughter and visualized having a festival," he said.
At the time there was nothing on stage. He was simply sitting and dreaming.
But that dream became a successful reality. Last year delivered a "phenomenal response," according to Mr. Lee, the founder and executive director of the festival. "There's good energy to do it again."
This year's festival kicks off this Saturday, August 4, with an 11 a.m. parade beginning at the Oak Bluffs steamship wharf and ending at the Tabernacle for a concert. Mr. Lee's son, Elyjah, will be marching up front with his trumpet in hand.
But why jazz?
"I just started listening and caught the bug," said Mr. Lee. "Jazz is what America aspires to be. It's inclusive, diverse, intelligent. It's America's original art form." And that art form has many different avenues.
"We are going to present jazz in all its forms," Mr. Lee said. There's music but much more. Featherstone Center for the Arts is featuring an exhibit called The Art of Jazz, which displays visual art inspired by jazz music. Guest artist Preston Sampson will be at Featherstone from 4 to 6 p.m. on Sunday.
There's also a world premiere film screening on Wednesday, August 8 at Dreamland in Oak Bluffs, showing Chico and Rita, the animated story of thwarted love and music.
Quincy Troupe, award-winning author and poet, will be at the Bunch of Grapes bookstore in Vineyard Haven on Thursday morning for a book signing. His most notable works are Miles: The Autobiography of Miles Davis, Miles and Me and The Pursuit of Happyness.
On the music end of things, Mr. Lee said, "We have some serious cats coming."
One such "cat" is Jason Moran, triple-crown winner for Best Jazz Artist, Best Jazz Album and Pianist of the Year in the fifty-ninth annual Critic's Poll. And though he now carries a big name, he looks forward to a small-town feel.
"It's like a locally global community," Mr. Moran said, then he laughed and asked if that made any sense. "You have this feel that it's still a small town, even if people are from all over," he continued.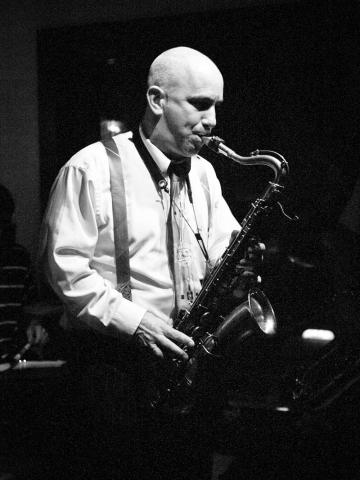 Mr. Moran's jazz philosophy matches Mr. Lee's. It's all about feeling the music and doing something different in an expansive music world. "I take a lot of liberties about what the performer is supposed to do — how they engage with the music and with the audience."
Mr. Moran will be playing alongside Civil Rights activist Charlayne Hunter-Gault for a mixture of reading and piano music. "It's a totally new experiment that will only happen on Martha's Vineyard at this festival," said Mr. Moran.
Mr. Lee said, "It was really a spur-of-the-moment collaboration. It's spontaneous. It's jazz. He's a heavy cat, man."
But the festival isn't just about bringing talent to the Island — there are Vineyard musicians worthy of celebration as well.
Brian King Nelson has managed to round up the Island's jazz troops for a spectacular showcase. Mr. Nelson says his group's concert on August 7 is "an effort to make jazz relevant to 2012 while connecting with the long and rich jazz tradition." Mr. Nelson and his 1930s C-Melody saxophone sound will be joined by Steve Tully on baritone sax, Mark Campos on trombone, Glenway Fripp on piano, Matty Rosenthal on drums and Brian Sandlin on bass. The group calls themselves The Brian King Nelson Quintet, although there are six members. The reason? According to Mr. Nelson, "When folks see and hear us, they always get more than they expected."
The six-man quintet will play two shows, 6 p.m. and 9 p.m., at the Island House in Oak Bluffs on Tuesday, August 7. Mr. Nelson said, "We really have a Vineyard super-group playing."
The jazz festival is an event for jazz lovers of all kinds — serious cats and mere kittens, too. The festival's motto is, "When jazz goes on vacation, it goes to Martha's Vineyard."
For a full schedule of events occurring during the Martha's Vineyard Jazz Festival, visit mvjazzfest.com.