The Pit Stop is located inside an inconspicuous garage across the street from Tony's Market in Oak Bluffs and is hard to find even when you're looking right at it. A small marquee out front advertises the night's musical entertainment and a white hand-painted sign directs visitors around an old trailer to the entrance at the back of the building.
The front room is filled with old pianos, organs and other musical ephemera. The lighting is dim and the décor eclectic — rows of white folding chairs form a semicircle around a small stage, and 1950s-styled Formica tables line the back wall.
Every Monday night Anthony Esposito hosts an open mic event at the Pit Stop. He came up with the idea last winter and watching him introduce the musicians with a quick joke and an easy smile, it is clear he enjoys the shows just as much as the crowd.
"I haven't missed a single Monday night," he said.
For some, the prospect of an open mic night conjures up images of drunken twenty-somethings caterwauling brazenly onstage. Not so at the Pit Stop. On a recent Monday evening a pair of teenage girls, introduced as Isabel and Sophie, played a moving acoustic set. At one point they sat side-by-side on the stage, the hot lights reflecting off of Isabel's abandoned guitar as the duo sang an a cappella version of the traditional folk song, Didn't Leave Nobody but the Baby. The audience stomped its feet and clapped in time along with the pair.
Another performer, Julius Lowe, 23, of West Tisbury, played acoustic covers of popular classic rock tunes such as Buffalo Springfield's For What It's Worth. He then accompanied his friend on banjo for a selection of original compositions. Julius has performed at Open Mic Mondays several times. The product of a musical family, he began playing guitar during his freshman year of high school and later, out of curiosity, taught himself to play the banjo
"Music is something that, no matter what you do, can always bring happiness," he said.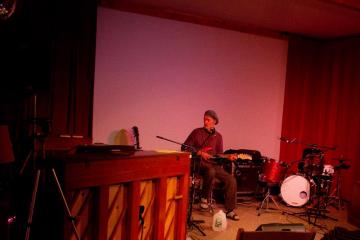 The evening was not limited to traditional music, though. In a display of nimble fretwork, an electric bassist who went by the name Anti engaged the crowd with ominous, softly-spoken lyrics that addressed traditionally taboo topics such as marijuana use and prescription drug addiction. His performance brought a hard edge to the more classically-styled group of performers.
Julie Mark, a student of psychology and music at Wesleyan University, who came to Martha's Vineyard to study the Island music scene, said that she first found out about Open Mic Mondays through a post on a friend's Facebook wall. A singer, pianist and songwriter, Miss Mark has become a regular, performing her own music to attentive crowds. Despite playing personal compositions for an unfamiliar audience, she said that the Pit Stop is a warm and welcoming venue.
"Everybody's in the same situation," she said. "It's a very unintimidating place to perform."
And her favorite part of the evenings? "The variety. It's just five dollars for an evening of eclectic music!"
Mr. Esposito credits the Island itself for this unexpected wealth of talent.
"The Vineyard attracts a lot of very creative people," he said. "They come here feeling ready to perform and need a place to go."
Mr. Esposito plans to continue Open Mic Mondays for as long as the Pit Stop remains. The club is not a bar and does not serve alcohol or food, although audience members can bring their own. The club survives through admission prices and membership dues which cost $100 and offer benefits such as free admission to Open Mic Mondays.
Shows begin at 7:30 p.m. and last as long as the performances do. General admission is $5 at the door. Those interested in performing may sign up in advance, although advance registration is not required.
And because it is hard to find, here is the exact address: 114 – 116 Dukes County avenue, Oak Bluffs.