Summer on the Vineyard conjures images of sand and surf, beaches and breaking waves, water and . . . wagging tails?
That's certainly the case within the pages of the Vineyard Seadogs calendar. The calendar, the brainchild of Lisa Vanderhoop of Aquinnah, is now in its sixth year, and celebrates all things canine while capturing the joys of the seasons at the same time.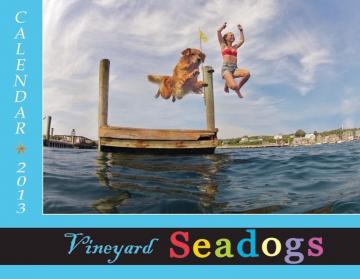 "Dogs have that magical way," Mrs. Vanderhoop said in an interview earlier this week, seated on the dock of West Basin as Weimaraner puppy Wiley roamed the shore and tried to hitch a ride on the bike ferry. "They have that joie de vivre that is just contagious."
Mrs. Vanderhoop remembered when she and her husband Buddy brought home their first Weimaraner, Amos, ten years ago (Amos passed away this year and he is the featured dog for October on the 2012 calendar). It only made sense for the family's new best friend to take to the seas with the Vanderhoops — Buddy runs a charter fishing boat out of Menemsha — and, as anyone who has seen the striking 'grey ghost' visage of a Weimaraner can attest, it only made sense for Mrs. Vanderhoop to photograph Amos as he helped reel in the daily catch.
As she photographed Amos throughout the years, Mrs. Vanderhoop began to notice that their boat, the Tomahawk, wasn't the only vessel carrying canine cargo. Dogs were everywhere — cruising the harbor, paddling in the surf, sitting in kayaks, chasing balls down the beach.
"This is a very dog-oriented place," she said. "I thought it might be fun to photograph some of those seadogs."
Mrs. Vanderhoop holds a degree in wildlife biology, and worked as a production assistant for National Geographic and Audubon films — her first-ever project was a Nature film about the domestic dog. She had been searching for a still photography project, and as she began to photograph dogs-on-the-water, she said, "things kind of snowballed from there." The first Vineyard Seadogs calendar was published in 2007.
The first cover dog was Freddy, a Golden Retriever mix who Mrs. Vanderhoop described as "just the quintessential seadog," one who didn't mind multiple reshoots of dock jumping or swimming in the chop. For dock jumping photos, such as the one that graces this year's calendar, she prefers working at the West Basin landing, because of the accessibility. "How is a dog going to climb a ladder [out of the water]?" she said.
This year's cover features another Golden Retreiver, Isis, owned by Rebecca Mayhew, and two-legged friend Maggie Nixon.
Each calendar contains no fewer than fifty different canines. People approach Mrs. Vanderhoop throughout the year asking if their dog can appear in the calendar, and she relies on a core group of friends and family to help recruit more unusual looking breeds for their close-ups. Mrs. Vanderhoop's mother-in-law, Anne, who runs the Aquinnah Shop, found the 2011 cover dog after spotting him and his family touring the cliffs. One look at Enzo, the dreadlocked Bergamasco (Italian sheepdog) resembling a moving mop, romping on the cover, and it's hard to imagine any other dog taking his place. Enzo, who is from Montreal, is also apparently bilingual.
"They're just dog stars," Mrs. Vanderhoop said. "They're fast and they're unpredictable. But you have to get on their level."
She's never had any trouble getting dogs to perform for the camera — except for a group of Siberian husky puppies who "just want to do what they want to do, and you don't even know what that is."
Mrs. Vanderhoop photographs in settings all around the Island. She has yet to visit Chappy but does devote this year's July spread to the Chappy ferry. The only prerequisite is that there must be some water around. What's a seadog without the sea?
"It's just so enriched my life," she said. Every project cycle brings a different experience and a new learning curve, and new friends. Mrs. Vanderhoop also designs each calendar; the only stage she does not handle directly is the printing.
"You become part of their family because you're photographing a family member," Mrs. Vanderhoop said of the many dog owners she's come to know over the years.
While some dogs, such as Amos, making his posthumous appearance this year, and Winslow, a Golden owned by Noreen Baker, have appeared in every edition of Vineyard Seadogs, there is always room for more canines.
"It's a never-ending subject source," Mrs. Vanderhoop said.
As if to confirm her point, a boat pulled up to the West Basin landing and a small poodle mix hopped off. The cover model for the 2014 edition? Only time will tell.
The Vineyard Seadogs calendar is available at Bunch of Grapes Bookstore, Good Dog Goods, Rainy Day, Alley's, Cronig's, Edgartown Bookstore, Craftworks, SBS, Menemsha Market, Tisbury Farm Market, the Menemsha Inn, the Aquinnah Shop and the Boneyard Surf Shop. For more information, please contact Lisa Vanderhoop at seadogsproductions@hotmail.com.