Music videos, movies, the Internet and the news have embedded the stereotypes of African American men as dangerous and violent in society, said the chairman and CEO of BET Networks, Debra Lee, at a forum on Friday afternoon.
"If we look at media in general and live off of what the mass media serves up about black men, you might arrive on the Vineyard in particular and think you are on another planet," Mrs. Lee said in her opening remarks. "What do I mean by that? On the Vineyard you see black fathers with their children and their wives. And wait for it... they have jobs. This is not the impression that you get from media day-to-day in America."
The forum — Learning from Trayvon: How Media and the Law Can Better Serve Black Men and Boys — welcomed three panelists from civil rights organizations to help foster discussion in the wake of the Trayvon Martin shooting that occurred in Sanford, Florida last February. On that night, Mr. Martin, an unarmed 17-year-old African American, was shot and killed by George Zimmerman, the neighorhood watch coordinator of the gated community where both men were staying.
The panelists on Friday addressed negative depictions of black men in the media, and offered solutions on how to change those stereotypes through social media and powerful decision-makers. The event was sponsored by The Opportunity Agenda, an organization that works to expand opportunities for all Americans equally through public opinion research, legal analysis and media research.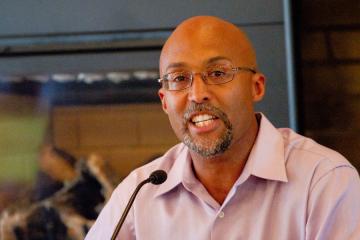 Alan Jenkins, co-founder and executive director of The Opportunity Agenda, began the forum by saying that media and popular culture have played a large role in distorting the perception of black men and boys not only as people associated with crime and violence, but as people less likely to be represented as fathers, job holders and public figures.
He noted that these distortions creep into our conscious and subconscious, creating racial inequality along many platforms.
"We absorb those depictions... It affects our own self-perception and self-esteem," said Mr. Jenkins. "It affects hiring decisions, admissions decisions and how people are treated in classrooms. And it affects who gets shot when they walk out on the street."
Mr. Jenkins also said that media and technology can be a part of the solution, too.
"I know some of you are secretly looking at your Blackberries and iPhones," Mr. Jenkins joked. "But that's part of the solution. We are at a moment for the first time in human history where each of us has the capacity to reach millions of people around the world."
He emphasized the importance of not only consuming accurate, balanced news stories but also speaking out against racial distortions in news stories and media organizations' strategies.
Panelist Theodore Shaw, professor at Columbia Law School and former President of the NAACP Legal Defense and Education Fund, agreed that it was up to citizens to stand up for themselves, adding that due to governmental infrastructure, in many cases lawsuits cannot even attack police practices that are discriminatory.
"We have to attack this stuff in the street, and I don't mean just old-fashioned marches. I mean politically organizing and using the Internet age," said Mr. Shaw.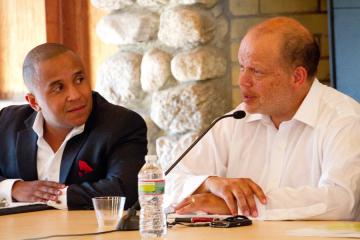 Panelist Rashad Robinson is executive director of Color of Change, the largest online black political organization, with more than 800,000 members. Mr. Robinson presented solid examples of how social media and motivated citizens can create change. Through an online petition, Color of Change convinced 200 advertisers to remove their sponsorship from the Glenn Beck Show on Fox, effectively cancelling the show after Mr. Beck made racially divisive remarks about President Obama.
However, Mr. Robinson said, the thousands of activists and petitioners also need help from people in power.
"There is work that activists like myself and people who sign petitions can do," said Mr. Robinson. "But so much of that means nothing if people who are inside — folks that look like us inside places of power — don't call us when they need us, don't pick up the phone and let us know when there are opportunities to make movement. And they choose the easy way out.
"Those of you in the room who are diversity officers, work in corporations, work for employer resource groups and those of you who sit in places of power — we need folks like you on the inside and the outside to continue to work. And that's the sacrifice that we all need to be thinking about."
When asked by an audience member whether these separate organizations would be coming together as a collective, Mr. Jenkins brought up the Jena Six Case to exemplify how many groups worked as one to stand up for the accused students. Mr. Jenkins described "online 21st century warriors" bringing the case to public attention and onto the agenda of civil rights groups.
"They weren't alone," he said, referring to the work done by activist groups. But he went on to say that more work was needed from average citizens for real change to occur. "What I think is missing is movement," he said. "We all get paid to do social justice work, it's very important to us. But the difference between social justice activism and social justice movement is when everyday folks drop what they are doing and take up the struggle."
The panelists also stressed that today's civil rights movements will not always look similar to those of the past.
"Part of what I think is important about Color of Change's work is they are helping us to reinvent what movement means to the 21st century," said Mr. Jenkins. "It's going to look different. It's going to be more powerful in some ways. But also in some ways we won't recognize it."
Another audience member asked what would be the next step if George Zimmerman, the man charged with Trayvon's murder, was acquitted in the upcoming trial.
"I don't know," Mr. Shaw admitted. "I don't know what else to do if he is acquitted except to scream, holler and go back to work."
Mr. Robinson responded: "If the verdict does not come down the way it should in Florida, what we need to do is capture that energy for the movements ahead."