Years ago, in Whitinsville, the Rev. Alden Besse was asked to participate in a Memorial Day parade. "I thought, what can I carry? Lots of people carry guns and I'll carry a pruning hook," he recalled.
A pruning hook?
Let Mr. Besse, a retired Episcopal pastor, explain through scripture. "They shall beat swords into plowshares and their spears into pruning hooks, they shall not lift up arms against one another, and they shall learn war no more," he recited from memory.
"It seems to me that peace is just so necessary. It used to be, two men get angry with each other, they'd go off and slug each other. Now, two men get angry, they can destroy the world."
Mr. Besse, 88, is still walking in parades and still fighting for peace here on the Vineyard, well into his ostensible retirement.
And though his passions are varied — he's cochairman of the Martha's Vineyard Peace Council, an accomplished builder of igloos, involved in politics, a chaplain at the Martha's Vineyard Hospital and Windermere and a member of the Healing Order of Martha's Vineyard — the yearly CROP Walk, happening this Sunday, stands out as one of his strongest passions.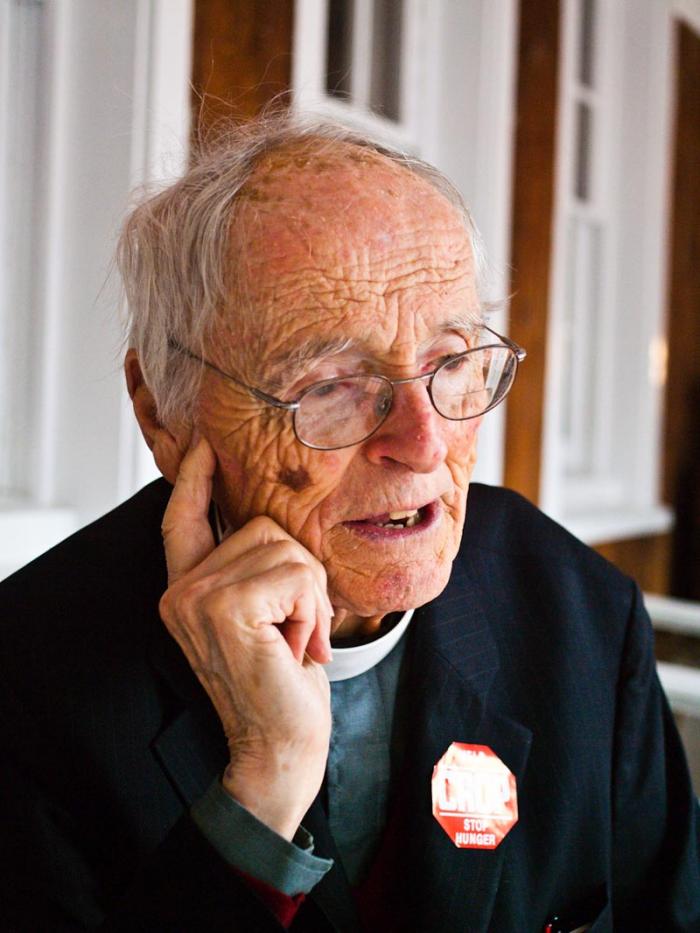 "It's basically doing what we can for the needy, for hungry people," Mr. Besse said in an interview Wednesday, wearing a red CROP/Help Stop Hunger sticker on his suit jacket, his white clerical collar in place.
CROP stands for Communities Responding to Overcome Poverty, an annual event sponsored by the Church World Service that takes place around the country, including on the Vineyard. About 100 walkers participate here and gather donations from others, raising about $20,000. In the past 21 years, the walk has raised more than a third of a million dollars.
Mr. Besse hand writes the press releases for the CROP Walk for the local newspapers, and spends months, with other members of the group, planning logistics.
This year, he pointed out, several Islanders have pledged to match every dollar raised with an additional 25 cent donation. One woman from the West Tisbury Congregational Church has raised $3,000, and one sponsor pledged $400, he said. "With money like that, if I fall and break my leg . . . drag me the rest of the way!" he declared.
He signed one notice about the walk: "People's lives depend on you, Alden."
Another note from a committee meeting: "Don't dare leave without 1. All needed supplies, and 2. Hope, spirit, determination."
Mr. Besse shared a picture of 10 Island clergymen taking part in the walk last year, including a Roman Catholic priest and a rabbi. One year, a 97 year old walked with a four year old, he said.
"It's the spirit with which people walk, not the distance," he said. The route is 6.5 miles, from Vineyard Haven to Oak Bluffs. "Oh, I know well how far it is," he said. After all, he's done it 21 times.
His quest for peace reaches back to a time before that parade where he carried a pruning hook. During one summer holiday on the Vineyard, he wrote a letter to President Lyndon Johnson, imploring him not to go to war in Viet Nam.
He served at a church in Whitinsville, a small town near Worcester, for 10 years, and was in East Providence for 17, which was "within easy commute to the Vineyard." He and his wife, Barbara ("my first wife and my last wife"), moved to the Island when he retired, and he served as a pastor at Grace Episcopal Church. Friday (today) is their 55th wedding anniversary.
But Mr. Besse first started coming to the Vineyard in 1924. "I wasn't much of a walker in 1924. I was good at crying," he quipped.
"I've loved the Vineyard all the time I can remember," he added, though he grew up in Scarsdale. "The greatest love in the world is the wonderful people that I've known."
His family was known for boat racing, he said — his sister in law was the U.S. Women's sailing champion, he said, and his great nephew a world champion windsurfer. Mr. Besse sailed and raced also, and sometimes goes out on his nephew's sloop.
He also has a hobby that he pursues with a passion when it snows: building igloos. He said his first memory is of a snowstorm. "There is something magical and mystical about the snow," Mr. Besse said. He and his children used to build igloos, he said, big enough to stand up in.
When he retired, he said, he had a list of what he wanted to accomplish; he called it the three Cs and the three Ps. Church was one, and community another — he is a voting registrar in Tisbury. ("I do get paid for that, $173 a year."). He also pledged to focus on consanguinity — close family relationships. Now, in his so-called retirement, he can spend time with family without worrying about Christmas services.
Then there are the P words. The first, of course, is peace. The second is politics. "Not that I'm out on the stump much," he said. But he is thinking about, praying about and trying to support the politics and candidates that he most believes in, he said.
And then there's philanthropy. "[The Bible says] in effect, when you're doing a good deed, don't blab it all over town," he said. But when pressed, he'll say that he keeps a file on about 100 charities, and he and Barbara try to do what they can, giving a few thousand dollars a year to charity.
And there are people in need on the Island, Mr. Besse said. About $5,000 of the money from the CROP Walk goes to the Island Food Pantry, he said.
"You have people sleeping in the woods," he said of the Island's homeless, noting that the nearest homeless shelter is in Hyannis. People also deal with substance abuse and other mental illness. "A lot of people think this is a rich place," he said. But in the wintertime, at the food pantry, they spend $2,000 a week on food, he said.
But then again, the Vineyard has a cohesiveness, he said, and people are good at helping out during times of trouble.
And so though Mr. Besse has retired, his work continues. "I don't think there is any retirement for concerned people," he said.
"I think for any person of faith and compassion, that the retirement benefits are out of this world," he said. "I don't know how much longer I can walk, but maybe somebody will push me in a wheelchair when I can't."
The 22nd annual Church World Service/CROP Walk for the Island and the world's hungry will take place on Sunday, Oct. 14. Check in is at 1:40 p.m. at St. Augustine's Church in Vineyard Haven, with a 2 p.m. start. The walk goes to Trinity Church at the Camp Ground in Oak Bluffs and back. Free rides will be offered back to St. Augustine's for those that need them.
Some Islanders have offered to match 25 cents for every dollar raised by walkers. The walk is sponsored by the Island Clergy Association, the Island Food Pantry, the Vineyard Committee on Hunger and students from Islands schools. Sponsor forms and information are available from Mr. Besse at 508-693-3930.