After the last hurrah of Columbus Day weekend, many of the Main street business owners in Vineyard Haven hang signs on their doors saying "Closed" or "See You Next Season."
But this year three new businesses are joining the ranks of year-round favorites such as Bunch of Grapes and Mocha Mott's, filling vacancies on Main street and signaling a rebound for the Island's busiest all-season town.
On the corner of Main and Centre streets, the long-awaited Cafe Moxie is finally open.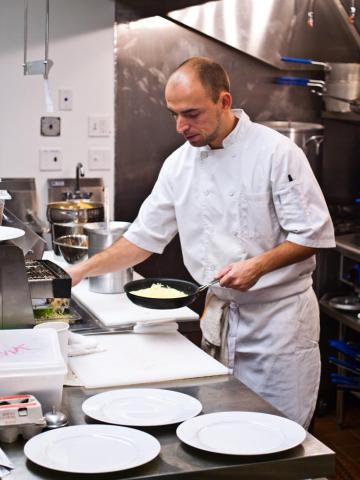 On Tuesday morning couples were seated at tables in the cafe with steaming cups of coffee. Visitors surveyed raspberry danish and pecan popovers laid out on the counter, while smells of bacon and eggs wafted through the air.
At the back corner table cafe owner Michael Ryan and business associate Mariola Ryan sat drinking coffee, chatting about their first few days in operation. Opening day was Friday, Oct. 12.
"Not so much sleep the night before," said Mr. Ryan. "It was the end of part of a journey, because we've had lots of peaks and troughs along the way."
The original Cafe Moxie burned down during the Main street fire on July 4, 2008. Mr. Ryan purchased the building from former owner Paul Currier in November 2010, and had plans to re-open in the summer of 2011. But electric issues with NStar and construction regulations kept delaying the project.
This week, on a crisp fall day, forks clinked plates and spoons clinked tea cups in the half-full restaurant.
"It felt very surreal to actually have people sitting here and eating," said Ms. Ryan.
"We were pleasantly surprised," said Mr. Ryan. "I had nightmares many, many nights thinking no one is ever going to come."
Mr. Ryan said he is happy to have opened during the off-season.
"This is such a new venture and I have learned so much," said Mr. Ryan. "I discovered there are a million things you can't really prepare for. If we had opened in the summertime, those things would have bitten me."
Ms. Ryan added: "It's a good time to be opening because you are really appealing to the year-round residents."
The cafe's hours are from 7 a.m. to 10 p.m., with bistro fare menus for breakfast, lunch and dinner developed by chef Willy Wannamaker.
Born and raised in Edgartown, Mr. Wannamaker is no new face to the Vineyard. A graduate from the French Culinary Institute in New York, he worked professionally in the city and also as sous chef at the Inn at Blueberry Hill.
Now situated in the basement kitchen, he washes off some kale to boil with linguica for a lunch stew.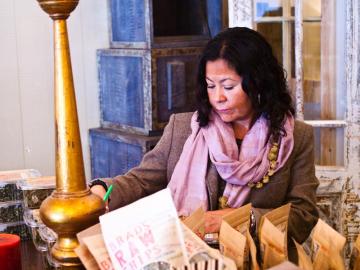 "We are really trying to serve the community good, affordable food," said Mr. Wannamaker. "This kitchen will be running pretty much from 5:30 in the morning until two at night with three different shifts."
Also on board is pastry chef Leslie Hewson and former Menemsha Cafe and Saltwater Cafe owner Josh Aronie, who will be preparing breakfast and lunch five days a week.
The "business family," as Mr. Ryan dubs them, is still getting the hang of things. From the busy opening weekend, they realized more wait staff were needed. Mr. Ryan himself has been washing dishes, and knows this is just the beginning of the hard work.
"We want it to be an Island restaurant for Island people, not just people on vacation," he said. "And I mean it."
Next door a shake-up in the locations of long-term year-round staples is also complete. Housewares and clothing store Midnight Farm moved into the old Bunch of Grapes store at the end of September, relocating from the building adjacent to and owned by Stop & Shop to the prime Main street spot due to the grocery store's plan to expand. The new storefront, home for more than 40 years to Bunch of Grapes, stood empty all summer after the bookstore moved across the street.
Midnight Farm sales associate Ona Ignacio manned the front desk this particular morning, saying hello to the handful of customers skimming through the candles and home decor of the downstairs room.
"We are a lot busier here than we would be just a few steps away," said Ms. Ignacio. "It's amazing how many people don't go down that street if they don't know to. There is definitely more foot traffic here."
And across the street and up the block, Bananas Gallery opened a year-round location on Oct. 5 in between CB Stark Jewelers and Shirt Tales, the latter which has already closed for the season.
Bananas sales associate Fala Freeman said the store's owner, Judy Hartford, was hoping to extend the season with the new location. The plan is to be open seven days a week.
"We wanted to have a year-round presence and open ourselves up to a larger market, because a lot of people never get out of Vineyard Haven," said Ms. Freeman.
The store features the same brands of hats, scarves, shirts and shoes from their West Tisbury location, which will reopen in May. Although a bit of a trek for some, Ms. Freeman said the up-Island location has a crew of loyal followers.
"But we are meeting new friends here, new customers," she said. "Vineyard Haven is the most year-round town, and it's the liveliest town in terms of business. We like being downtown. It's more like being in a neighborhood."