The Steamship Authority has suspended ferry service and public schools and town halls are closed as the Vineyard braces for the effects of Hurricane Sandy. Still off the mid-Atlantic coast early Monday morning and headed north, forecasters say Sandy is an extremely dangerous storm that threatens the entire coast from New Jersey to Maine.
The effects of Sandy are already being felt on the Island, with tides running high and winds gusting 40 to 50 knots in some places. High tide is at 11 a.m. in Vineyard Haven. Beach Road was closed to traffic Monday morning from Vineyard Haven to Edgartown due to flooding from the incoming tide. Dock street in Edgartown was also flooded.
Emergency personnel have mobilized Islandwide and people who live in low-lying areas are being asked to consider evacuating. Islanders were being asked to stay off the roads.
Banks, the YMCA of Martha's Vineyard and many other places of business are closed or planning to close. For a complete list of cancellations, go to http://www.mvyradio.com/station/weather_and_cancellations.php
A state of emergency has been declared in Massachusetts and the National Weather Service is predicting hurricane-force winds and extreme high tides beginning today. Widespread power outages, coastal flooding and beach erosion are expected. The Coast Guard issued Port Condition Zulu, closing all ports in Southeastern Massachusetts just before 5 p.m. Sunday. The Steamship Authority suspended service early Monday.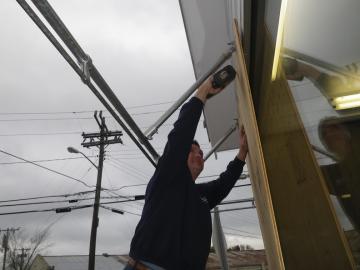 A code red message went out to Vineyarders late Sunday, and the Red Cross opened a shelter at the Chilmark Community Center starting at 6 p.m. Sunday. Vineyard schools will be closed at least through Tuesday.
As of Sunday afternoon, the storm was off the coast of North Carolina and headed north, expected to make landfall around New Jersey. The geographical area of the storm is huge with hurricane and tropical-force conditions extending for hundreds of miles around it. Winds of up to 50 miles per hour are expected on the Island by early Monday morning, with hurricane-force gusts.
A targeted message will be sent to those in low-lying areas asking them to stay with friends or go to the shelter at Chilmark Community Center if they are in danger.
Red Cross representative Robert Porter said that the Red Cross will open another shelter if it is needed.
"I think it is fair to say this is more a wind event than a rain event, but it's a serious wind event, at least potentially so," Massachusetts Gov. Deval Patrick said during a conference call with about 450 groups around the state. "It's going to be a public safety hazard to be on roads and out and about."
The National Weather Service said that as of Sunday morning Sandy was a category one hurricane with 75-mile-per-hour sustained winds, about 590 miles due south of Block Island, moving northeast at 14 miles per hour.
Regardless of which way the storm shifts, hurricane-force winds are expected from Virginia to Chatham, the National Weather Service said.
On Sunday afternoon winds on the Vineyard were picking up and gusting into the 30s with light drizzle falling. Roads were mostly empty and harbors had been cleared of boats.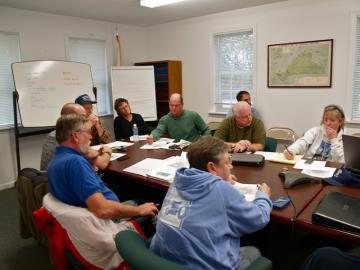 NStar has sent extra trucks to the Island to stand by for power outages.
Robert Thompson of the National Weather Service said flooding and severe erosion is expected to occur through three tide cycles along the South Coast. He said he is especially concerned about the storm surge.
"I would not be surprised that come Tuesday morning some of our coastline looks quite different in certain spots," Mr. Thompson said.
Edgartown fire chief Peter Shemeth said at the meeting he expected south-facing barrier beaches could breach and discussed the potential for evacuating people in low-lying areas, like South Beach, Chappaquiddick, Aquinnah and Quitsa. (Click here for a map of low-lying areas at risk of flooding, as outlined by the Martha's Vineyard Commission.)
Chilmark selectman Jonathan Mayhew expressed concern for getting the Menemsha fleet out of the harbor before the New Bedford hurricane barrier goes up.
Senior chief Jason Olsen reported that U.S. Coast Guard Station Menemsha has taken the search and rescue boats out of the water but said officers will remain at the station for any boaters needing assistance on the docks.
Chappaquiddick ferry co-owner Peter Wells said the Coast Guard had closed the port of Edgartown as of 4 p.m. Sunday. The Chappaquiddick ferry was granted an exception and allowed to operate until winds reached 40 miles per hour, Mr. Wells said.
Vineyard schools superintendent James H. Weiss made the call to cancel school on Monday and Tuesday; this information will be relayed as part of the code red alert sent out to Island residents.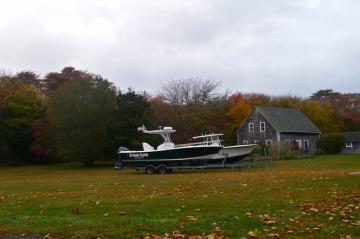 Oak Bluffs emergency management director Peter Martell said there was a likelihood phone lines could go down and Island cell towers, about half of which do not have generators, could go down as well.
Steamship Authority general manager Wayne Lamson said the boat line hoped to complete the rest of Sunday's planned service to the Vineyard, was running on a trip-by-trip basis and did not plan to run service on Monday. Service cancellation could extend into Tuesday, he said, depending on conditions. Nantucket service was cancelled Sunday afternoon due to rough seas.
The ferries Island Home and Katama will be docked at Woods Hole, Mr. Lamson said, and the Nantucket will be docked in Vineyard Haven.
All ferry service from New Bedford has been suspended until further notice.
Vineyard Transit Authority administrator Angela Grant said buses will run regular routes until it is not safe to do so, and the VTA will work with the hospital to make arrangements for three Island residents who need dialysis three times a week.
Cape Air communications director Michelle Haynes said the airline will likely cancel flights in the event of high winds and rain, and advised customers to check the company's website. Martha's Vineyard Airport operations are running as normal, spokesman Deborah Potter said.
As of 1 p.m. Sunday, the Chappy Ferry reported on Facebook that one of the two ferries will be moored on Chappaquiddick throughout the storm, while the other will probably remain at one slip or the other, depending on conditions, and run when possible.
Chilmark emergency services coordinator Tim Carroll said Islanders will be asked to stay off roads and to stay home on Monday, and Dukes County emergency management director Chuck Cotnoir said that the hospital reports 10 beds are open and the hospital has enough food and generator supply to last for seven days.
Closures and cancellations were reported throughout the weekend; most town halls will be closed, as will the West Tisbury library.
The Harbor View Hotel in Edgartown said it will house Islanders for $99 a night, and has a generator for those needing to use laptops or recharge phones and laptops.
Click here to see more photos of the Island preparing for the storm.