From an Island-wide relief effort that began as idle conversation during happy hour to a clothing drive and donations from sandwiches, there has been an outpouring of Island-giving for those affected by Hurricane Sandy.
And for Islander Ryan Murtha, who organized an impromptu relief effort, the overwhelming response was as positive as the devastation was striking.
Last Friday, Mr. Murtha and Stephen Emery drove a truck full of donations onto the 12:45 p.m. freight boat, bound for the Jersey Shore, one of the areas hardest hit by the late October storm.
Mr. Murtha said that along the way, from collecting donations on the Island to unloading them in Highlands, N.J., he was struck by an outpouring of support.
"I'm looking for the right words," Mr. Murtha said. "It's rewarding and it's sad at the same time. I feel good about what I did, but it was sad to see the state of affairs in this one little town I went to . . . it was terrible."
He described piles of garbage and houses that were splintered and crushed to the ground. Other homes were flooded with eight feet of water. "Everything they have and everything they own is gone," he said.
About a week before the trip, the two had been watching the news during happy hour at The Wharf.
"It's so sad, I think we should do something,'" Mr. Murtha recalled saying. "And then we kept talking, and I'm like 'You know what, I'm gonna do something.'"
He picked up the phone to see about getting a truck. One of his friends said he'd work on it over the weekend.
But the next day, at a junior high football game, Adam Bresnick of Island Food Products overheard Mr. Murtha talking about his plans.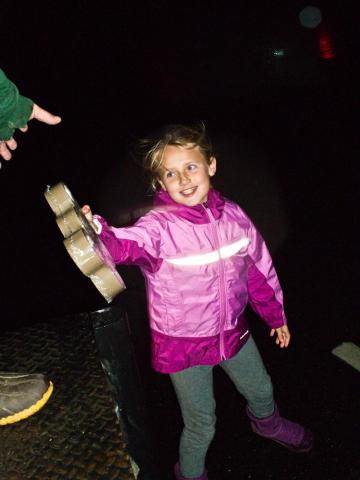 "You know, I can give you a truck," Mr. Bresnick said.
Mr. Bresnick was the first of a host of Vineyarders who Mr. Murtha singled out for their support.
Besides the truck, Island Food Products donated cleaning supplies. And as word spread via fliers and social media, JB Blau, the owner of Sharkey's Cantina and the Martha's Vineyard Chowder Company, pledged to donate money for each Facebook "like" and "share," which raised $300. Karpet Kare in Vineyard Haven became the drop-off point for donations. Contemporary Landscape donated $500, and Jim's Package Store paid for all of the gas.
"Everyone I asked to help was like, 'Yep, I'm willing to help, in any way I can,'" Mr. Murtha said. "That was a great feeling . . . It was really amazing how everything came together, everyone started spreading it by word of mouth."
On Thursday, Nov. 8, the truck was loaded in the middle of the northeaster, with pouring rain and high winds. Mr. Murtha's girlfriend, Amanda Hollyfield, was standing in the pouring rain, "but she smiled the whole time," Mr. Murtha said.
On Friday morning, they stopped at the Martha's Vineyard Hebrew Center, where they picked up "bags upon bags of jackets and blankets." In Connecticut, they stopped to spend $1,500 — part of the $4,200 in donations they collected — on supplies at Home Depot and BJ's. They completely filled the truck.
They arrived in New Jersey late Friday night, staying with Mr. Murtha's brother's best friend in Highlands. On Saturday, the two went downtown and started unloading their truck.
"There were people from all over the country, just standing there, willing to unload this truck." Mr. Murtha said. "There were hundreds of them . . . and we were helping other people. It was amazing. Just amazing."
Mr. Murtha was not the only Vineyarder to head off-Island to help out. Dan Sauer and Wenonah Madison Sauer, owners of 7a Foods, first collected coats and jackets, which were driven down to New York by Nicole Cabot. Then the couple left their children with their in-laws and drove down to New York themselves last weekend with their car full of batteries, diapers, flashlights and bleach. Their staff held down the fort at the restaurant in West Tisbury.
Fans of 7a's sandwiches can continue to donate to the cause. For every special sandwich sold (made of Grey Barn pork belly, housemade kimchi and Korean barbecue sauce, cucumbers, radish and cilantro) $1 will be donated to Occupy Sandy.
After dropping off donations in Brooklyn, the couple, who used to live in New York, headed to the Rockaways to help out.
"It's just almost unbelievable, at times it didn't seem real," Mr. Sauer said of the damage, even 11 days after the hurricane hit. The couple canvassed neighborhoods to get information about what people needed. Mr. Sauer had high praise for the Occupy Sandy movement, saying he met kids who had been working nonstop since the storm hit. "We felt if we could help, we should," he said.