With Hurricane Sandy still hundreds of miles south of the Vineyard Monday afternoon, the Island was feeling its blast with many roads underwater from extreme high tides and huge ocean waves pounding the shoreline.
Winds were gusting up to 60 miles per hour in places, and there was one report from Cuttyhunk of a gust clocked at 81 mph. There were scattered power outages throughout the Island and some reports of trees down, including one in Vineyard Haven that caught fire.
The power company NStar has a map on its website (
nstar.com
) showing areas of power outages.
On Monday afternoon the National Weather Service said Sandy remained on track to hit the New Jersey coast Monday evening and was moving northwest at a speed of 28 mph with maximum sustained winds of 90 mph and higher gusts.
At a meeting just after noon, Island emergency managers said the worst conditions were expected on the Vineyard between 2 and 10 p.m. today with possible hurricane force gusts and more flooding at the time of high tide later tonight, about 11 p.m.
"We're expecting dramatic increases in wind this afternoon and early evening," Glen Fields of the National Weather Service told emergency managers by speaker phone.
Major coastal flooding is expected tonight, he said. "Mother nature is doing a good job of getting the leaves off the trees so that may help mitigate power outages, though there will still be plenty," he said.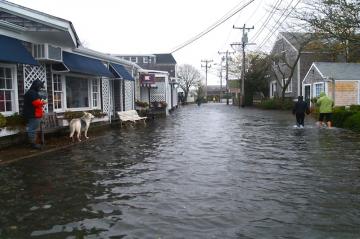 A shelter is open at the Chilmark Community Center and will remain open through tonight; as of mid-afternoon Monday no one was using it.
Ferry service to the mainland was suspended for the day as was service on the Chappaquidick ferry. Public schools will be closed through Tuesday. Banks and most businesses were closed by noon time Monday.
The Martha's Vineyard airport was open, although Cape Air had suspended service.
Earlier in the day at the time of high tide many areas were underwater, including Owen Park in Vineyard Haven and Dock street in Edgartown.
No major damage was being reported despite severe flooding and erosion, especially on south facing shorelines.
Some Islanders were out viewing the furious effects of the storm, and a handful of surfers were at Philbin Beach in Aquinnah early in the day.