In their first post-season appearance in two years, the Vineyard field hockey squad fell 2-1 to Plymouth South in the preliminary round of the Massachusetts Interscholastic Athletics Association South Division 2 tournament.
Sophomore Sydney Davies scored the lone Vineyard goal three minutes into the second half on a corner. But Plymouth South came out strong in the first half and was able to capitalize on Vineyard lapses in the second, scoring the go-ahead with less than two minutes left in the game.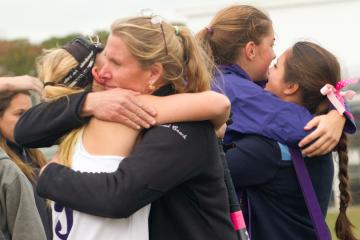 The loss was especially wrenching for the twelve Vineyard seniors. The entire team gathered in the goal box after the game, tearful and hugging.
Plymouth South was seeded twentieth in the tournament and a .500 season record. The Vineyard, with its 9-5-4 record, was seeded thirteenth.
"They're a good, strong team," head coach Lisa Knight said of Plymouth South after the game, noting that all of the teams in the tournament are challenging opponents. "Seeds mean nothing at this point."
Coach Knight was proud of all the team had accomplished this season, describing the 2012 squad as "27 of the most incredible young ladies I've ever coached." The support of the coaching staff, all of whom have played in the Vineyard program, was immeasurable. "They know what it's like," coach Knight said.
"What's really hard is to walk away from that huddle and know you're never going to coach that same group of girls again, or coach these twelve seniors again," she said.