John Potter is a retired gentleman who walks his dog Rocky twice a day along East Chop. He is a quiet, unassuming man whose life on the Island centers around family; his wife Joan, three sons and daughters in laws, and several grandchildren.
But what one sees on the bluff is just the current iteration of the man. He, like all of us, has a previous story. Or rather many stories. It appears Mr. Potter was not always so quiet and unassuming. Recently he published a memoir called My First Nine Lives. The book takes one from his early childhood in China to America, World War II and then back again to Asia. Along the way there is also a visit from Olga, a beautiful Russian refugee.
Rocky the dog may be a faithful companion, but a beautiful refugee encountered in Shanghai in 1949 is tough to match.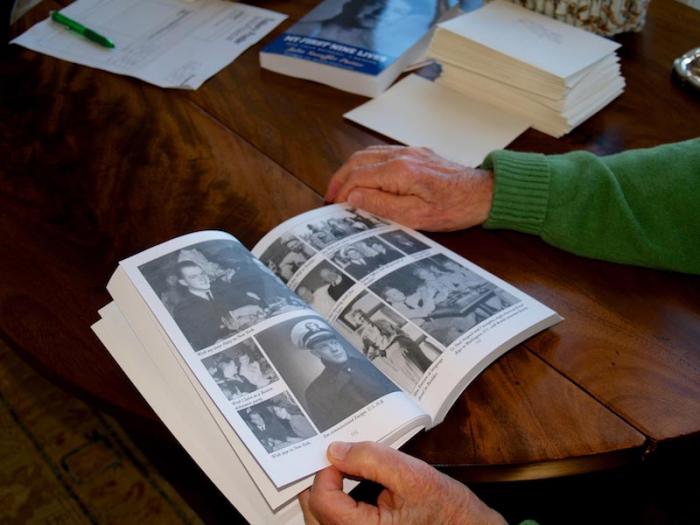 Mr. Potter writes in lively, vivid prose about his early childhood in China, his education at St. George's School and Harvard, his service in the navy during World War II and his early business career in Asia. We learn that as a young boy he was rescued by Buddhist monks who exorcised evil spirits from his body to cure his pneumonia. Evidently, this occurred during life number one. Life number five led to the Chinese civil war where the unassuming fellow was captured by Chinese Communists and interrogated as a spy. Mr. Potter's later role as patriarch of the extended Potter family — all three of his boys have settled on the Vineyard —confirms that he did escape the communists. For details, though, one will have to turn to the book.
Big Louie also awaits the eager reader. At twice John's height, with flaming red hair, Big Louie was not someone to mess with and much better to befriend. There is also Wimpy, Mr. Potter's first boss and the man to whom he attributes much of his eventual business success. Wimpy's lessons were not textbook cases, which served Mr. Potter well when he developed his export-import business in Hong Kong and created a distributorship for thirsty American soldiers in South Korea.
The book ends with Olga in 1953. A sequel may be required. But for now My First Nine Lives is enough. Fast-paced and well-written with encyclopedic details of Chinese history during the civil war between the Nationalists and Communists, one can only envy Rocky. After all, walking each day with Mr. Potter, the dog most likely heard the first draft of this book told amidst howling winds and serene summer days, all witnessed high above the ocean on the bluffs of East Chop.