Parsnips, celery root and house-made bacon swam alongside the "usual suspects" in Matthew Safranek's clam chowder at the 27th Great Chowder Contest in Edgartown on Saturday.
Mr. Safranek, a chef at Atria, joined 10 other contestants in the annual Christmas throwdown, a fundraiser for the Red Stocking Fund that has been sponsored by radio station WMVY for the past 10 years.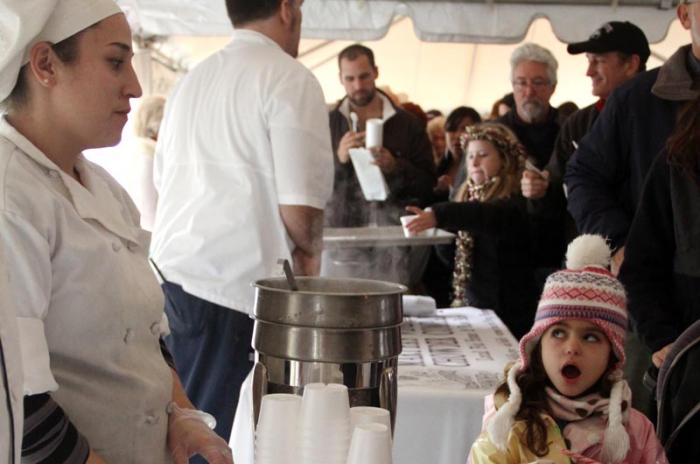 "Remember the story Stone Soup?" asked WMVY general manager Greg Orcutt. "That's what this is. No one was here, it's an empty park, and a group of us bring it all together."
With support from the Edgartown National Bank and Martha's Vineyard Insurance, as well as competitive fire from Island chefs, WMVY turned the usually empty Mini Park on Main street into "the best lunch spot on Martha's Vineyard," said Mr. Orcutt. For a few hours, a big white tent packed in sample-hungry patrons, sipping cups of chowder scooped from huge vats steaming in the chilly air.
The event welcomed 500 people and raised $4,000, with the line outside the tent holding steady from noon to past 2 p.m.
"We have people lining up until we run out of chowder," Mr. Orcutt said.
Kerry Alley, co-director of the Red Stocking Fund, said the organization will give holiday packages to 417 Island children in need this year. Nearly half of the Red Stocking Fund's budget comes from the chowder festival and a chili festival held in late January, which is also sponsored by WMVY.
"[Mr. Orcutt] is a moving spirit," said Mr. Alley. "The radio station sponsors and does 95 per cent of the work. We collect tickets, pass out spoons, and at the end get the money."
This year, though, the future of the fundraisers and WMVY itself is called into question as the radio station undertakes a massive fund-raising drive of its own.
The popular Island station's signal was recently purchased by Boston public radio station WBUR. Friends of WMVY, a nonprofit organization founded in 2007 to broadcast the station over the internet, needs to raise $600,000 in the next 60 days in order for online broadcasting to continue.
"If the radio station disappears and nobody else steps in . . . I don't know what would happen," said Mr. Alley.
But Mr. Orcutt says he does not see any reason for the station to discontinue this holiday tradition, and plans for the chili festival are already underway. "We are committed to supporting the community," he said this week. "We believe that we are going to go on, so it's business as usual and this is what we do every year."
It was also business as usual for the restaurants on Saturday. All of the competing restaurants feature clam chowder on their daily menus, although some chose to mix up their recipes for the contest, like third place (tie) winner Hooked, which offered a creole style chowder with fried okra on top.
Local businesses joined in the competition, too. Lina Soares from Martha's Vineyard Insurance prepared a corn chowder for the business's rookie entry.
"It's fun to be a part of the festivities and try our hand in the chowder world," Ms. Soares said.
Travis Richards, head chef at the Newes from America Pub, said he spent about four hours whipping up 12 gallons of chowder, which included house-made pancetta, onion, garlic, thyme and clam liquor.
"It's a whole lot of money and time to produce that much chowder," said Mr. Orcutt. "And most of the restaurants have dinner tonight to prepare for."
After the gallons of chowder had all been emptied and votes had been cast, first place went to the Wharf and second place to Martha's Vineyard Chowder Company.
"They take it seriously," said Mr. Orcutt of the competitors. "They have bragging rights about who has the best chowder. On an island, that's important."