Doug Smith had a vision. It involved pancakes. Before Mr. Smith, 38, moved to the Vineyard full-time six years ago, he and his girlfriend often took weekend trips up to Maine, exploring the small towns that dotted the coast. But no matter the town, "there was always this great breakfast joint that had a line out the door," Mr. Smith recalled. The breakfast spots served up stacks of thick, fluffy pancakes and savory plates of eggs Benedict to hungry patrons who lingered over great coffee at wooden tables — the picture of New England rustic. One place, Mr. Smith said, looked as though it was a barn in a former life.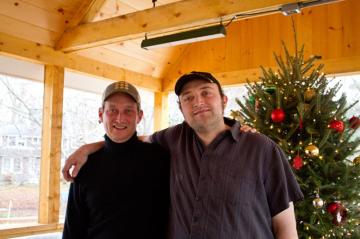 So when it came time for Mr. Smith to devise a business plan for his own restaurant on Martha's Vineyard he knew exactly what he wanted to create. He had been the general manager of Nancy's for "a very long time," but always wanted to own his own establishment. He began work on the business plans three years ago, checking out a variety of properties. Last winter a friend told him the house at 218 Upper Main street in Edgartown was on the market. Mr. Smith jumped on it and Lucky Hank's was born.
"I loved the location, [and] I loved that it was a cute little house . . . I really wanted to maintain that theme," he said.
But the house needed work. The basic necessity of converting a private residence to a commercial property meant six weeks of planning board meetings and hearings, during which Mr. Smith became very well acquainted with Edgartown Town Hall.
"They couldn't be more helpful, supporting, encouraging," he said.
Mr. Smith closed on 218 Upper Main on May 31, and then the tough work began. The original building had been constructed in 1910. Everything needed to be upgraded, from the wiring to the sewer to the plumbing. The bathroom needed to be moved, from what would have been right in the middle of the dining area to the front of the building. A roof needed to be built over the back deck so there could be outdoor seating.
"I love the weather on Martha's Vineyard," Mr. Smith said. "If I'm here in the summer, I want to eat outside."
After doing much of the initial demolition work with a group of friends, Mr. Smith brought in contractor Tom Burke to work on the restoration aspect. Harkening back to those trips to Maine, Mr. Smith explained his plan.
"I told him, 'I want it to look like a New England barn,'" Mr. Smith said. And so what was once an attic is now a large open ceiling, supported by broad crossbeams and enclosing a 25-seat dining room. Tall windows allow natural light to stream in over the bell jars and ceramic coffee mugs on the tables (wooden, of course). Mr. Smith wanted to keep as much of the original house intact as possible during the renovations. A piece of wood from a shucking shack on the porch now forms the base of the bar, and some of the dark wood from the 1910 construction, now polished to a shine, can be seen just above the dining room entrance.
Lucky Hank's opened for business on Oct. 27. It will be open year-round.
"A lot of people have come up to me and told me 'I can't believe how quickly you did this," Mr. Smith said. "To me it was like an eternity."
The initial plan was to focus just on breakfast, but Mr. Smith realized that wouldn't cover expenses, so he created a lunch and dinner menu. All are based on the same theme of hearty homecooked food. Edgartown has "awesome restaurants, a lot of them," Mr. Smith said, citing the fine dining scene a half-mile down the road. But although Mr. Smith, who has worked for award-winning chefs like Boston's Lydia Shire, loves the dining room experience when eating out, the atmosphere he had in mind for his restaurant was more Art Cliff Diner and less Atria.
"Meat loaf, simple roast chicken, pot pie — but I made lobster pot pie because it's the Vineyard," Mr. Smith said. The lunch and dinner menus also feature a farm-to-table item, which varies weekly depending on what is fresh at Morning Glory Farm. Initially, Mr. Smith brought in ingredients from his own Whippoorwill CSA farm share. Coffee is delivered twice weekly by Todd Christy of the Chilmark Coffee Company.
Once Mr. Smith created his dream menu, he handed it off to head chef Danny Finger. The two had worked together at the Harbor View Hotel. Mr. Smith waited tables there while he was working on his business plans, and Mr. Finger was a line cook. Prior to joining the Lucky Hank's staff, Mr. Finger was the sous chef at Chesca's.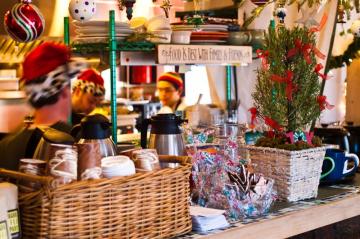 "I just let Danny grab that menu and move forward with it," Mr. Smith said. "They're his recipes."
Everything on the menu is made from scratch, from the cranberry French toast in the morning to the three-cheese macaroni and cheese with ham and peas on the dinner menu. The breakfast menu has six different egg dishes — three types of omelets and three types of benedict — and the all-important pancakes (short or full stack). The lunch menu is filled with sandwiches and soups, and dinner brings prime ribs and seasonal choices like bay scallops. The farm share meal is always a vegan one. Mr. Smith said he tried a vegan diet for three months once and came to understand the difficulty of finding meal options at restaurants. Over the past weekend, when Lucky Hank's opened for a Christmas in Edgartown brunch, holiday staples including figgy pudding were featured on the menu.
Lucky Hank himself wasn't at the brunch, or any of the meals. He doesn't actually exist, at least not in the real world. The name belongs to a character in the Richard Russo novel Straight Man, Mr. Smith's favorite book. The name stuck with Mr. Smith ever since he first read Straight Man many years ago.
"I thought, hmm, maybe one day I'll name my restaurant Lucky Hank's. And I just didn't come up with a better idea in 15 years," he said.
Lucky Hank's is located at 218 Upper Main street in Edgartown and is open Tuesday through Sunday. Hours: breakfast from 7 a.m. to 11:30 a.m., lunch from 11:30 a.m. to 2:30 p.m., dinner from 5 p.m. to 9 p.m. Brunch on Sundays is from 7 a.m. to 2 p.m.