Uma Datta jingles around her kitchen in her bedazzled blouse as she pours a cup of Chai tea and gives her tamarind sauce one last stir before setting it down on the granite countertop next to some fried samosas.
"You get French fries here? You get samosas in India," said Mrs. Datta. On the counter there are also cashew nut rolls, condensed milk squares, and raisin and nut mixes. From her refrigerator she pulls out curried chickpeas, roti and, for the last course, pistachio ice cream.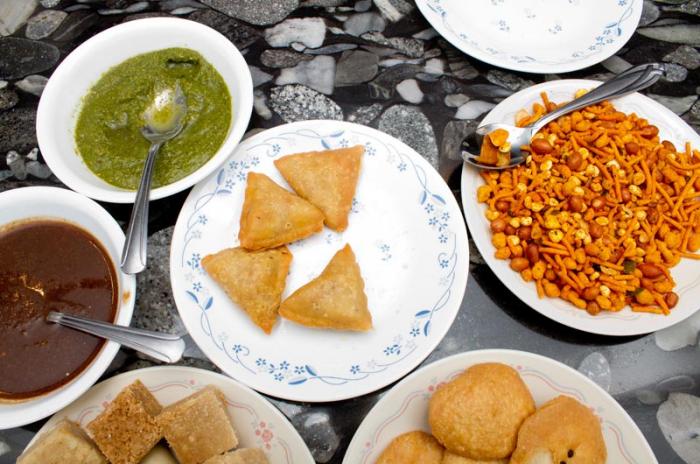 "It's not something I make every day; it's for special occasions," she said. "It takes a very long time to make."
On Tuesday, Jan. 15, beginning at 7 p.m., Mrs. Datta will be bringing this type of food to the Vineyard Haven Library as she hosts a free cooking class. Guests will travel from northern to southern India via breakfast foods.
Mrs. Datta has been hosting cooking classes at the library bi-annually for a few years. She has recently started teaching classes with the Adult and Community Education of Martha's Vineyard (ACE MV), and also offers private cooking classes as well as catering services.
Indian food balances intense flavors like curry and saffron with healthy, fresh ingredients like vegetables, chicken and lentils, she said.
"It's much healthier, there are no preservatives, there is no such thing in India."
During her classes she also explains the medicinal properties of the many spices she incorporates. Coriander helps lower blood pressure, while turmeric cures a cough.
"You have a sore throat? Mix half a teaspoon of turmeric and raw milk. Drink it twice a day; on the third day, no sore throat."
She added: "What I think makes Indian food more interesting is the flavor versus American food, which is very plain and simple."
Her family, which includes her husband's two brothers and their families, owns It's Me clothing store and the Island Bar and Grill, both in Oak Bluffs.
"People always say 'Oh, when are you opening up an Indian restaurant? When are you opening up an Indian restaurant?'"
She said when her family bought the restaurant it was already established as a place to grab a burger or seafood.
"So serving chicken curry on the side might be, oh, I don't know," she laughed. "Cooking on a smaller scale is different. When you cook in a restaurant you have to be a proper chef. I'm not a chef. I do it for fun."
During the summer Mrs. Datta works primarily at the clothing store. In her free time she cooks meals for her extended family, who all live on the same block.
"What do we make at home? The question is what we don't make. I make pizza from scratch, Thai food, Italian food. I'm not a professional chef, but since I was a kid I have always enjoyed cooking, cooking, cooking. If anything is wrong in the family, they say, tell Uma, she'll bring the food over."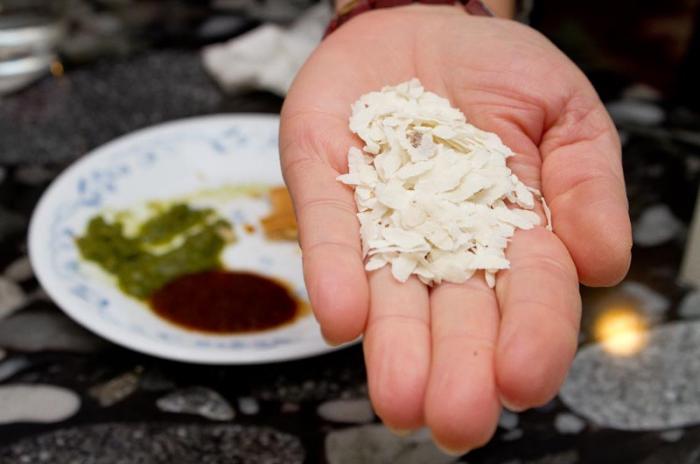 She has passed on her love of cooking to her eldest daughter Shivi, who sizzles up a Chinese stir-fry while Uma continues cooking. Outside, Mrs. Datta's mother in law strolls around the property, and then a group of family members pull up the driveway.
"We have a big family, people are always coming and leaving," Mrs. Datta said.
At her classes Mrs. Datta tells the students that her door is always open, much like it is to her family.
She also leaves her classes with one tip that extends beyond mixing ingredients.
"They say in India, whatever your feelings are when you cook the food, when you feed someone, those same feelings go into the other person. If you are screaming and yelling and just quickly serving, the other person feels it. So it's not only the cooking I enjoy, but the feeding that gives me satisfaction."