There was plenty of reason to celebrate. It was the 25th anniversary of the Big Chili Contest, and spicy vats of chili were heating up inside the Portuguese American Club in Oak Bluffs on a frigid Saturday that found the Island dusted with sparkly snow for the third time in 10 days. And less than 24 hours earlier, radio station WMVY, sponsor of the popular contest that benefits the Red Stocking Fund, had reached a $600,000 fundraising goal that will keep the station alive for at least one more year.
"It doesn't feel like it's 25 degrees outside, because it's hot in this place," declared Nils Leaf, official scooper of the Martha's Vineyard Chowder Company's 15 gallons of chili.
Station manager Greg Orcutt recalled the beginning days of the chili contest, when about 700 guests would gather at Seasons on Circuit avenue. This year, around 2,800 chili lovers filled up the PA Club, from seasoned chefs to mariachi guitarists to Islanders looking for a winter release.
"It's like an oasis in the desert," said WMVY program director PJ Finn. "It's the only great place to be in a barren time."
Vineyard bands Johnny Hoy and the Bluefish and Entrain provided the music.
Across the tent in the festive crowd, Islander Steve Jordan cooked up a squid chili granting him the Is this really chili? award. Mr. Jordan himself voted the Oak Bluffs fire department's chili as the hottest, an award he had received for 20 years in a row.
First place people's choice, professional division went to The Black Dog, and first place people's choice, amateur went to Brian Athearn of Run Amok Farm.
First place judge's choice went to Chris Silva from Falmouth, adding another trophy to the two that towered on his serving table.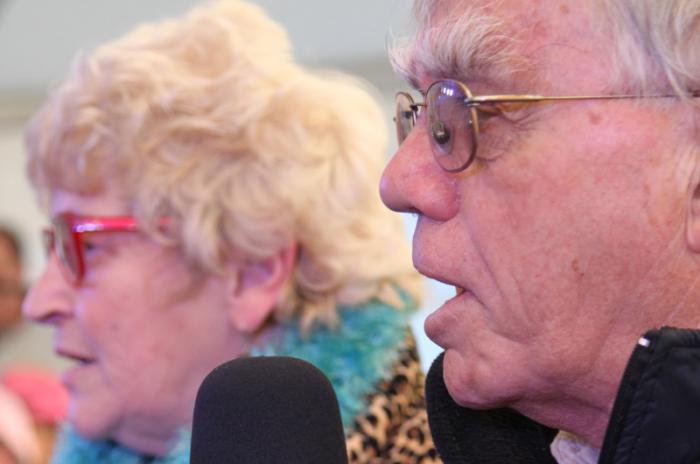 Competitors and guests traveled from as far away as Texas for the day. There were matching ponchos, group T-shirts, chicken hats, sombreros and some attire more suitable for July than January.
"I have two things to say," announced Red Stocking Fund codirector Lorraine Clark during the awards presentation.
"Thank you, thank you, thank you. And, I can't look at this guy in the pink leotard anymore," she laughed as a man in a bubble gum pink suit and shower cap danced around the crowd.
Silliness aside, the Red Stocking Fund expected to raise about $30,000 from the one-day festival.
"We could not do this without you," fund codirector Kerry Alley told the crowd. "We are indebted to you."
The WMVY group also thanked guests for their support.
"The staff needed this," said Mr. Finn. "We worked really hard toward the goal and put a lot of heart and soul into the effort. It's nice that there happens to be a party right when we meet the goal."
He added: "We'll see you next year."
For more photos view Large Turn Out for Big Chili Fest Benefiting Red Stocking Fund.