Carole Early and Gail Burke have been in a book club together and work out at the same gym, but they were surprised to find out they had something new in common. They both will help cook, serve and clean up for the new Thursday night community suppers.
Mrs. Early is a member of the Martha's Vineyard Hebrew Center and Mrs. Burke is a member of Good Shepherd Parish. The Catholic and Jewish faith communities are working together to provide free meals to those who are hungry — both physically and spiritually. The suppers are held at St. Augustine's Church in Vineyard Haven.
Community suppers have been held on the Island for a couple of decades, but with the addition this year of the Thursday suppers and the new Saturday night suppers held at Trinity Parish House across from the Tabernacle in Oak Bluffs, every day but Sunday offers an opportunity to gather with friends and enjoy a free homemade meal.
A few weeks ago it was Italian night at St. Augustine's as some of the 15 volunteers heated up homemade lasagna and tortellini along with a large pot of minestrone soup made from an assortment of vegetables donated by Stop & Shop.
"This is like giving a dinner party and not knowing how many will show up," Mrs. Early said. It was the first ever dinner for the combined faith communities and by the end of the night they had served about 35 diners.
"Should someone taste this soup?" Mrs. Burke asked before the guests began to arrive. Mrs. Burke had made the soup with help from her husband, Walter. He had to run home for the spices, she explained.
Barbara and David Linton of Oak Bluffs have gone to community suppers for years and they enjoy the camaraderie and fellowship of friends they don't see as often during the summer.
"You get so busy in the summer months that you don't have the opportunity to connect in the summer," Barbara Linton said. "This is good for people who don't have the means to cook every day, who are alone for any reason. And these cooks are miracle workers. They can take whatever is donated and make a delicious meal."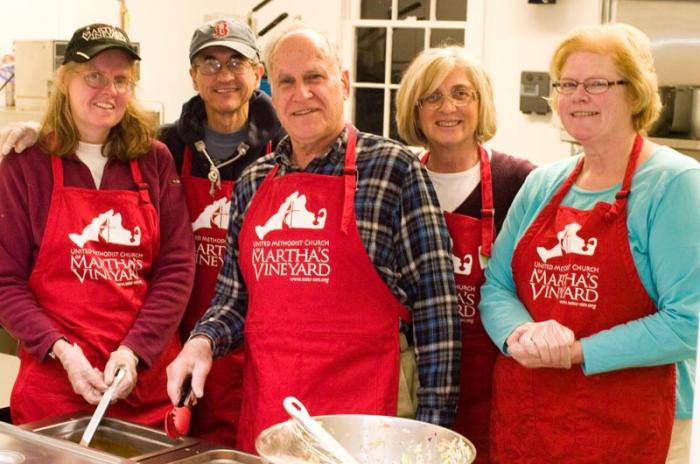 Mrs. Linton said the meals go a long way in meeting the needs of the community.
"Martha's Vineyard is expensive," she said. "You have heating bills in the winter and people have to really stretch their budgets."
The community suppers are also a way to experience faith in action, Rabbi Caryn Broitman said.
"Community dinners build connections between people that create community. It also offers food for those of us who struggle with food bills — and that could be any of us."
Rev. Richard Rego, pastor of the United Methodist Church of Martha's Vineyard, said the community suppers help "take the edge off" both physical and social hunger. Rev. Rego explained that the Martha's Vineyard Island Clergy Association recently met and discussed what days of the week were still missing from the suppers. Over the years the Methodist Church has served food on Mondays at the Old Whaling Church in Edgartown, the Chilmark Church hosts Tuesdays nights, the West Tisbury Congregational Church suppers are on Wednesday nights and Grace Episcopal Church in Vineyard Haven are on Friday's. Rev. Rego's congregation decided to host Saturday nights at the Trinity Parish House.
The brand new commercial kitchen at Trinity Parish House was put to good use recently. Rev. Rego's wife, Karen, cooked 30 pounds of meatloaf and lots of vegetables and soup, topped off by desserts and ice cream. Mrs. Rego's efforts did not go unnoticed. She received a hearty round of applause when her husband introduced her as the "yin to my yang."
United Methodist Church of Martha's Vineyard trustee Warren Hartwell designed the new commercial kitchen. Plans are being developed to use the space as a source of income and outreach for not only the church and other faith communities, but also for a wide range of community members in need of a meeting facility with air conditioning and a commercial stainless steel kitchen. Rev. Rego said he is grateful for Mr. Hartwell's expertise.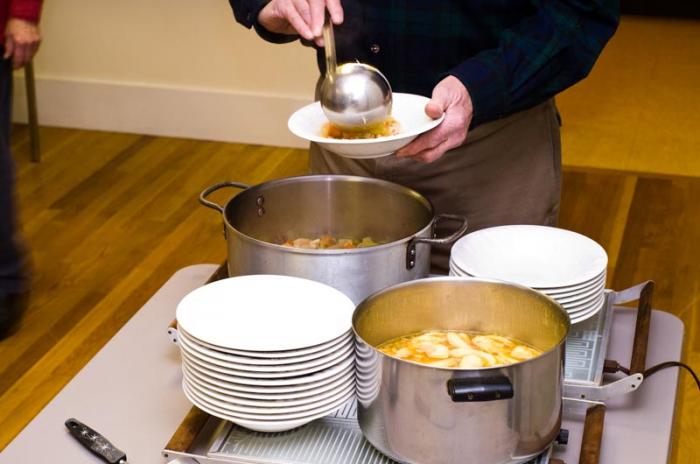 "His knowledge of the food processing industry combined with his strong faith have worked together to create this kitchen to reinforce our calling of caring for those in need. It's in our DNA," Rev. Rego said.
"This is one-of-a-kind for the Vineyard," Mr. Hartwell said. "We can comfortably seat 60 in here and we're capable of serving 200 meals an hour. We have the crab cake suppers during the summer and now the community suppers." He was trying out the freshly cooked meatloaf with his wife, Nancy.
Jean Andrews, retired librarian at the Edgartown Library, was born and raised on the Island and has been singing in the choir at the Methodist church for 41 years.
"I go to the Monday night suppers in Edgartown. Karen's reputation follows her so I came to this one tonight," Ms. Andrews said. "Instead of sitting at home, I thought I'd get out and socialize a bit."
Ms. Andrews said she encounters more and more people at the community suppers every time she comes.
"I thought it was only for those who couldn't afford it but it's for everyone."
Island Community Suppers:
Monday, 5 p.m., Edgartown Whaling Church, Main street, Edgartown.
Tuesday, 5:30 p.m., Chilmark Community Church, 9 Menemsha Crossroad.
Wednesday, 5:30 p.m., West Tisbury Congregational Church, State Road, West Tisbury.
Thursday, 5 p.m., St. Augustine Church, 56 Franklin St., Vineyard Haven, hosted by Good Shepherd Parish and Martha's Vineyard Hebrew Center.
Friday, 5 p.m., Grace Episcopal Church, William and Woodlawn streets, Vineyard Haven.
Saturday, 5 p.m., Trinity Parish House, across from the Tabernacle, Oak Bluffs.
All dinners are open to everyone at no charge but an offering basket is usually displayed for those who can contribute something.