For Menemsha Fish Market owner Stanley Larsen, the harbor is a natural wonderland.
"I was watching a loon this morning eating a clam right off the dock," Mr. Larsen said on Monday afternoon in Menemsha as a light snow began to fall. "I had to stop and watch it for a few minutes. It was amazing. There are all kinds of ducks in the harbor now. I was just looking out there and trying to count them. Pretty soon the otters will come through and sit on the docks, eating lobsters."
Summer is pretty magical, too, he said.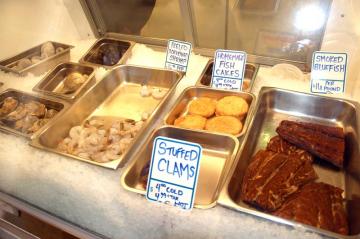 "In the summertime looking off the docks you see all the fish swimming around and the crabs, the kids are playing with the crabs on the jetty. It's a pretty special place, it really is."
Mr. Larsen steals these quieter moments whenever he can. For many Vineyarders, winter provides much-needed downtime after a busy summer season or energy for projects left unattended. But for Mr. Larsen, winter still means business. He took time this week to reflect on the challenges of running a year-round business at one of farthest corners of the Island.
Menemsha Fish Market is one of the only businesses in the fishing village still open this time of year. This season marks his ninth year operating year-round; summer will be Menemsha Fish Market's 10th anniversary. Mr. Larsen opens up around lunch time and tends to stay open until customers stop coming through the door.
Business has been steady for Mr. Larsen, partially due to daily specials he advertises on Facebook. A handful of customers had just left the fish market, happily heading back home with dinner. Fisherman Wayne Iacono had just dropped off a harvest of scallops and was enjoying a cup of chowder to warm up.
On Monday, cod was discounted from $14 to $9 a pound. Next month Mr. Larsen will feature a 2-for-1 coupon. Lobster dinners have also been popular. Personally, Mr. Larsen is a fan of his chowder, which he finds himself eating all the time "so I really have to pace myself with that."
"The chowder is really good," Mr. Iacono chimed in. "He won the Menemsha chowder contest."
Mr. Larsen also recommends microwaving a basic filet for a minute or so.
"It's so tasty, it cooks in its own juices and steams just right."
Mr. Larsen keeps the selections in the glass cases small and manageable. Mussels, oysters, steamers, little necks, cherrystones, scallops — all local — are in abundance these days, plus a lonely conch. Even the lobsters are from nearby waters. Whole cod from New Bedford, wild striped bass and sea bass from Maryland were also available.
Mr. Larsen walked over to the lobster tank and pulled out a six pound lobster. It was a male lobster, he said.
"You can tell by the shape of its tail," he explained. He took out a female lobster to show the difference. "See how her tail is more flared?"
Tails, it turns out, are very important to lobster mating rituals. A male tail has to be larger than the female's in order for it to reproduce, Mr. Larsen said.
"So you don't see very many female lobsters the size of this guy."
Vineyarders have made a routine out of stopping by on Sunday afternoons, Mr. Larsen said, and they tend to get "pretty busy" due to the discounted gas at Up-Island Automotive in West Tisbury.
"A lot of [customers] tell us, we went to get the gas, we went for a walk on the beach and we get our dinner here," he said.
In January, $1 of every cup of lobster bisque or chowder went to the local animal shelter. He said this year he's had "a lot of compassion for animals".
Business can be a "tough racket," he said. Last winter the Larsens posted the fish market for sale on Craigslist. On Monday, Mr. Larsen shrugged it off.
"We talked back and forth about it," he said. "Everything's for sale."
As the snow fell and the windows fogged up in the market, Mr. Larsen was dreaming of summer. Dedicated staff is key to success, he said, and he's already busy preparing for the coming season. "It's like being on a fishing boat — when the fish come you have to be ready to take care of them, otherwise they're going to get away," he said. "It's the same thing with staffing."
Mr. Larsen has been open nearly every day so far this winter and will continue to do so. He may take a few days off at some point to go fishing.
"Once you shut the door and close, and a few people say, oh it's closed, then everybody thinks it's closed," he said. "This is why I have to stay open every day."
"We get a vacation in every once in a while," he added.
Lately, family time has meant scalloping.
"I go with my wife and my daughter and we usually get our limit every time we go," he said. "It's nice to sit there and just shuck scallops and not have to worry about everything else."